Angling Trust British Pike Qualifying Matches Sept 2020 – April 2021
ANGLING TRUST BRITISH PIKE CHAMPIONSHIPS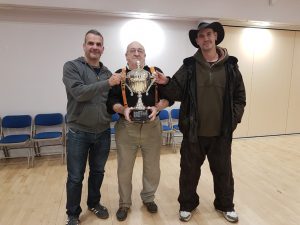 PLEASE RING THE ORGANISERS DIRECTLY TO BOOK ON.
Qualifying matches disclosed in this section are open matches.
The Angling Trust British Pike Championship qualifier matches run from September through to early April, to coincide with the pike season.
Pike qualifier matches are run by local organisers, and helpers.
How to compete in a Pike Qualifier Match!
In order to compete in any given British Pike Championships qualifying match, applicants must telephone and ask the permission of the organiser prior to the match taking place.  The organisers who run qualifying matches are listed as below.
How to become an organiser!
If you represent an angling club,  or if you are an individual who would like to organise future qualifying matches for the 2019/2020 British Pike Championships, please contact Sandra Johnson, at Angling Trust by email to [email protected]  Details will then be forwarded out to you so that you can run qualifying matches on behalf of the Angling Trust.
Pike Qualifiers advertised and taking place from 2019 – 2020 please see the lists as below;
October 2020
Date: 4th October 2020                Venue: Old Nene, Ramsey St Mary's
Organiser: Keith Rayment                      Tel: 01487 814077
Date: 18th October 2020              Venue: River Wharfe, The Club House, Lodge Lane, Wetherby, LS22 5FN.
Organiser: John Smith                            Tel: 07443 115375
Date: 25th October 2020              Venue: Farnham Flint, Kirtons Farm, Reading, Berks, RG30 3UW
Organiser: Steve Parker                           Tel: 07918 025472
Date: 25th October 2020               Venue: Swanton Morley Fishery, Dereham, Norfolk, NR20 4QD.
Organiser: David Appleby                        Tel: 01362 637591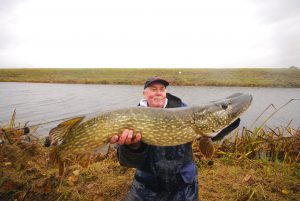 (Pictured: Chris Wade)
November 2020
Date: 1st November 2020                Venue: Old Nene, Exhibition Bridge, Ramsey St Mary's
Organiser: Keith Rayment                      Tel: 01487 814077
Date: 22nd November 2020            Venue: Farnham Flint, Kirtons Farm, Reading, Berks, RG30 3UW
Organiser: Steve Parker                           Tel: 07918 025472
Date: 29th November 2020            Venue: Swanton Morley Fishery, Dereham, Norfolk, NR20 4QD.
Organiser: David Appleby                        Tel: 01362 637591
December 2020
Date: 6th December 2020                Venue: Ramsey Forty Foot Narrows
Organiser: Keith Rayment                      Tel: 01487 814077
Date: 20th December 2020              Venue: Farnham Flint, Kirtons Farm, Reading, Berks, RG30 3UW
Organiser: Steve Parker                           Tel: 07918 025472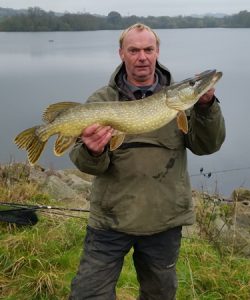 January 2021
Date: 3rd January 2021               Venue: Old Nene, Ramsey St Mary's
Organiser: Keith Rayment                      Tel: 01487 814077
Date: 17th January 2021              Venue: Farnham Flint, Kirtons Farm, Reading, Berks, RG30 3UW
Organiser: Steve Parker                           Tel: 07918 025472
Date: 31st January 2021              Venue: Swanton Morley Fishery, Dereham, Norfolk, NR20 4QD.
Organiser: David Appleby                        Tel: 01362 637591
February 2021
Date: 7th February 2021               Venue: Ramsey Forty Foot Narrows
Organiser: Keith Rayment                      Tel: 01487 814077
Date: 20th February 2021             Venue: Ramsey Forty Foot
Organiser: Keith Rayment                      Tel: 01487 814077
Date: 21st February 2021              Venue: Farnham Flint, Kirtons Farm, Reading, Berks, RG30 3UW
Organiser: Steve Parker                           Tel: 07918 025472
Date: 28th February 2021            Venue: Swanton Morley Fishery, Dereham, Norfolk, NR20 4QD.
Organiser: David Appleby                        Tel: 01362 637591
March 2021
Date: 14th March 2021              Venue: Farnham Flint, Kirtons Farm, Reading, Berks, RG30 3UW
Organiser: Steve Parker                           Tel: 07918 025472
Date: 14th March 2021               Venue: Old Nene, Ramsey St Mary's
Organiser: Keith Rayment                      Tel: 01487 814077
Date: 28th March 2021              Venue: Swanton Morley Fishery, Dereham, Norfolk, NR20 4QD.
Organiser: David Appleby                        Tel: 01362 637591