AT-TEFF Loch Style National
ALL THE BELOW WILL BE SUBJECT TO GOVERNMENT RESTRICTIONS IN PLACE AT THE TIME.
Due to the 2021 AT-TEFF Loch Style National being cancelled and the 2019 team rolling over to 2022, there will instead be a series of Loch Style Fundraisers held this year.
The proposal is to hold a series of individual loch-style matches to raise funds for TEFF and hence support financially all our teams going forward. These matches will be held across the country at large reservoirs as listed below.
Each event will have cash first, second and third prizes calculated depending upon the entry levels but will be 30% of the entry fee broken down as follows: 50% first, 30% second and 20% third. Prize money will be sent via BACS from the Angling Trust after the event – AT will be in touch the week following the event via email.
Approximately 1 in 5 anglers from each event will also be eligible to fish a 'final' later in the season with the winner again receiving a cash first prize with cash for second and third places as above. The winner of the final will be awarded the title of AT-TEFF Loch-Style Champion 2021 and will also receive an inscribed silver salver. (Not National Champion as that title is reserved for the official qualifier and final process for team places and will be fished for hopefully next year).
To achieve this, we need your full help and support. This is an ideal time to introduce some of your non-competitive friends to the joys of competitive loch-style fishing.
Rules & Format
Matches will be fished to full international rules on a full catch and release basis using debarbed or barbless flies throughout. Boobies and FABS will be allowed. No roly-poly retrieve. See full rules at the bottom of the page.
First 3 fish will be time-recorded by your boat partner on a card then the remaining fish are recorded on the same card up to a maximum of 30 fish in total. No time bonus will be applied. The winner will be the angler who catches the most fish in the 8 hour match. Ties will be decided by the time of the first, second and third fish caught.
This process was 'trialled' at a fundraiser at Draycote in September 2020 and went very well. All Covid-19 rules were enforced and followed to ensure the safety of all competitors and officials and fishery staff.
There is no requirement to be an AT member to enter these events.
Please give these events your full support. This is the only income stream that TEFF has. All monies raised will be using to support the teams or provide cash prizes (after admin expenses for local organisers who often do not claim). If you qualify for one of the teams in future these funds may help you financially and you may even win a cash prize at one of the matches or the final. (Cash prizes will be sent by BACS after the event).
We look forward to seeing you all on the day.
How to Enter
Entries will open Thursday 1st April 2021 at 10.30am
All match fishing times: 10am to 6pm. Sign in by 9.15am.
Entry cost is broken down as follows:
Entry Fee £35.00
Admin Fee £3.00
Fishing Fee varies – see individual qualifiers for cost.
ALL MATCHES CANCELLED. PLEASE CHECK BACK FOR FURTHER INFO.
Qualifiers
Sunday 9th May 2021 – Draycote Water (max rods 60) CANCELLED
Friday 28th May 2021 – Blithfield Reservoir (max rods 40) CANCELLED
Sunday 6th June 2021 – Grafham Water (max rods 60) (was Friday 14th May) CANCELLED
Sunday 20th June 2021 – Blagdon Lake (max rods 36) CANCELLED
Sunday 20th June 2021 – Carsington Water (max rods 28) CANCELLED
Sunday 12th September 2021 – Rutland Water (max rods 60) (was Sunday 6th June) CANCELLED
Sunday 26th September 2021 – Draycote Water (max rods 60) (was originally date of Final) CANCELLED
There is no limit on the number of qualifiers that you can enter. 
Matches require 50% of maximum tickets to be sold in order to proceed. If a match cannot go ahead, the fee will be refunded in full.
Final
Sunday 24th October 2021 – Draycote Water (was Sunday 26th September) CANCELLED
AT-TEFF Fundraiser Draycote Water Sunday 27th September Match Report
Covid-19 hit the 2020 Loch-Style National qualifiers hard and as a result all the qualifiers were cancelled for 2020 with the National Teams from the 2019 national rolling over to form the teams for the rearranged Internationals in 2021.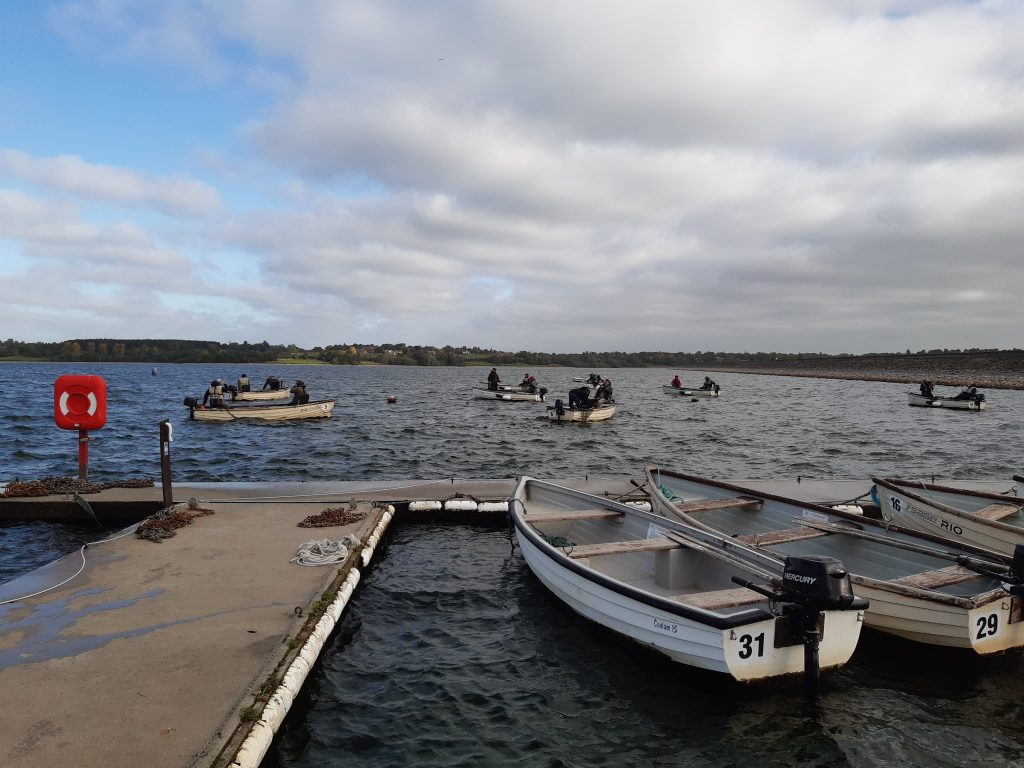 Once lockdown measures were lifted AT-TEFF held a one day fundraiser match at Draycote Water on the weekend of the proposed national final, with Sunday 27th September being the chosen match date. The match was fished based on the Angling Trust Covid-19 guidelines for competition fishing and those set in place by Fishery Management Ltd.
The match was fished to a timed catch and release format with the times of the first three fish caught recorded on a scorecard along with those caught and released after. The winner would be the angler that caught the most fish with a tie decided by the time of the first/second/third fish caught.
A cold north-westerly wind greeted the 24 anglers at Draycote Water with several England internationals from the seniors and ladies team attending along with some new anglers to the competition scene.
Many of the anglers had practised in the lead up to the competition and when the claxon sounded to start the match most of the boats headed to Dunns Bay and Biggin Bay. Anthony Smith was first to catch at 10:05 closely followed by John Hardy at 10:07, with John taking his second and third fish by 10:37.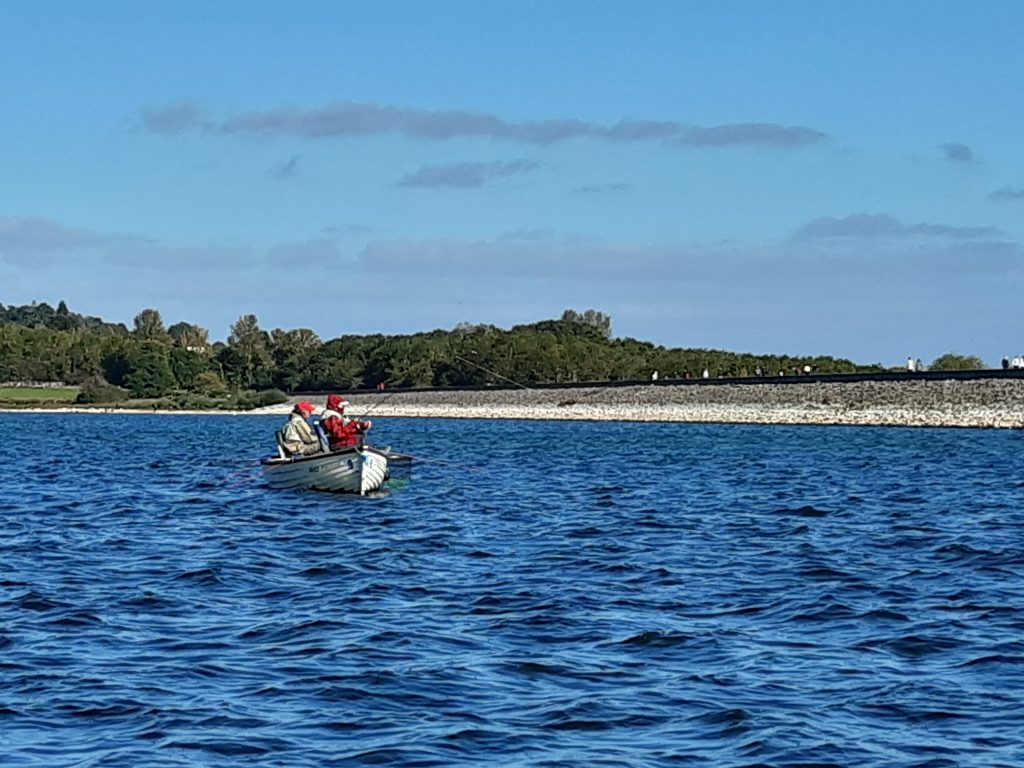 The field continued to do long drifts from Dunns, Biggin and Lin Croft Point with the occasional boat doing short drifts along Farborough Bank. At 1pm most of the boats had caught fish but it was boat 5 with Stephen Peart and John Hardy which had seen the most action with John having caught 12 and Stephen four. There were other anglers who had also caught well. Tony Baldwin, Frank Sumnall, Pablo Mullings, and Tony Fox were all on seven and still in with a chance at just after the half-way point. Despite the bright conditions the fish were holding high in the water and floating or tip lines along with slow and fast glass intermediates were the main line of attack.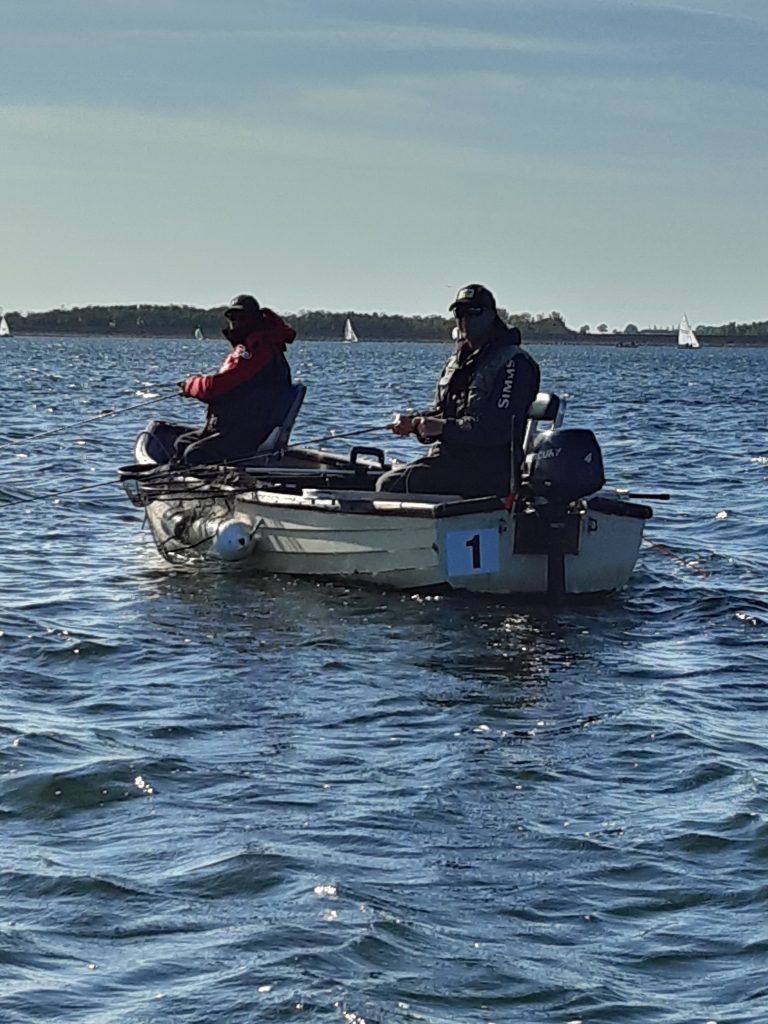 The competition ended at 5pm. 168 fish were caught by the 24 anglers giving a rod average of seven.  In first place was John Hardy with 18 fish. John fished a slow glass line with two size 14 FAB's with two Hare's Ear Nymphs. This was the same tactic that saw him take first place the week before at Grafham in the AT Loch Style Autumn Series Match. First place saw John win £120. Second place went to Frank Sumnall. Frank fished in the mouth of Dunns Bay to take most of his 12 fish. Frank's second place finish saw him win £90. Three anglers caught 11 fish and therefore third place was decided by the time of the first fish caught. Tony Baldwin took this spot having caught his first fish at 10:30am. Tony won £60 for his third place finish.
In total £654 was raised for TEFF Teams for next year.
Many thanks to those anglers who competed, to Ifor Jones, Tom, Lloyd, and Alan at Draycote water for hosting the event and to Chris Bobby for assisting with the results.
Results
1st John Hardy 18 fish
2nd Frank Sumnall 12 fish
3rd Tony Baldwin 11 fish (1st fish 10:30)
First fish was caught by Anthony Smith at 10:05am winning a day for two at either Draycote Water or Eyebrook Trout Fishery. Thank you to Ifor Jones at Fishery Management Ltd for donating this prize.