Tributes
With the passing of time, so we lose fishing friends old and new along the way. This section is intended to pay tribute to anglers who have made a remarkable contribution to our sport and who have recently passed on to that 'great river/lake/sea in the sky'. It is not intended to be an encyclopaedia of the famous, rather an opportunity for friends and colleagues to mark the passing of those who touched their lives in a particularly special way. We wish bent rods and tight lines to them all for eternity.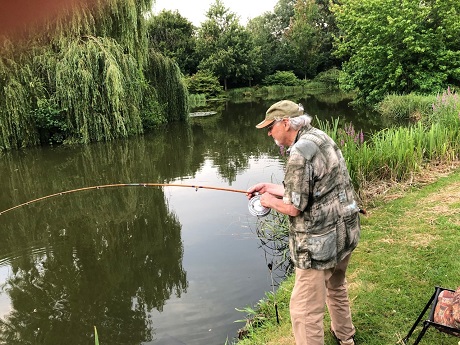 Tribute by Derek Stritton, Carp Society
The Angling World has lost one of its true ambassadors and angling icons in Len Arbery.
Writing what follows isn't easy for me, because I am very, very sad, a sentiment I am sure many of you reading this will share. Nevertheless, I'm truly humbled to have been asked to portray what follows by some of Len Arbery's family and will do so to the best of my ability. Today, Len's close family, his wife June, son Tony and daughter Karen, are experiencing the devastating loss of a husband and dad; nothing can compare with that.
Additionally, the angling community has lost a huge personality with his passing. As I sit and compose this now, I am shedding genuine tears, which I am sure will be shared by all of you who got to know Len over the years, and who knew him as a friend, gentleman, and truly great contributor to angling at all levels. Len was one of a generation of anglers who grew up both having to invent the tackle they used and also having to engineer and make it themselves.
For right or wrong, these days we sadly live in an era where the younger generation of anglers bandy around words like icon, legend, superstar with gay abandon. Can I respectfully suggest those of you who use these expressions, all stand back and look at the contribution Len Arbery made to angling and Carp Fishing as a whole, you may all be slightly humbled! Redmire Pool (along with Kevin Clifford), Carp for Life, The Haunting of Redmire Pool (with Adrian Curtis), Recollections (with his great friend Bob Buteux), Barbel for Life, In Pursuit of Big Tench, Royalty Days, Catching Big Tench and various other written contributions just add to that. He was a truly accomplished angler, with a list of captures that would be envied by many, even in today's 'easy world' and a magnificent person, at many levels, as all of those who knew him will testify.
Throughout Len's recent illness we have both talked on a regular basis, about how we would celebrate many of the carp fishing pieces of history he has collected over the years. They were not always easy conversations, but ones Len stuck to quite stoically as anyone who knew him would have expected.
The Carp Society will be working with his son Tony and others to produce a book, which will benefit June, Len's wife and family as we move ahead. For now, I personally want to say, how sad I am at his passing. Rest in peace my friend, a sentiment I know will be echoed by many others. Go forward on your journey, secure in the knowledge you have made a huge contribution and will be remembered fondly by many! In the passing of time I might find it easier to share some of our recent laughter, and pain, but for now, Gods speed, thank you for your friendship, for your contribution to angling as a whole, and the laughter we both shared. RIP my friend. X
Tribute by Michael Nadell
It was with great sadness that the Angling World received the news of Len's passing.
Unlike the many others who had known Len Arbery since their 20s, I had only known Len for 10 years, but what an interesting 10 years they were.
We first met at a book launch and soon discovered we both had an interest in collecting old books and fishing tackle. On discovering my love of vintage Roach Poles he said he had two to sell which he would bring to my home. On arrival he said he could only stay for two hours and must be home for Sunday lunch. Four hours later we were still talking and a sound friendship was forged. Len was one of Angling's true gentlemen, always happy to help solve a problem, courtesy of his vast engineering skills.
Whilst he was a good all round angler – he once held the barbel record – his early years of specimen hunting involved tench and carp, of which he wrote more than 5 books and co wrote Redmire Pool with Kevin Clifford. He was, of course, in the early Redmire syndicate with his good friend Bill Quinlan. Unusually, Len preferred a swingtip as his chosen method of bite detection for both carp and tench fishing.
In latter years he concentrated on the chub of the middle Thames, and touch legering with his favourite bait of cheese paste he caught chub to over 7lb.
In his last year of fishing he came to fish my small lake throughout the summer months for carp and tench. On one occasion, accompanied by his son Tony, they caught 42 tench. Other times he returned to his childhood days and used floating crust to take a number of 20lb carp, the best going 29lb.
Sitting together on one occasion he related the tale of a long weekend's fishing with a friend. Nothing stirred, until they were about to pack up on Sunday morning when the fish suddenly began feeding and they carried on fishing. These were the days before mobile phones. When Len eventually pulled up at his friend's house that evening to drop him off, a very angry wife opened an upstair's window and hurled untold amounts of verbal abuse at him, banning him from ever entering her home again! We chuckled.
There is so much that can be written about Len, but I, like so many others, will always remember him as a kind friend and one of Angling's greats. Indeed, a true gentleman.
Pictures: Len using a centrepin made by BB and with Chris Ball at a Carp Society function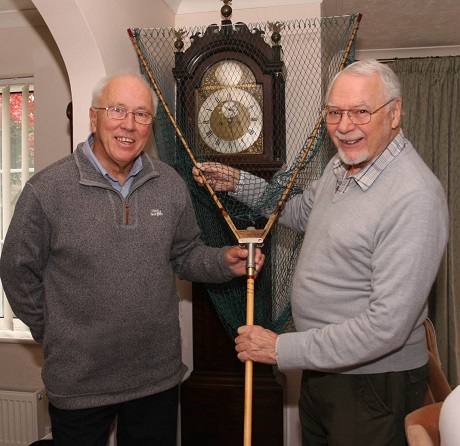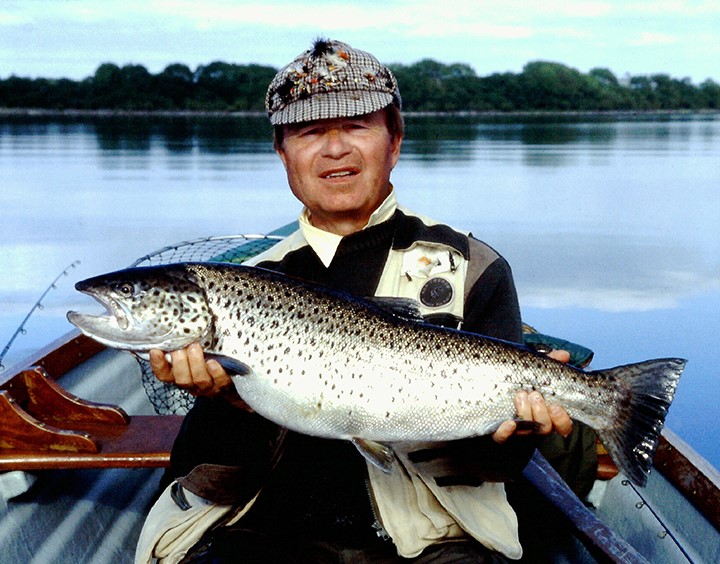 Tribute by Keith Arthur
The history of angling is littered with great names of anglers who created their own aura of brilliance. Dick Walker, Ivan Marks and more recently John Wilson passed on having left an indelible mark on the sport we love so much. Now Bob Church has joined that legendary group and perhaps he was the most influential figure of all.
In the 1960s Bob was a prime mover in specimen hunting, as it was known then. A founder member of the highly-regarded Northampton Specimen Group, Bob's varied approach saw him as a captor of huge fish of several species, especially barbel, chub, tench and pike.
Then came the fly fishing revolution on the giant Midlands reservoirs, especially Grafham and Empingham Reservoir, that became known as Rutland Water and it wasn't long before Bob was the man. He mastered the art of tempting the trout that were stocked in these big lakes, often able to sort out the larger, overwintered fish.
Bob invented an incredible number of flies, designed to catch reservoir rainbows in both competition and leisure angling as well as the big browns that usually roamed the depths. Bob used lead core lines to reach the depths and used methods that were just about within the rules but catch them he did. I fished with Bob at Grafham as his boat partner and I learned more about boat fishing in those few hours than I could have imagined. I also bought one of the boat seats he designed!
He was also a fine angler on smaller stillwaters and I recall a day at the beautiful Chalk Springs where the water is so clear every speck of bottom can be seen in 12ft of water. It was a friendly competition called The Hat Trick where one each of the three stocked strains of spottie had to be caught…only this year there were four, with blue and gold strains of rainbow added to the regular rainbow and browns.
The event was divided into 45 minute segments and I spotted a pretty decent goldie in my part of Middle Lake. I tried it with tiny buzzers and bugs, unweighted nymphs and, out of frustration, dries that looked like one of the old Queen Mother's hats as well as damsels, tadpoles and other large lures. It chased a couple but refused to eat.
The whistle to change pools was blown, I crossed the stream towards my next lake and Bob strolled up, cast out and caught 'my' golden rainbow before I'd reached East Lake! It weighed 8lb 9oz too.
I tench fished Sywell Reservoir with Bob for Tight Lines and he worked out what they needed so well we were the only two anglers with tincas on that day. Bob was a wonderful guest in the studio too; the biggest problem was getting us both silent at the same time and then, when we did start, to keep on track because Bob had so many diversions and tangents he could take on a subject. The hour of the programme was nowhere near enough.
I've just realised that I've written for Angling Times exactly the same number of years as Bob but whereas my column is opinion-based (if you hadn't noticed…) Bob's was far more practical and informative. He's also written close to 20 books too, all superb in their own way whether advice/how to based or memoirs.
Bob is a tremendous loss to angling but he leaves behind an enormous legacy of his works, his tackle – rods, reels (large arbour fly reels are his idea) and clothing designs as well as the techniques (and boat seat) he introduced that are as effective today as they were the first time they ever saw the light of day.
His MBE was well deserved and it's hard to think I won't ever talk Cobblers to Bob again…well, he was Chairman and, on his retirement from the board president of Northampton Town Football Club. I remember telling him that my first visit to Arsenal stadium in 1954 was for a reserve match against 'his' team.
Even in his later years when Parkinson's Disease made things so difficult for him, he was always smiling – and fishing.
My sympathies and condolences go to his lovely wife Jeanette, Steven and Nicola. Rest in peace Bob Church MBE. All trout are safer today.
Rod 'Hutchy' Hutchinson 1944-2018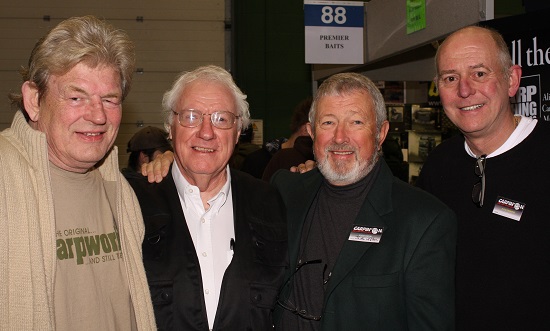 Tribute by Tim Paisley
It would take a book to capture the essence of Rod Hutchinson, and even then you would have to leave so much out that it would only tell half the expurgated story. Rod was a war child, born during WWII, and a product of the sixties, a heady combination which in his case produced a highly intelligent, multi-talented, multi-faceted personality that struggled with some of the niceties of life, was prone to addictions and occasionally (make that frequently) took refuge from the realities of life by 'smelling the roses', as he put it.
In his prime he had a pop-star aura about him, and grown men could be lost for words in his company. His angling heroes were Dick Walker and Fred J Taylor, but Rod extended their thinking, and certainly their tactics, when his attentions moved on from specimen hunting to being serious about carp fishing. Rod had an enquiring, inventive mind, which led to him making major advances in the fields of tactics (bolt rigs were very revolutionary when he started using them with particles in the early 70s), tackle, rods and carp baits, a field which he pioneered and excelled in. Many of today's most popular flavours were originally products of Rod's inventive, scientific mind working in collaboration with commercial flavour experts.
He was a confusing mixture of a larger-then-life extrovert personality coupled with the need for privacy. He had a close circle of loyal friends with whom he was comfortable but beyond that circle he could be awkward and you never quite knew which Hutchy was going to show up. He was academically bright but was expelled from school for an incident which would probably see the master involved being expelled now. (When a hard-backed blackboard cleaner was thrown at him by the teacher Rod threw it back at him!) Fortunately his English master saw in him and praised his talent as a story teller and this was a talent we all benefited from in his carp fishing writings and meant I had the pleasure of working with him on a number of his books. Any book is an achievement, and to have played a small part in helping make some of Rod's books available will always remain a matter of some pride. As a story teller he was unique, and some of the one-liners around which his articles and chapters were based were memorable. Back at a time when carp writers were thin on the ground Rod's next monthly offering was eagerly anticipated and devoured with relish, as his books have been in more recent years.
Rod was a former footballer and boxer and loved his football and boxing on TV. He was a musician manqué and song writer and had a music room at home. He loved jamming with his mate Mally Roberts, 'brother-in-law' Keith and anyone else who was willing to sit around strumming and singing for hours on end. His pub singer imitation was a show stopper!
Rod's first book was Rod Hutchinson's Carp Book. Thereafter I had an involvement in the compilation and production of The Carp Strikes Back (many people's favourite carp book), Carp Now and Then, Carp Along the Way Volumes One and Two and Carp Inspirations. We were working on Carp Along the Way Volume Three when he was taken from us so suddenly, unexpectedly and shockingly. That was how losing him felt to many of us. For as long as my generation of carpers had been carp fishing from the early 70s onwards Rod had been a public hero-figure, in my case first as a distant hero, then as an acquaintance and then as a friend. His recent years had been difficult following a series of detached retina operations which had limited his eyesight and eventually reduced his mobility. He didn't take kindly to his developing inability to live life to the full, which put a restriction on his beloved carp fishing activities.
He was a family man who has left two daughters, Kath and Emma, four granddaughters and three great grandsons. He was hugely influential and the global outpouring of affection following his death has demonstrated the admiration he was afforded and affection in which he was held. He was talented, influential and loved well beyond the normal degree of esteem in which hero figures are held. For all his eminence, talents and achievements he was looked on as one of us, made good. He was special and has left a void which may never again be filled by one man.
He coined the expression for his new, unexplored carp waters 'where dreams are still alive', a quote which will be taken into carp fishing lore. Sadly the dreams are no more but his legacy and the memories will live on.
Tribute by Derek Stritton, on behalf of the Carp Society
It was with great sadness that the Carp Society heard of the recent passing of Rod Hutchinson. Rod was a life member of the Society, and fondly remembered for the many slide shows he gave at our conferences and regional meetings over the years, the first of which was at our inaugural meeting in May 1981. He was also a great supporter of our junior events.
Rod was, without doubt, a true pioneer of carp fishing, not only in this country but across Europe as well. Much of today's thinking about carp fishing reflects Rod's early writing and his massive contribution to the tackle trade.
On a personal level, I first got to know Rod at Johnson's lakes in Kent, where I often went to visit Fred Wilton, and then later when I fished alongside him at Savay Lake and North Harrow in the Colne Valley during the early 1980s. Although a very talented angler, Rod was also very down to earth and had a wonderful sense of humour. Some of his stories could make you laugh so much, that your sides would hurt!
Rod will be fondly missed by the entire angling community, already demonstrated by the many tributes paid to him. Carp fishing has lost not only a great character, but also a "true pioneer." The Carp Society has lost a "true friend!"
Go forward on your journey Rod, secure in the knowledge that your memory and writings live on, and that you will be remembered always as a carp fishing hero, and admired by the many anglers you inspired along the way!
Picture: Hutchy with Tim Paisley, John Wilson and Lee Jackson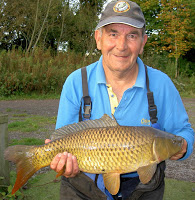 Tribute by Michael Nicholls
I first got to know Terry at the end of the 60s during South West Angling Times Winter League matches, his dad Sid and I were in the same team. Terry was a Systems Engineer working on Concorde and was sent on French lessons but I don't think the language stuck. Later he started his own business servicing quarry equipment.
I am not sure what year it was but Terry won every single section in the South West Winter League which was amazing considering there were 14 teams. After this he was referred to as the "one man band". The feat has never been repeated.
I remember drawing next to Terry in an open match on the Fry's section of the Bristol Avon and could only watch in amazement him fishing the far bank in 13 foot of water (where the flow was) using bread over home made bread groundbait. He easily won the match that day with 21lb of skimmers, roach and hybrids. No crow quills for Terry, he used a homemade float which I copied – all balsa with a wooden antenna. The interesting aspect of these floats was they could be used top and bottom or waggler – crafty.
Through us both having sons of similar age, all keen to learn match fishing, we became good friends and supported the lads in the various leagues. I remember his son Dave winning a Junior match on the Crane with 18lb of chub from the New Fence Swim, Terry was over the moon. Later we fish the Dads and Lads matches and Terry and Dave won it at Huntstrete with a late 6lb tench, pushing Steve and me into second place. Both our sons went on to fish the Junior National on the Bristol Avon.
Terry loved his carp fishing, particularly fishing in traditional ways, but was equally at home catching silvers. He loved the Hunstrete fishery more than any other and was the record holder until one day I drew peg 16 and Terry was on next peg 15. Terry weighed in 120lb but I was to take his record with 201lb. Typical of Terry, he was the first to congratulate me.
Terry won more matches than most matchmen have had hot dinners. Any venue and method – he did them all. Later in life he focussed on local venues – Hunstrete and Viaduct.
He used to call me regularly especially when "My Dave" did well in a match. He was so proud when this happened.
Terry lived for fishing and fishing lived for him. He was the most focussed angler I knew. RIP matey, you will be sorely missed by me and many others.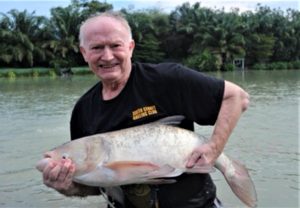 Tribute by Craig Hunt, South Cerney Angling Club
Steve Smart passed away in hospital on 24th April, 2018, after a terrible accident when a car collided with him as he was stationary waiting in traffic.
Steve was born in 1951, known to his friends as 'Smarty', was a keen footballer and cricketer in his younger days, and a lifelong angler.
He lived all his life in the village of South Cerney, Gloucestershire, in the heart of what is now known as the Cotswold Water Park. He spent much of his working life with Bradley's Aggregates, working with the gravels dug from around his local area.
Smarty had been a popular member and character of South Cerney Angling Club for over 50 years, fished many club matches, regularly represented the club in the Nationals but also spent many fishing hours introducing his friend's children to fish.
In more recent times Smarty has been fishing just for pleasure, and had become a keen barbel angler, but also fishing for various other species on SCAC waters. Earlier this year he gained even more angling experience whilst holidaying with friends in Thailand, catching several very big fish
He was a regular and very keen volunteer in SCAC's coaching activities and in 2011 gained his Level 1 Coaching Qualification, of which he was very proud.
Not only was he a good angling coach with great technical knowledge and ability, he was also an entertainer and knew how to make fishing fun for those he taught. I don't know who used to laugh the loudest, him or the children or their parents. He would also try to help his fellow coach and also gave us a laugh too, especially with his Smarty-isms, such as "you should fish towards the aeronaughts" (aerators) or "I'm in a catch 45 situation".
Steve will be greatly missed by family and friends.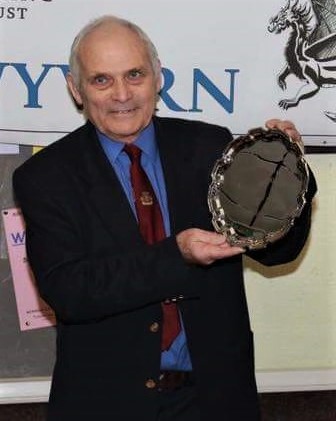 Tribute by Mark Lloyd, former Chief Executive of the Angling Trust
We are all very saddened to hear the news that David Rowe, one of angling's most stalwart and dedicated volunteers and officers, has passed away following a long illness.
David's earliest memory of fishing was angling with his father from the age of six or seven at Teignmouth. He started sea angling in earnest from the age of ten and continued until he left school and home and started work as a student apprentice with a major car manufacturer.
After marrying and returning to Devon in the early seventies, it became his main hobby because it enabled to spend quality time with his family and friends. He later became a member of the Wyvern Regional Committee of the then National Governing Body, the National Federation of Sea Anglers, and its chairman in 1986.
In 1998 he became the first Sports Council Development Officer for the sea angling. During his time with the Federation he developed the angling coaching scheme and serviced and managed the national teams for the sport at international level, including winning a world championship gold. His interest in conservation issues were developed through the NFSA conservation group and in 2005 David became a vice president of the world governing body CIPS with its sea section FIPS-M.
During this time he was invited to become a founder member of the European Angling Alliance whose sole purpose was to represent angling and its conservation issues at the European Commission in Brussels. The EAA has since become a powerful lobbying organisation in Europe and the Angling Trust is a leading member of this organisation.
He became the MAFF sea angling appointee to the old Devon Sea Fisheries Committee in 1996 and continued as a DEFRA appointee with its successor the Devon and Severn Inshore Fisheries and Conservation Authority, a post he held until his passing.
He retired in 2009 at the age of 67 as the CEO of the National Federation when the three governing bodies for the sport joined together to form the Angling Trust after many years of what he described as "intense and hard, but rewarding, work on behalf of sea angling."
David also served as the secretary of the British Record Fish Committee and helped the Angling Trust develop this important body for anglers of all disciplines.
We are very grateful to David for all he has done for fish and fishing and we will miss him terribly, but remember him fondly. His warmth, humour and kindness were evident to the many, many people whose lives he touched.
Nigel Hewlett, who was a colleague on the British Record Fish Committee, added:
David was the first to greet me when I joined the BRFC about 15 years ago. He made me feel instantly at home. I only knew him through the committee but he would always greet me as if meeting an old friend. He always made me feel welcome and valued. His passion for angling and for the work of the committee were always clear. I count myself lucky to have known him.