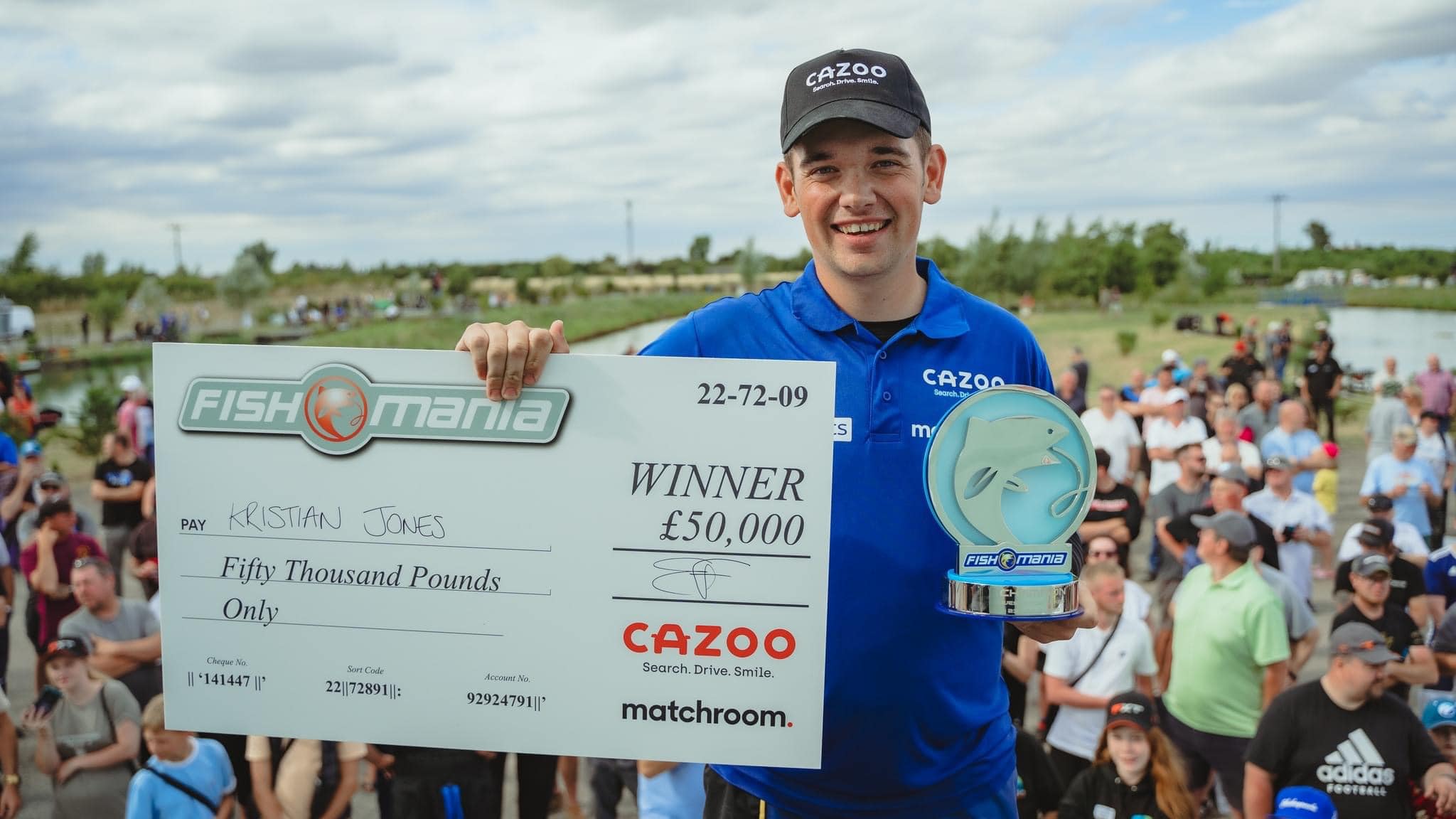 FishOMania
FISHOMANIA 2023 QUALIFIERS
This year will see the nation's biggest and best fisheries stage qualifying matches, with a new venue joining the rota and the return of an old favourite too. Here are the dates and venues for 2023…
QUALIFIER 1 – Saturday March 25 – Tunnel Barn Farm – 120 pegs
QUALIFIER 2 – Wednesday April 5 – Boldings Pools – 100 pegs
QUALIFIER 3 – Saturday April 8 – Lindholme Lakes – 120 pegs
QUALIFIER 4 – Saturday April 15 – Partridge Lakes – 100 pegs
QUALIFIER 5 – Wednesday April 19 – Todber Manor – 100 pegs
QUALIFIER 6 – Saturday April 22 – Old Hough – 100 pegs
QUALIFIER 7 – Saturday April 29 – The Oaks – 100 pegs
QUALIFIER 8 – Wednesday May 3 – Westwood Lakes – 100 pegs
QUALIFIER 9 – Saturday May 6 – The Glebe – 100 pegs
QUALIFIER 10 – Saturday May 13 – Makins Fishery – 100 pegs
QUALIFIER 11 – Wednesday May 24 – Westwood Lakes – 100 pegs
QUALIFIER 12 – Wednesday May 31 – Heronbrook – 100 pegs
QUALIFIER 13 – Saturday June 10 – Weston Pools – 100 pegs
QUALIFIER 14 – Wednesday June 14 – Partridge Lakes – 100 pegs
QUALIFIER 15 – Saturday June 17 – Moorlands Farm – 100 pegs
QUALIFIER 16 – Saturday June 24 – Monk Lakes – 100 pegs
QUALIFIER 17 – Wednesday June 28 – Todber Manor – 100 pegs
QUALIFIER 18 – Saturday July 1 – Heronbrook – 100 pegs
QUALIFIER 19 – Wednesday July 5 – Lindholme Lakes – 100 pegs
QUALIFIER 20 – Wednesday July 12 – Hayfield Lakes – 100 pegs
FINAL – Saturday July 22 – Westwood Lakes
HOW THE TICKETS WILL BE SOLD
The tickets will be offered in two stages via the Angling Trust website www.anglingtrust.net and you'll need your membership number handy to be able to log in and buy.
STAGE 1 – Friday February 3 at 12 noon – tickets will go on sale on a one-angler, one-ticket basis allowing as many match anglers as possible to obtain a place on one of their favourite fisheries' qualifiers. Stage 1 ticketing will end at midnight on Sunday February 5.
STAGE 2 – Monday February 6 at 12 noon – tickets will go on general sale and anglers will be able to purchase as many qualifier tickets as they wish until the events sell out.

INTERNATIONAL QUALIFIER – Ibran Mertens
JONES SCOOPS £50k FISHOMANIA PAYDAY
MATCH ACE Kristian Jones has scooped the Cazoo FishOMania 2022 title by the finest of margins in a tense clash of match fishing's titans at Westwood Lakes, Boston.
The Ellesmere Port, Cheshire angler earned himself a £50,000 payday thanks to his 56.750kg haul from the venue's Falcon Lake and won by just 410g – effectively one fish – over fellow North-West angler Andy Dyson.
It was a mammoth 10kg final weigh in which delivered the victory for the 23-year-old professional angling coach, despite being told by his bank runner that it might not be his day.
Kristian, drawn on peg 10, struggled with the consistency of front runners Artur Hilmi, Andy Power, and Andy Dyson early in the match with all three plundering the lake's F1s with their shallow fishing tactics.
"My bank runner kept telling me I was too far behind and to fish for second," revealed Kristian. "I know the lake well and expected shallow fishing to play a part for me but during the lulls I kept feeding the edge and I started to see some fish come in, so I binned off fishing shallow and I concentrated on my edge.
"When I went down the edge, I started to catch some proper carp – the first fish in the sixth weigh in was a 6lb carp – and knew that if they kept coming, I could catch up with Art catching F1s."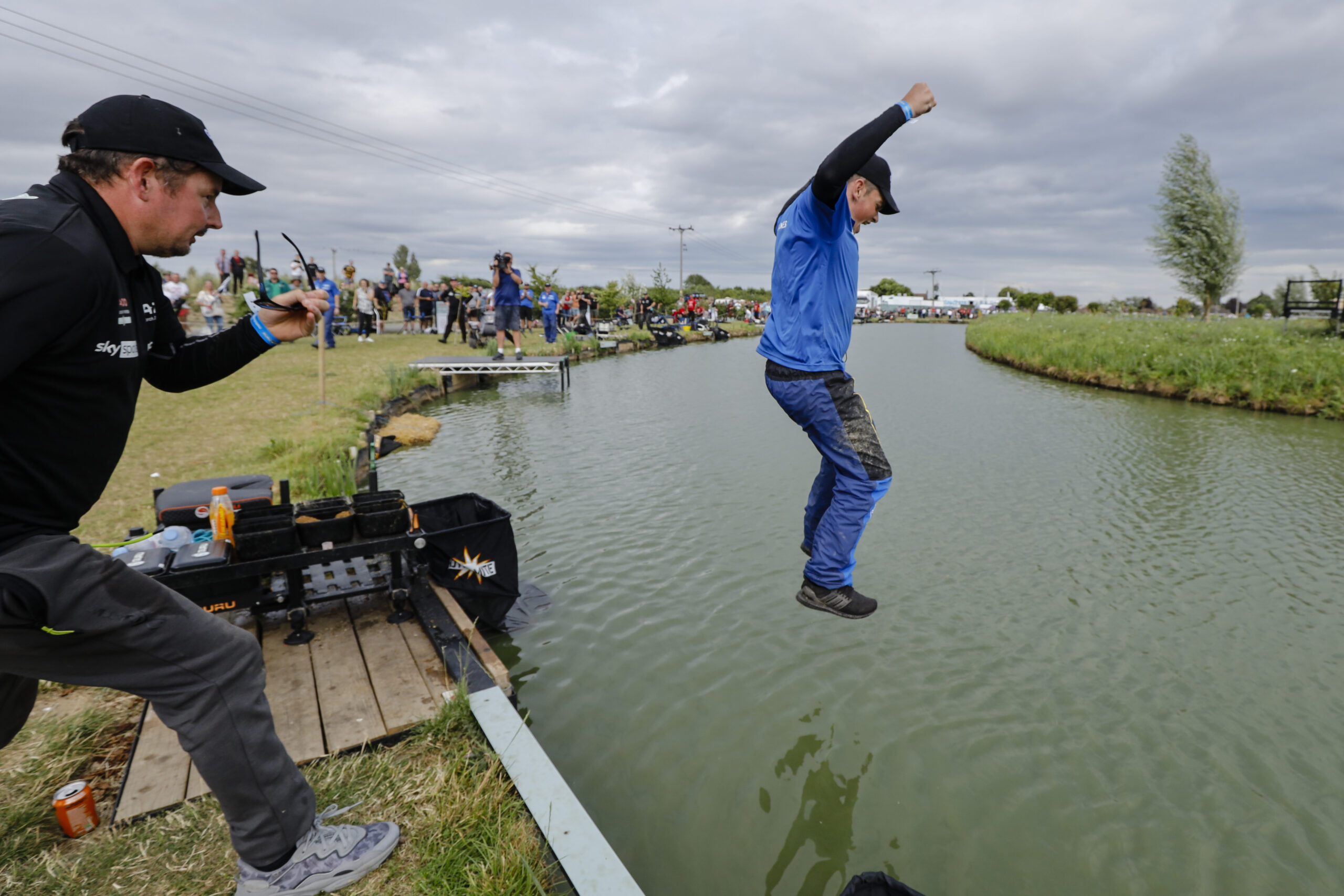 KEEPING UP WITH THE JONES
Art Hilmi and Andy Power were the duo trading punches in the early rounds with Power taking the lead from Hilmi on several occasions by tiny margins.
Hilmi looked to have taken victory with just 5kg separating him and Dyson going into the final weigh-in before Jones knocked the pair out the park with his strong finish.
Kristian went on a run from the sixth weigh in to close the gap before sealing the deal in monumental style. His 8.5kg got him going in the sixth weigh in and was followed by 6.4kg in the seventh, 5.3kg in the eighth, 8.50kg in the ninth and the final 10.325kg put the trophy and cheque in his arms.
"You don't think it's going to happen until it happens. I still didn't believe it when they told me at the end," he added.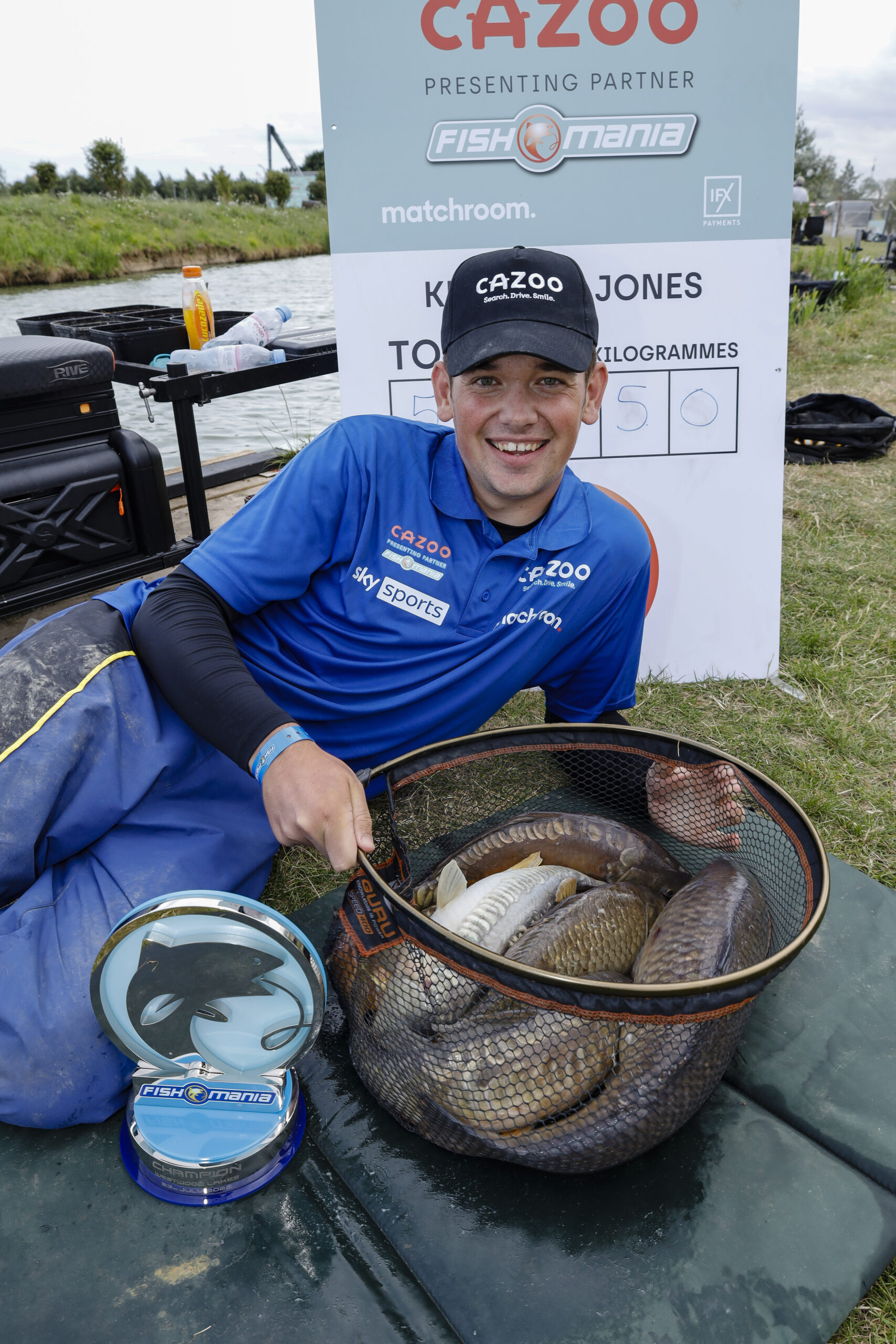 CAZOO FISHOMANIA 2022 TOP 5
1 Kristian Jones, 56.750kg (Peg 10) – £50,000
2 Andy Dyson, 56.340kg (Peg 1) – £10,000
3 Art Hilmi, 56.150kg (Peg 15) – £2,000
4 Andy Power, 51.275kg (Peg 19)
5 Paul Wright, 45.5kg (Peg 25)