Volunteering
Are you passionate about fishing and want to give up your free time to support our wonderful sport? There is such a wide range of opportunities, whether it's a 'one off' or more regular role, in your local community, nationally or even at home, we can help you get involved!
Why volunteer?
Without the hundreds of thousands of hours volunteers contribute every year to support angling, whether through Angling Trust activities or via a club or fishery, it just wouldn't be possible to preserve the future of the sport we all love. Whether you want to meet people, improve skills or just give something back to fishing, volunteering is a valuable way of maintaining health and well-being – for the benefit of all!
What are you interested in?
Find out more about the different volunteer opportunities to support our valuable work protecting fish, fishing and the environment.
Volunteer Bailiff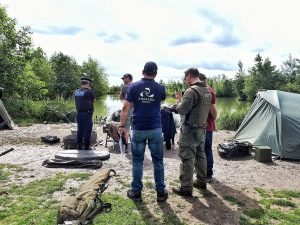 The Voluntary Bailiff Service provides freshwater anglers with the opportunity to positively contribute towards supporting the Environment Agency and police in protecting fish and fisheries. Funded by fishing licence income through our partnership with the Environment Agency, volunteer bailiffs are the eyes and ears on the bank, reporting what they see and hear. Full training will be provided to all successful applicants.
If you are interested in becoming a volunteer bailff, please complete an Application Form
Environment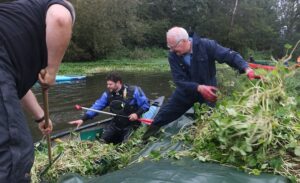 Volunteers can help protect the environment by assisting our Environment Officers at events to clear invasive non-native species, such as floating pennywort, or take part in litter picks.
For the South of England contact Drew Chadwick:
[email protected] or 07946 251826
For the North of England contact Ian Doyle:
[email protected] or 07951 037091
Competitions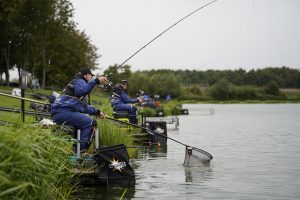 Angling Trust competitions are huge and rely upon volunteers to make them run. Whether these are large scale national competitions or more local events, we are always looking at encouraging more people to get involved.
If you are interested or require further information, please contact Steve Fitzpatrick:
[email protected]
Get Fishing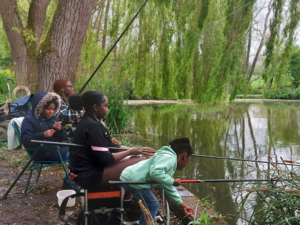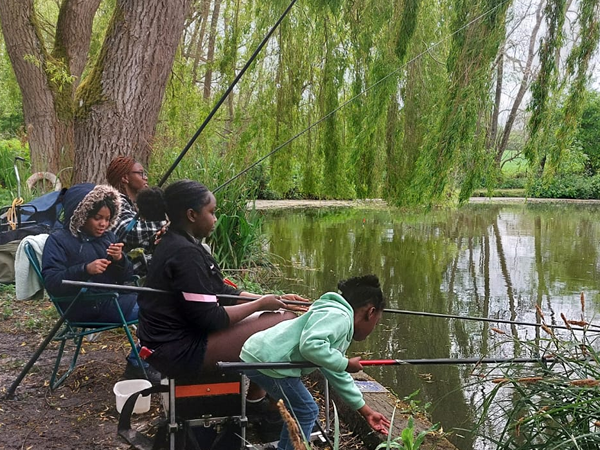 Our participation staff work with clubs and fisheries to put on hundreds of events throughout the year to encourage more people to take up fishing.
For volunteering opportunities please contact our Angling Development Managers:
Dean Asplin (South) [email protected]
James Roche (North) [email protected]
Building Bridges

Our Building Bridges team help to educate migrant anglers and their families on UK fishing rules and integrate them with clubs and other anglers.
For volunteering opportunities please contact our Building Bridges Project Manager Janusz Kansik:
[email protected]
Volunteering Best Practice Guide
Why is volunteering and this guide important?
Angling is mainly a leisure pursuit, and most clubs are non-profit making, heavily reliant upon volunteers for essential personnel such as committee members and water bailiffs. Volunteering is essential but subject to certain legislation.
For this reason, angling clubs must be aware of the legalities and ethics involved, protecting both the organisation and the volunteer. An awareness of best practice will better equip clubs to provide the best volunteering experience.
This guide covers the key aspects of working with volunteers, providing advice, and signposting further information.
Download a copy of the Volunteering Best Practice Guide
Are there any age restrictions?
There is no upper age limit but currently you are required to be 18 or over unless specified.
Will it cost me anything?
No. Volunteers should not be out of pocket as they are giving up their free time to work with us. We will therefore reimburse reasonable travel expenses, and any other expenses agreed with your manager.
Do I need to be an Angling Trust member?
We would hope that you might choose to support all our work by becoming a member, but you don't have to be.
How much time will I need to give?
There is no specific time commitment and you are free to leave whenever you like. If others rely on you, we would just ask that you let us know in advance.
Will I be insured?
Yes. The Angling Trust has insurance cover for legal liability claims, either by or against volunteers working for the Trust, resulting in damage to property or personal injury.
What training will I get?
That depends on what you do for us, but we will provide training to ensure you are able to carry out your volunteering role.
What support will I receive?
You will be allocated a named volunteer contact who is there to support you in your role, keep you updated about what's going on and answer any questions you might have as you go along. It is important to us that we make volunteers feel part of our team.
I have a criminal record – does that mean I am unable to volunteer?
No, a criminal record should not be an automatic bar to you volunteering with us, although it may restrict the things you are able to do.
Do you accept volunteers from outside the UK?
Yes. We are committed to equality and diversity, recognising the fresh vision and awareness those from diverse backgrounds can bring, but you are likely to require a valid visa. If you have any doubts or questions you should contact UK Visas and Immigration.