PAID EVENT: Spring into Fishing at Kennick Reservoir, Christow, EX6 7NZ
27 May 2023 10:00 AM - 27 May 2023 4:00 PM
Kennick Reservoir, Christow, EX6 7NZ
Spring into Fishing events are fun, friendly and safe beginner fishing days for families and angling newcomers
Come and Spring into Fishing at this special outdoor activity event to encourage you to discover the wonderful world of angling – a lifetime skill that brings unforgettable experiences of being outside, with all the relaxation, peace and quiet of nature mixed in with the excitement and achievement of catching a fish or two! Everybody is welcome, to come and try entry-level fishing for beginners – whatever your age, ability or experience
Everything you need to catch your first fish or learn more about fishing is provided and our friendly volunteers will make you welcome. So, come on – Spring into Fishing!
Never been fishing before? No problem – tackle, bait, instruction and info on fishing clubs and places to go are all included for everyone at Spring into Fishing events.
Already a beginner? Great – come back and continue your introduction to angling, refresh your basic fishing skills this spring and discover some new fishing tips to help progress your angling to the next-level!
Fishing events like this let you experience first-hand how fun, inexpensive and accessible fishing is, and how it's good for your wellbeing to get outside next to water and simply tune-in to the peace and quiet of nature.
Spring into Fishing events are happening all over the country from April right through to June at fishing clubs and venues in partnership with friendly, helpful coaches and volunteers who will show you and your children what fishing is all about.
IMPORTANT Booking Information: You MUST contact the Event Primary Contact before attending this event. Use their details on this page – see below. They will let you know about time-slots and booking-in procedures which follow distancing guidelines.
Cost: £45.00 per person

Times: 10.00am – 4.00pm

Venue: Kennick Reservoir, Christow, EX6 7NZ
Additional Information: These are learn to fly fish sessions

Type of Fishing: Game
Perfect for: Families and kids of all ages and experience levels. People under the age of 18, or vulnerable people under 21 years old must be accompanied by a responsible adult.
What happens on the day: Spring into Fishing gives everyone the chance to get outside, try fishing and learn new skills. The angling activities on offer are designed to encourage adults, children and young people to discover what angling is all about and take up angling. You'll find out how to use fishing rods, reels, line and tackle to catch fish and return them safely. Get Fishing Volunteers will be on hand to help, give fishing tips and provide you with more info about your local club or fishery so you know how to go fishing again next time.
What's fishing good for: Going fishing is a highly accessible outdoor activity that's open to everyone, no matter what age, income or fitness. It's good for physical and mental health and wellbeing and is even prescribed by the NHS now for mental illness, loneliness, isolation and PTSD. Being outdoors fishing can reduce stress and anger and provides patience, focus and awareness. It's a great way to get your daily dose of vitamin D to keep your immune system, bones and teeth healthy plus it's a great work out for your heart and lungs and even improves your balance. It can help focus on personal goals, boost confidence, improve self-esteem and is a skill you can build on for life to enjoy at any age. It helps build relationships and strengthen family bonds across generations. Fishing means unplugging from screens and social media while you reconnect with the natural world instead – it offers something for everybody!
Tackle: Tackle, and everything else to catch a fish will be provided on the day. No need to bring any equipment.
Do I need to bring anything with me? Outdoor events are weather dependent so please bring something to keep you dry and/or sunblock and a drink. You can also wear a hat and glasses/sunglasses to protect your head and eyes from glare, and while casting.
Who's it run by? Spring into Fishing beginner sessions are quality assured by the Angling Trust – we are the National Governing Body for the sport of Angling in England, and we represent coarse, sea and game anglers throughout the UK. At beginner fishing events we give the best possible experience of fishing to children, families and anybody who wants to find out what you need and where to go fishing. Our events are funded by the Environment Agency and Sport England.
Disability information: Volunteers and coaches at Get Fishing events are provided with essential best-practice guidance on working with and planning events for disabled and mobility impaired people. Please check with the venue contact about the facilities available.
1] EVENT PRIMARY CONTACT:
John Hern
07770 651 520
[email protected]
2] ANGLING TRUST CONTACT
Dean Asplin
Angling Development Manager (South)
Angling Trust
07854 239 731
[email protected]
The Angling Trust's 'Get Fishing' campaign is proudly supported by
Shakespeare, Exclusive Tackle Partner and Angling Direct, Exclusive Retail Partner
as we all work towards getting more people fishing, more often.
The Get Fishing campaign to get more people fishing more often is funded by the Environment Agency from fishing licence income as part of the National Angling Strategic Services contract with the Angling Trust, and Sport England. Children under 13 do not need a licence, and licences for children aged between 13 and 16 are free but you still need to register and receive a licence in order to go fishing. You can get a licence for the full year, for 8 days (ideal for holidays!) or just a day's fishing.
NOTE: Although young children who are under 13 year old do not need a licence to fish, after coming to a free event like this, when you go fishing even the person supervising them needs the proper fishing licence to take hold of the rod or to help the child fish with it.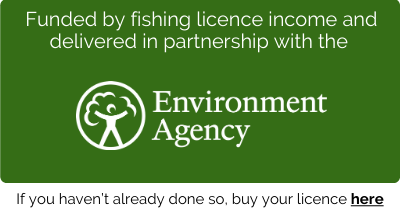 Location
Kennick Reservoir, Christow, EX6 7NZ