AT & CRT Boddington Classic
Please note: This competition is subject to and ran in compliance with government restrictions and Covid-19 guidelines. Please click the AT Covid-19 hub here https://anglingtrust.net/covid-19/ for updated information.
Please note: for 2021 the entry fee is now £30.00 per ticket. Optional pools are £15.00 per angler.
The pools amount has been reduced from £20.00 in previous years and the £5.00 has been added to the ticket fee instead. The total amount payable remains the same, but is split differently. This is due to the fact that the £5.00 peg fee was included in the pools payment, so this has now been transferred to the ticket fee instead.
The AT & CRT Boddington Classic (previously Stillwater Championships) is an Angling Trust competition run in conjunction with the Canal & River Trust and is a series of qualifiers held at Boddington Reservoir.
(5 x qualifiers)
Qualifiers:
Please note;  These dates might be subject to change.
Sunday 2nd May 2021 – Please click here for report.
Saturday 15th May 2021 – Please click here for report.
Saturday 17th July Grand Final
Please Note; Once anglers have qualified for the final then all their remaining ticket/s for this event will be cancelled and refunded. This then will allow others to purchase a ticket and have a chance to qualify for the Final who aren't already booked onto the event.
For any anglers who qualify and their tickets are cancelled then they will be able to repurchase a ticket for qualifier/s closer to the time if they have not sold out. They may go and check availability to purchase any tickets during the week prior to the qualifier takes place subject to entry and closing dates.
A LOOK BACK AT 2019
JASON IS 'KING' OF BODDINGTON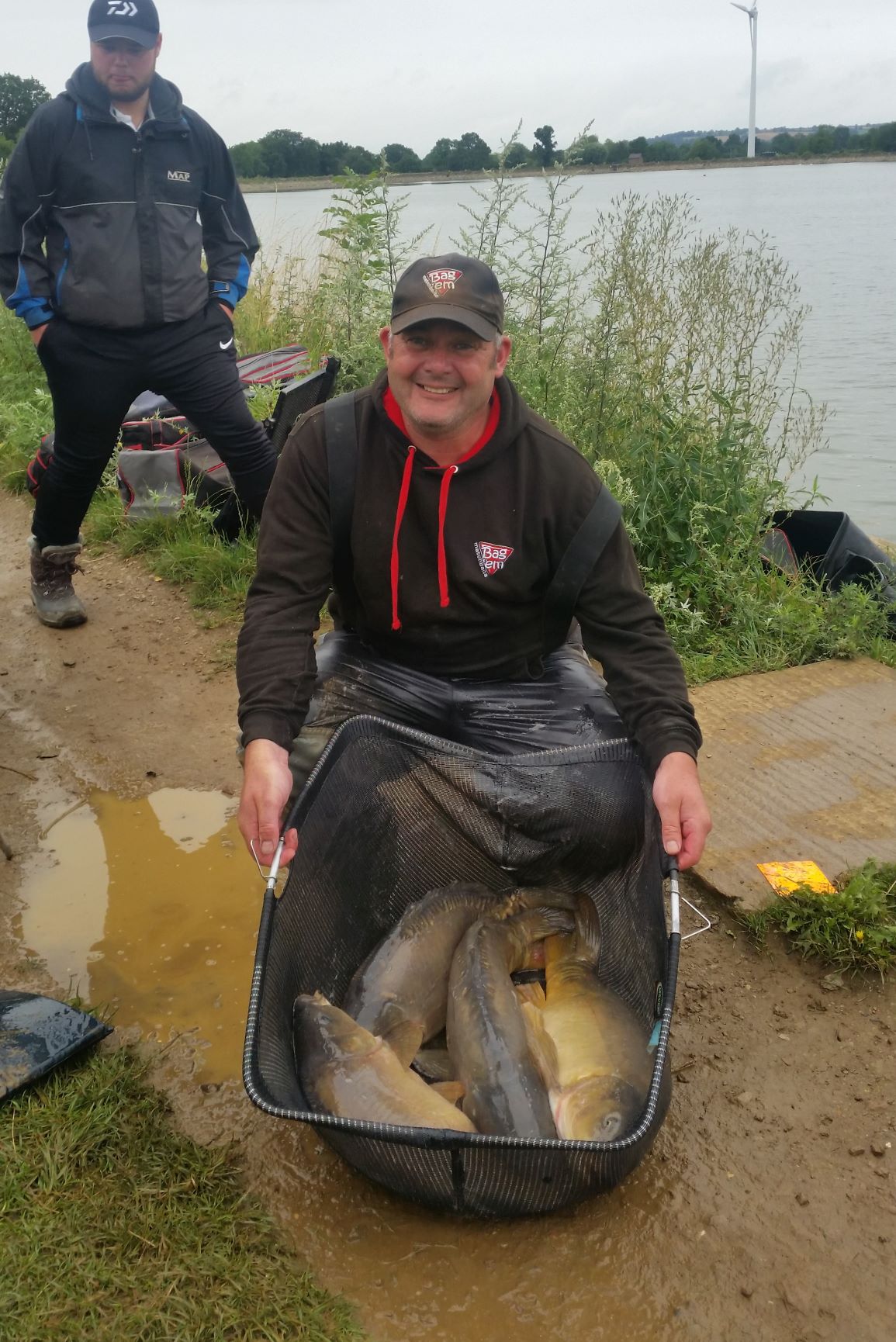 Wet and overcast conditions greeted the 40 finalists to this year's Boddington Classic Final, however the fish responded well to the cooler conditions and fed well. The favoured beach area did produce some good weights as anticipated, but it was peg 84 that threw up the winner.
Jake King (Trabucco/Bag Em Baits) fished an excellent match on the bomb and pellet, to take 27 carp to 6kg and secure the title of 'Boddington Classic Champion 2019' and a cheque for £1682 with a superb weight of 112.775kg.
Tony Johnson (Deeping St James) drew peg 97 on the beach and just fell short with 26 carp to 7kg caught on wafters and hybrid feeder for 96.200kg. Close by at peg 93 was Richard Edmunds (Free Spirit) who also caught 26 carp on wafter and method fished at long range for 90.400kg.
The Angling Trust would like to thank the Canal & Rivers Trust and their team at Boddington Reservoir for co-organising the competition and special thanks to Dick & Sheila Pilkington for almost single handedly running the competitions in recent years and wish them a happy retirement in the near future.
Next year's event will extend to five qualifiers to keep up with demand, but will be reduced to 48 pegs with 8 people qualifying through from each round.
Tickets will go on sale later in the year through the booking site, so watch this space and the Facebook page for updates.
Results:
1. Jason King. 112.775kg
2. Tony Johnson 96.200kg
3. Richard Edmunds 90.400kg