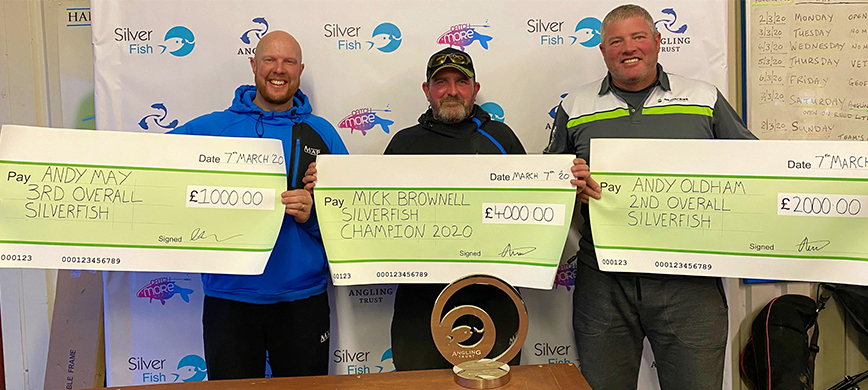 SilverFish
Important Information
Dear all,
Unfortunately the new government regulations mean that all forms of organised angling events will be unlawful during this second lockdown period. This will effect coaching and participation events as well as competitive fishing.
Within the new regulations, The Government have provided some very specific wording to define what they constitute a gathering;
A gathering takes place when two or more persons are present together in the same place in order
a) To engage in any form of social interaction with each other, or
b) To undertake any other activity with each other
 
Whilst the Government have previously agreed to our approach by which competition angling could safely continue this revised and specific definition means that this is no longer the case and unfortunately organised competitive angling is required by law to cease for the period of this lockdown.
As a result all Angling Trust competitions will be suspended across the period 5/11/20 – 2/12/20 inclusive. Ticket holders will be offered the option of transferring their booking to a re-scheduled date or a full refund.
My team and I will continue to work to ensure that as we return to the tiered regional approach following this lockdown competition infrastructure can resume safely and compliantly with Government legislation. Thank you very much for your understanding.
Jamie Cook
CEO
Click here for further details from the Angling Trust
An angler with a ticket during a postponed event has both the option to:
1)  Keep their ticket to assess whether the replacement date is feasible (where replacement dates can be found)
2) Have a full refund and cancel their ticket.  To cancel a ticket please email [email protected] (Stating which event they would like to cancel and date, and include their full name, AT individual membership number and postcode)
Further details will be announced soon for any re-arranged events.
Silverfish is exactly what it says on the tin, an individual Silverfish event where the top angler in every 15 peg zone qualifies through to the Grand Final with an estimated prize pot of over £10,000!
Qualifiers take in both natural venues and commercial fisheries, spanning the north, midlands and south, meaning whatever style of angling you are into, and wherever you are based, there will be a qualifier for you.
Both AT members and Non-AT members are welcome, with a £25 and £40 price point to boot, making this another cracking value contest with a BIG money final.
We're delighted to announce that SilverFish is back for 2020-2021 in conjunction with Catch More Media We've lined up a set of qualifiers that are sure see bites across the country this winter:
Sun 27th September – Lake John Fishery 30 pegs
Sat 10th October – Meadowlands Fishery 45 pegs
Sat 17th October – Bishop's Bowl Fishery 30 pegs
Sat 24th October- Southend Farm (Pole only) 45 pegs
Sat 31st October – Barston Lakes 45 pegs
Sat 14th November – Hallcroft Fisheries 45 pegs POSTPONED. Rearranged date is: Saturday 20th February 2021.
Sun 15th November – Castle Ashby Fishery 45 pegs POSTPONED. Rearranged date is: Sunday 17th January 2021.
Sat 21st November – Larford Lakes 45 pegs POSTPONED. Rearranged date is: Sunday 31st January 2021.
Sat 21st November – Viaduct Fishery 45 pegs POSTPONED. Rearranged date is: Saturday 23rd January 2021.
Sat 5th December – Castle Ashby Fishery 45 pegs
Sat 5th December – Weston Pools Fishery 45 pegs
Sat 12th December – Drennan Lindholme Leisure Lakes 45 pegs
Sun 3rd January – Barston Lakes 45 pegs
Sat 23rd January – The Oaks Lakes Sessay, 45 pegs
Sat 6th February 2021 – Packington Somers Fisheries 45 pegs
Sat 13th Feburary – Bradshaw Hall Fisheries 45 pegs
Sun 28th Feburary – Aston Park Fisheries 45 pegs
GRAND FINAL – Sunday 7th March – Meadowlands Fishery
Qualifiers once more will be one angler per section to qualify (sections will be as close to 15 pegs as possible).
Ticket price is £45 for AT Members (of which £20 is pools) and £60 for non AT members (of which £20 is pools).