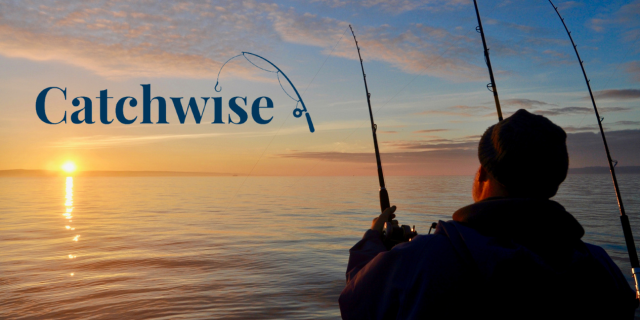 Catchwise
Catchwise is a new survey of sea angling taking place across England and Wales in 2023 and 2024. The project has been co-developed with sea anglers and aims to significantly improve the recognition of the sport's value to coastal communities and inform relevant fisheries management decisions accurately.  
It will be the biggest single study of sea angling undertaken for over a decade and will involve a major shore and private boat survey of sea anglers as well as an online survey of charter boats. Catchwise will involve face-to-face surveys with thousands of sea anglers around the English and Welsh coasts. Recruitment for volunteer surveyors is now open. 
Catchwise is the first project of its kind to feature collaboration with the sea-angling community on this scale. Representatives across the angling community from organisations like the Angling Trades Association, Angling Cymru and the Institute of Fisheries Management, will join an Advisory Group comprised of individual anglers, charter skippers, scientists, fisheries managers, and government agencies to provide input throughout the project's duration.  
 The Angling Trust has partnered with Substance and Cefas on the Catchwise project over concerns regarding previous surveys focused on sea angling and their increasing contribution to fisheries management and policy. It is funded through the UK Seafood Scheme: Fisheries Industry Science Partnership scheme provided by the UK government.
The project will report in early 2025 and will help inform the funding of sea angling, demonstrate its importance to coastal communities and highlight recreationally valuable species.
Recreational anglers catch around 100 species each year, many of which are non-quota and non-commercial stocks, and this project will provide new and improved data on data-poor stocks that are important recreationally. These include gurnards, black seabream, John Dory, pilchards, lemon sole, cod, whiting, hake, saithe, ling, and skates and rays.
Become a Citizen Scientist: Volunteer Recruitment Now Open
We want an army of volunteer Angling Citizen Scientists across England and Wales to help our professional surveyors to survey anglers and increase the reach of the project.
All volunteers will get training on how to conduct surveys, guidance and support. Volunteers will also receive a range of other benefits including monthly prize draws, goodies, social media groups with fellow volunteers, a welcome pack and a certificate detailing your contribution to the project.
If you are interested in volunteering and can access the coast in England and Wales, express your interest: smartsurvey.co.uk/s/CatchwiseVolunteers
Contribute to the survey
All surveys of shore and private boat anglers will be conducted face-to-face to get the very best data. Sites will be selected at random, and you may well be approached if you are out fishing. If so, please give your time as your information is really important to creating a better fishing experience for recreational sea angling in the future. Even if you are not catching, please speak to a surveyor! All surveyors will be identifiable by their ID badge.
Who is Supporting Catchwise?
The project is funded by Defra's Fisheries Industry Science Partnerships Scheme (FISP). The project is being supported by a large number of angling and marine organisations. It has an Advisory Group representing the recreational sea angling community, individual anglers, charter skippers, scientists, fisheries managers and agencies. It includes:
Angling Trades Association
Association of IFCAs
Angling Cymru Sea Anglers
Institute of Fisheries Management
Welsh Government
Department for Environment Food and Rural Affairs
Marine Management Organisation
Simon Thomas (University of York)
Annica de Groote (Swedish University of Agricultural Sciences)
Harry Strehlow and Simon Weltersbach (The Thünen Institute, Denmark)
Charter Boat representative (TBC)
Two ICES Working Group scientists
Charter Boat Skipper (TBC)