Competitions
Matt opens the Dawes into Fish'O final
18 June 2020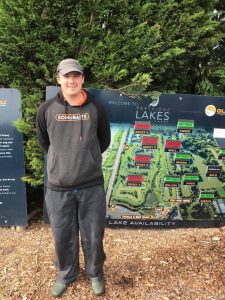 Fish'O'Mania Qualifier six made its way back to the fantastic Partridge Lakes Fishery, where 99 anglers battled it out in some horrendous conditions for their place in the Grand Final in August. Once more at the Live draw, several people thought that Spey may well throw up the winning weight, and some even backed Preston star Matt Dawes…
Peg 14 on Spey was Matt's home for the day and after gleaming some good information of the peg's previous angler Rob Swann, Matt went straight across to the mudline and put together a good string of F1s, before switching his attention to castors shallow in the grass. This saw Matt weigh 166lb 1oz and finish over 10lb clear of the rest. Matt added "I can't wait for the final after sitting behind Kris last year".
Second on the day was last year's finalist Jordan Holloway. Jord drew next to Matt on Spey peg 12 and had a right battle with him all the way through match, taking 155lb 3oz of F1s on maggot over groundbait, both across and down the edge.
Rounding out the top three was none other than Jamie Hughes. Drawing peg 18 on Covey 1 Jamie rotated two lines with pellet across and maggot down the edge for his 146lb 2oz.
Our thanks first and foremost to Barbara, Nelly and the Team at Partridge for not only chipping into the construction of our new procedures, but also hosting an exemplary qualifier. Further thanks to Dave Watkins for organising the match.
Our next qualifier is another SELLOUT at Lake View Fishery and anglers are reminded to check the new procedures if they haven't done so already, and pay for their pool on the Online Booking Site.
RESULTS:
1. Matthew Dawes 166lb 1oz
2. Jordan Holloway 155lb 3oz
3. Jamie Hughes 146lb 2oz
4. Christopher Lane 140lb 6oz
5. Anthony Robert Coates 126lb 8oz
6. Michael Senior 121lb 10oz