Fisheries Improvement Programme
We are pleased to announce that the 2nd round of the Fisheries Improvement Programme is now open new applications  and will close on Friday 1st September 2023 at 5pm. 
The Environment Agency (EA) is inviting applications for a share of £500,000 to help support fish and fishing.

 

The EA is encouraging proposals from angling clubs, fisheries, NGOs, local authorities or other community organisations involved in angling.

 

Money for projects to improve habitat and facilities for anglers will be made available through the Fisheries Improvement Programme, which comes directly from fishing licence sales.

 

The fund can also help fisheries become more resilient to the impact of climate change.

 
Information for applicants 
Angling clubs, fisheries managers and other partners can submit project proposals using the portal. The system will ask you some basic information about the type of works you are considering. To help you understand the type of projects that may be supported, the Agency has issued the following criteria: 
Angling benefits:

 the water where the project is planned must be fished

 
Coarse, trout and eel habitat/passage: 

these are the key constraints for good fish populations, addressing them will result in more sustainable stocks and improved connectivity

 
Angling access and facilities: 

platforms, pegs and pathways for rivers and stillwaters.

 
Ensuring that the needs of less able bodied anglers are considered

 

An emphasis on developing community and urban fisheries (which may require both habitat and access work)

 
Proactive management of prolonged dry weather and/or climate impacts.

 
Full Guidance Notes for submitting project ideas 
If in doubt please contact your local Environment Agency fisheries officer (if you do not have a direct contact, then call 03708 506506) they are happy to discuss your idea and advise on the best approach. 
Please note: the FIP funding does not cover works to prevent predation and biosecurity. Funding for measures to protect fish from predation is through the Angling Improvement Fund (AIF), both of which have now closed for this year, we anticipate these will reopen in 2024. Please email [email protected] to receive updates regarding these funds.
In addition to the Guidance Notes we have provided a Help Sheet with handy tips and advice for completing your proposal. So if you are interested in submitting a project to be considered for EA funding head over to the portal now and start your application – Good Luck!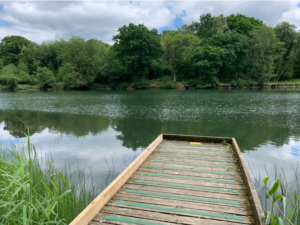 Refurbished fishing platform
Heidi Stone, Environment Agency Fisheries Partnership Manager, said: 
"Anglers often ask us about how we spend the money raised from the sale of fishing licences. The Fisheries Improvement Programme is a prime example of how we spend rod licence income with partners to support angling and improve the environment.
"I would encourage any partners who have an interest in improving their fishery or creating more local angling opportunities to submit a worked up idea for a share of the fund."
"We will support the best projects and make the fund go as far as possible, it is therefore important that applicants are able to provide match funding."
Mark Owen, Angling Trust Head of Fisheries, said:
"At the Angling Trust we are delighted to support the launch of the Fisheries Improvement Programme funding for clubs and fisheries to improve their waters to provide an improved angler experience through fishing licence sales. I would strongly encourage all to consider how you may best take advantage of this opportunity which will hopefully lead to more people taking part in angling."
Over the last two years, the Environment Agency has reinvested £2.5 million in projects to support clubs, fisheries, and other partners to improve local fish stocks and angling opportunities. Over 300 projects were completed during this time. Working with around 350 partners, the EA improved 58km of rivers and 289ha of stillwaters. 13 fish passes were constructed and two barriers to fish movements removed. Accessibility has been improved by creating new fishing platforms, pathways and car parking, allowing more people to go fishing more often. The programme has also helped over 70 clubs to be better prepared to manage the impacts of prolonged dry weather by acquiring water quality meters or aerators.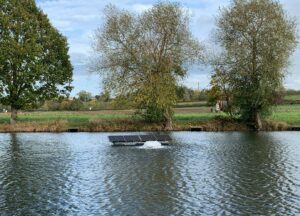 Solar powered aerator
If you buy a fishing licence you are directly contributing to this programme. Below is a blog from an EA fisheries officer explaining more about the benefits and highlighting some local projects.
Creating a better place: The Fisheries Improvement Programme
Chris Middleton, Fisheries Technical Officer, East Anglia explains how fishing licence income is reinvested in fisheries across England
Have you ever wondered how the Environment Agency invests fishing licence income? It is certainly something I often get asked by anglers and clubs here in East Anglia.
Whenever this question comes up, one of the best examples I can give is the Fisheries Improvement Programme (FIP), designed to reinvest licence holder's money into projects which benefit fisheries and anglers across the country.
I have been lucky enough to have worked on FIP projects since the programme's establishment in 2015, and have seen first-hand the benefits it can bring about, not only to angling but to wider habitat improvement.
Within the programme, the Environment Agency and partners have improved long stretches of river and hundreds of hectares of stillwaters across the country. Over the past 12 months, more than £3.5 million has been invested through FIP, funding more than 100 projects, including habitat conservation to protect fish species and boost stocks, and improving accessibility by creating new fishing platforms, pathways and car parking.
Ultimately these projects are about improving the environment for anglers and creating new opportunities. As a snapshot, since FIP was established, we have completed around 850 projects across the length and breadth of the country, with £6 million invested from fishing licence sales alone.
We have worked with hundreds of different partners such as the local Rivers Trusts, the Wild Trout Trust and the Canal and River Trust. Angling Clubs can get involved too – many projects are completed with the help and assistance of local anglers.
What really makes a difference is the match funding partners can bring to a project: they can apply for external grants or connect us with volunteers who are willing to use their free time to give back to the community. We are delighted to have received £2.9M in total match funding this year. It is also great to recognise that over the last 5 years we estimate the amount of match funding has been in the region £11.5M. Therefore, the total value of our investment has more than tripled, delivering significantly more benefits for fish and for our local anglers!
The variety of improvements are diverse, but some typical projects supported through FIP include:
restoring natural features in rivers and streams such as meanders and gravel riffles to improve habitats;
providing reeds, cover, and refuges to help fish spawn, feed and evade predation;
designing and installing fish passes and small weir removals.
In my patch of East Anglia, we spent almost £55,000 in 2021/22 on 16 local projects. The money has certainly been put to good use…
Working with Verulam Angling Club and Bedford Internal Drainage Board in Bedfordshire, we have nearly completed restoring a stretch of the River Ouzel. This has involved creating new natural berms (mounds of soil designed to blend into the landscape) and coir rolls (designed to vegetate and stabilise the riverbank). The natural berms will help fish spawn by narrowing the channel and increasing the flow of the river, while their steepness will help create a safe area for anglers to fish from. This will be supported by the coir rolls which will help control further erosion.
At Skylark Lakes in Cambridgeshire, we installed large fishing platforms which have enabled anglers to stay overnight. We have also used the funding to thin vegetation to provide better angling access and to allow light onto the lake which encourages marginal plants to grow.
Funding has been used to complete a partnership project on the River Cam in Essex with Audley End Fly Fishing Club. The project provides refuge for young trout, invertebrates and other fish species, as well as creating varying flows throughout this section of the river and increasing channel velocity to create in-channel diversity.
Every penny we receive in fishing licence money is reinvested into angling. The Fisheries Improvement Programme is all about using some of that money to improve fisheries, fish stocks and fishing, benefitting anglers up and down the country.
By deciding to take up fishing and buy a licence, anglers will be contributing to fantastic local outcomes that will ultimately enhance their experience. The more people who go fishing, the more projects we can deliver!
Please visit the Gov.uk website to buy your licence today.