National Fishing Month is at Nyewood Pond, GU31 5JL
6 August 2022 10:30 AM - 6 August 2022 3:00 PM
Nyewood Pond, Clarefield Copse, Dumpford Road, Petersfield, Hampshire GU31 5JL
Get Fishing events are fun, friendly and safe fishing days for families and individuals of all abilities
Come and try fishing at our quality assured angling events and discover the wonders of angling! Whether you're fishing for the first time, heading out for a day out with the family, or getting back into angling, fishing is a great way to get out there doing something different and will teach kids new outdoor skills.
IMPORTANT Booking Information: You MUST contact the Event Primary Contact before attending this event. Use their details on this page – see below. They will let you know about time-slots and booking-in procedures which follow Covid-19 guidelines. Walk-ons will not be accepted. If you can no longer attend, please get in touch with the Event Primary Contact (see below) to allow another budding angler a chance to take part. 

*Booking essential. This is a Parent and Child Open match. Bring your own equipment and bait if possible.
Cost: Free

Times: 10.00am – 2.00pm

Venue: Nyewood Pond, Clarefield Copse, Dumpford Road, Petersfield, Hampshire GU31 5JL

Type of Fishing: Coarse
Do I need to bring anything with me…? Outdoor events are weather dependent so please bring something to keep you dry and/or sunblock and a drink. For events including "game angling" we recommend that you wear a hat and glasses/sunglasses to protect your head and eyes while casting.
Disability information: Volunteers and coaches at Get Fishing events are provided with essential best practice guidance on working with and planning events for disabled and mobility impaired people. Please check with the venue contact about the facilities available.
Covid-19 Guidelines: If you have Covid-19 symptoms, please do not attend. Only pre-booked attendees can attend this event.Social distancing measures will be in place and all equipment will be cleaned in between sessions. Please see latest Government guidelines here.
1] EVENT PRIMARY CONTACT:
Andy Reed
07747 848 569
[email protected]
2] ANGLING TRUST CONTACT
Graham Mabey
Regional Development Officer (South)
Angling Trust
07946 263 131
[email protected]
The Angling Trust's 'Get Fishing' campaign is proudly supported by
Shakespeare, Exclusive Tackle Partner and Angling Direct, Exclusive Retail Partner
as we all work towards getting more people fishing, more often.
The Get Fishing campaign to get more people fishing more often is funded by the Environment Agency from fishing licence income as part of the National Angling Strategic Services contract with the Angling Trust, and Sport England. Children under 13 do not need a licence, and licences for children aged between 13 and 16 are free but you still need to register and receive a licence in order to go fishing. You can get a licence for the full year, for 8 days (ideal for holidays!) or just a day's fishing.
NOTE: Although young children who are under 13 year old do not need a licence to fish, the person supervising them needs the proper fishing licence to take hold of the rod or to help the child fish with it.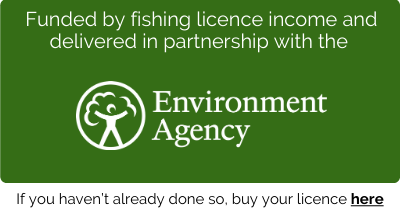 Location
Nyewood Pond, Clarefield Copse, Dumpford Road, Petersfield, Hampshire GU31 5JL