Freshwater Fisheries Forums
Working with the Environment Agency and other partners, the Angling Trust organise a number of Freshwater Fisheries Forums each year. These take place both 'in-person' and online.
Freshwater Fisheries Forums are funded by Fishing Licence income. They are (and always will be) completely open and free. You do not need to be a member of the Angling Trust to attend.
---
Regional Fisheries Forums
Our Regional Forums take place at different locations around the country, with the aim of ensuring that as many anglers as possible have a chance to attend. They are structured to provide a platform for all anglers, clubs and fisheries to ask questions and raise issues whilst sharing knowledge with others.
These events usually follow a simple format, involving expert guest speakers and Q&A sessions. We tailor these speakers to the location, ensuring they offer useful information to everyone present. In the past, our speakers have included respected academics, environmentalists, and anglers, in addition to representatives of key stakeholders such as Rivers' Trusts and water companies. The Environment Agency also maintain a presence at every meeting to share updates on their work, listen to anglers' concerns, answer questions and address problems.
Read more about Regional Forums on our blog HERE, or watch the video below.
---
Virtual Fisheries Forums
The Angling Trust adopted a programme of Virtual Fisheries Forums for 2020/21, due to restrictions associated with the Covid-19 pandemic. Although these restrictions are now lifted, this format will be retained and delivered in parallel with traditional Regional Forums.
Virtual Fisheries Forums are single issue webinars run via Zoom. Lasting no longer than 1.5 hours, they seek to educate and upskill the angling community across a range of topics, as well as showcase some of the activities made possible by Fishing Licence income. Being interactive, they present an ideal opportunity for connecting with experts from the comfort of your own home. Past Virtual Forums have explored topics such as funding opportunities, predation, fisheries management and the work of Environment Agency staff.
All the talks/Q&A from our Virtual Fisheries Forums are recorded and available to view:
---
Book your place and view the details of upcoming Forums below. Please note that links will only become active a few weeks beforehand. All enquiries relating to Fisheries Forums should be made to Sam Hubbard, either via email to [email protected] or on 07415 384554.
---
To subscribe to invitation alerts via email for the forum events of your choosing please fill out the following form:
Fisheries Forum Invitation Alerts
---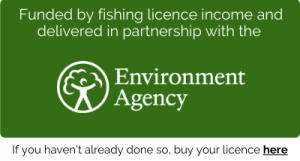 Upcoming Fisheries Forums