Let's Fish with the Canal & River Trust at Christleton, CH3 5QY during Spring into Fishing
11 April 2023 9:30 AM - 11 April 2023 4:00 PM
A41 Ring Road Great Boughton CH3 5QY
Ever wanted to learn to fish but didn't know where to start? Join the Canal & River Trust at one of its free, award-winning Let's Fish! events.
Each year between March and the end of October, supported by local angling clubs, the Canal & River Trust host hundreds of learn-to-fish taster events called Let's Fish! They're suitable for anyone over the age of six, adults and children alike, whether you've never fished before or are getting back into it after a break.
Cost: Sessions are completely free and are aimed at anyone over the age of six.
About this Event: Learn to fish with the Canal & River Trust's team of professionally qualified angling coaches. All the bait and equipment is provided, so all you need to do is book in and turn up on the day.
Registration: Please book one time slot per person and arrive no more than 15 minutes before your booked slot. These one-hour sessions are designed for adults and for children from six years old upwards who are interested in trying out a potential new hobby.

Covid-19 Guidelines: If you have Covid-19 symptoms, please do not attend. Walk-ons will not be accepted. If you can no longer attend, please cancel your ticket via Eventbrite or please get in touch with the Canal & River Trust to allow another budding angler a chance to take part. Appropriate distancing measures will be in place and any equipment requiring cleaning will be cleaned in between sessions. Please see latest Government guidelines here.
About these events:
The Angling Trust's 'Get Fishing' campaign is proudly supported by
Shakespeare, Exclusive Tackle Partner and Angling Direct, Exclusive Retail Partner
as we all work towards getting more people fishing, more often.
The Get Fishing campaign to get more people fishing more often is funded by the Environment Agency from fishing licence income as part of the National Angling Strategic Services contract with the Angling Trust, and Sport England. Children under 13 do not need a licence, and licences for children aged between 13 and 16 are free but you still need to register and receive a licence in order to go fishing. You can get a licence for the full year, for 8 days (ideal for holidays!) or just a day's fishing.
NOTE: Although young children who are under 13 year old do not need a licence to fish, the person supervising them needs the proper fishing licence to take hold of the rod or to help the child fish with it.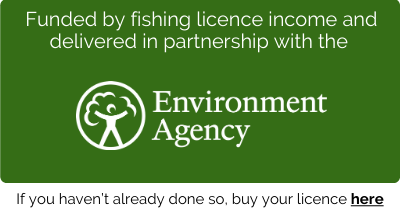 Location
A41 Ring Road Great Boughton CH3 5QY