Spring into Fishing with Get Hooked on Fishing at London UB5 6UR – Family Fishing Sessions
25 June 2023 11:00 AM - 25 June 2023 3:00 PM
Get Hooked on Fishing Northala Fields, Kensington Road, Northolt, London UB5 6UR
Family Fishing Days with Get Hooked on Fishing are fun, friendly and safe fishing days for families and individuals of all abilities
Get Hooked on Fishing is a national charity established in 2000. We are proud to work in partnership with the Angling Trust and Environment Agency to deliver a range of fishing activities and events tailored to suit all ages. Come and try fishing at these quality assured angling events and discover the wonders of angling! Whether you're fishing for the first time or heading out for a day out with the family, fishing is a great way to get out there doing something different, and will show kids new outdoor skills.
Everything you need to catch your first fish or learn more about fishing is provided and Get Hooked on Fishing's friendly staff, Peer-Mentors and volunteers will make you welcome. So, come on – book a place and Get Hooked on Fishing!
These fun, safe and friendly family events are the perfect way for newcomers to try fishing for the first time with family and friends!
Using very simple equipment and techniques, Get Hooked on Fishing can introduce you to the joys of going fishing.
IMPORTANT Booking Information: Please contact Get Hooked on Fishing at [email protected] and include your phone number and preferred session time below. You can expect a friendly welcoming response, usually within 24 hours, seven days a week!
Cost: Only £2.00 per person donation to the charity (No: 1132448)
Times: 11.00, 11.30, 12.00, 12.30, 1.00, 1.30, 2.00 and last session 2.30 – 3.00.

Venue: Get Hooked on Fishing Northala Fields, Kensington Road, Northolt, London UB5 6UR

Type of Fishing: Coarse

Perfect for: Families and kids of all ages and experience levels. People under the age of 18, or vulnerable people under 21 years old must be accompanied by a responsible adult.
What happens on the day: All adults, children and young people attending will discover what angling is all about and how to take up fishing. You'll find out how to use fishing whips, line and about tackle like rods and reels to catch fish and return them safely. There will be Get Hooked on Fishing volunteers on hand to help give you more info about your local club or fishery, so you know where to go fishing next time.
Tackle: Tackle, and everything else to catch a fish will be provided on the day. No need to bring any equipment.
Do I need to bring anything with me…? Outdoor events are weather dependent so please bring something to keep you dry and/or sunblock and a drink. For events including "game angling" we recommend that you wear a hat and glasses/sunglasses to protect your head and eyes while casting.
Do I need a fishing licence for Family Fishing with Get Hooked on Fishing? We've developed Family Fishing to help take you all on the first steps of your angling journey – from the unforgettable excitement of catching your first fish, right through to becoming a more experienced angler who can set up tackle, safely return your own fish and have the correct Environment Agency fishing licence. At this event Environment Agency provide a FREE rod licence so that everyone can discover what angling is all about!
Disability information: Staff, Volunteers and Coaches at Get Hooked on Fishing events are provided with essential best practice guidance on working with and planning events for disabled and mobility impaired people. Please check with the venue contact about the facilities available.
Covid-19 Guidelines: If you have Covid-19 symptoms, please do not attend. If you can no longer attend, please get in touch with the Event Contact (see below) to allow another budding angler a chance to take part. Please see latest Government guidelines here.
EVENT CONTACT: Get Hooked on Fishing at [email protected].
Get Hooked on Fishing can also arrange:
Improving mental health, well-being and social inclusion sessions:
These bespoke sessions and programmes are a resounding success with schools, alternative education providers, community groups and support services.  Using our GHoF peer-mentoring scheme and the Angling Trust's 'Cast Awards', they are available during school term-times and weekends.
'Have a Go!' Sessions:
If you've been 'hooked' on fishing and would like to become more independent and confident next time you go, then these sessions are for you! They are popular with all ages and can be arranged for birthday parties, Cubs and Scout groups, home-schoolers, schools, colleges and even work-based events to build team skills and companionship! Have a Go sessions ca be arranged for at a time to suit you, and they can incorporate the Angling Trust's Bronze, Silver and Gold 'Get Fishing Awards'. These are an ideal way of encouraging progress as an angler.
The Angling Trust's 'Get Fishing' campaign is proudly supported by
Shakespeare, Exclusive Tackle Partner and Angling Direct, Exclusive Retail Partner
as we all work towards getting more people fishing, more often.
The Get Fishing campaign and partnership work carried out with Get Hooked on Fishing and other delivery partners, coaches and volunteers gets more people fishing more often, and is funded by the Environment Agency from fishing licence income as part of the National Angling Strategic Services contract with the Angling Trust, and Sport England. Fishing licences for juniors under the age of 17 are free, but you still need to register and receive a licence in order to go fishing.
NOTE: Although young children who are under 13 year old do not need a licence to fish, the person supervising them needs the proper fishing licence to take hold of the rod or to help the child fish with it.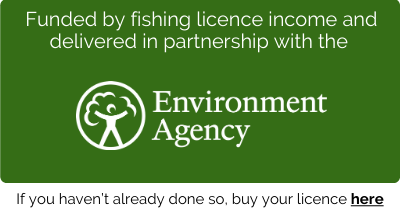 Location
Get Hooked on Fishing Northala Fields, Kensington Road, Northolt, London UB5 6UR