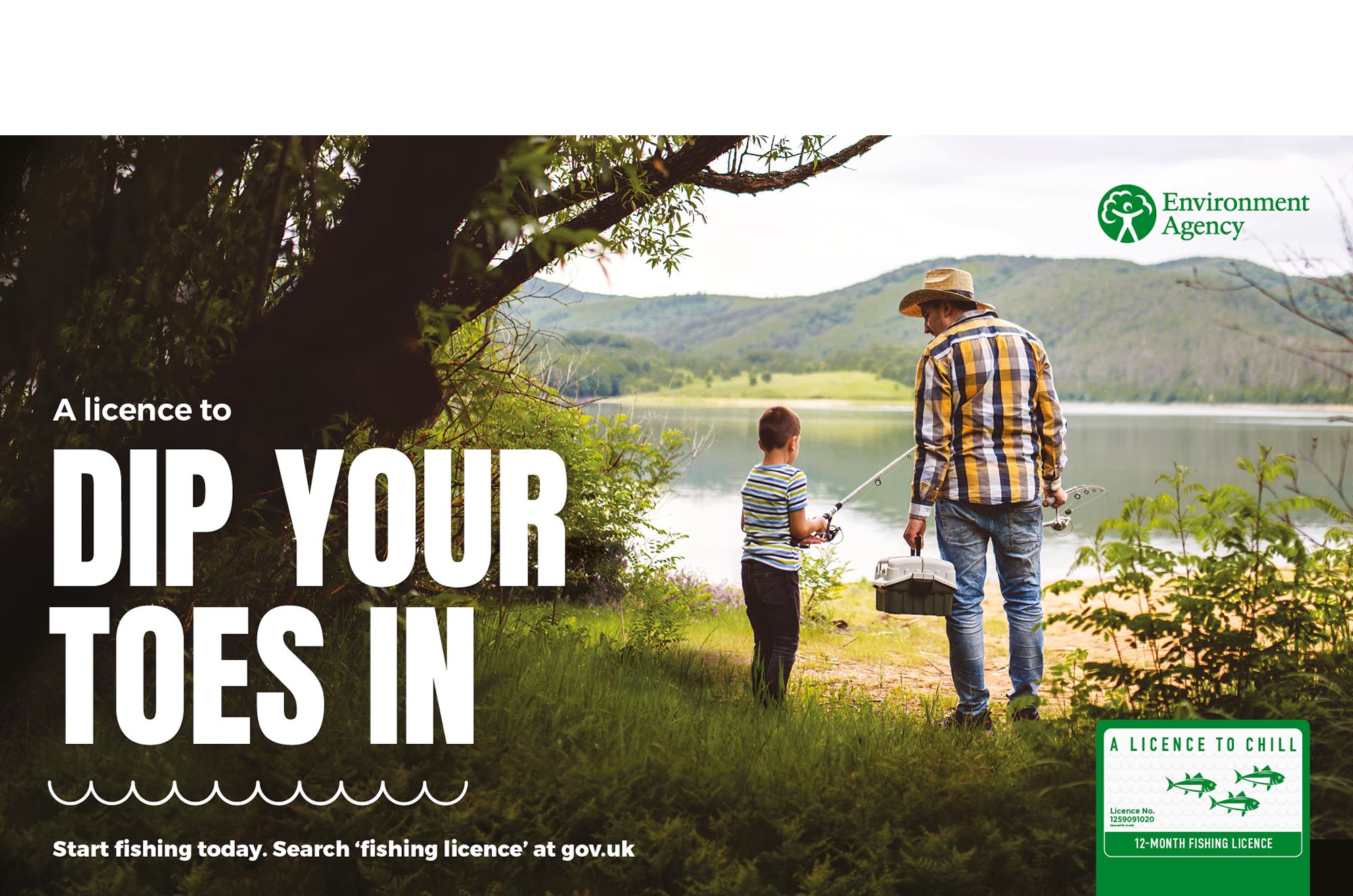 A Licence to Chill
Going fishing is about much more than just catching a fish. It's a low-cost way to unwind. You check in on your mates or sometimes enjoy your own space. You take in the view, you take a deep breath. You have a laugh. And maybe, just maybe, you might get a little competitive.
The Environment Agency's A Licence to Chill campaign launched on 1 March 2021, to encourage people to experience the joys of fishing and buy a fishing licence. The income from these licences is re-invested into angling, making improvements that benefit the individuals participating and the industry itself.
A Licence to Chill highlights the many benefits that fishing can have, encouraging more people to give fishing a go. The Angling Trust is working in partnership with the Environment Agency on this new campaign, which helps meet a shared objective of increasing participation, promoting the physical and mental benefits of angling, and improving the experience people have when they go fishing.
Did you know, the income from fishing licences is used to:
Improve fish stocks in rivers and stillwaters
Create a healthier water environment to protect fish habitats and increase biodiversity
Build fish passes to enable free movement of fish through rivers
Fund taster sessions and events to encourage participation, to get more people into angling
How you can get involved
We have a range of free resources available for you to use, to encourage people to try fishing and get a licence – whether they haven't been for a while or are starting for the first time! We have different suites of assets, communicating the benefits of a licence to existing anglers and helping to raise awareness of where the money goes, as well as those aimed at encouraging participation and starting out for the first time.
You can download the following resources using the Dropbox links below:
Social media assets (and suggested accompanying copy)
Web banners
Digital screens imagery
Email signature
A3 and A4 posters
Pricing posters
A5 leaflet
Key messages (for integration into your own communications)
Licence to Chill Campaign Assets: https://paper.dropbox.com/doc/Licence-to-Chill-Campaign-Assets
Licence Income Assets: https://paper.dropbox.com/doc/Licence-Income-Assets
National Fishing Month: https://paper.dropbox.com/doc/National-Fishing-Month-Campaign-Assets
We want to work together with organisations across the angling community to help encourage more people to buy their fishing licence by using free resources that have been developed by the Environment Agency.  These resources can be used on your social channels, website, or within your premises and will help to raise awareness of the need for a fishing licence and the benefits it brings to the sport we love.
By supporting the campaign, you'll be helping your customers understand how to fish legally, as well as supporting the Environment Agency to raise essential funds to support fisheries improvement projects across England.
Contact the Environment Agency's campaign team
Please sign up for updates
We would like to keep you up to date with this campaign, the work we are doing and how we can continue to work together:
Your Data:
You can read how we will use the data that you submit using this form on our website at anglingtrust.net/privacy-statement. We will only share your personal data with organisations who carry out data processor duties on our behalf or anyone in pursuit of the original purpose for which it was obtained. In this case this will be the with the Environment Agency and Defra so that the Environment Agency's fishing licence campaign team are able to contact you in relation to the 'A Licence to Chill campaign'. We hope this statement and the one at anglingtrust.net/privacy-statement satisfies your right to know what we do with your data, but if there is anything that is not clear before you use this form, please get in touch using [email protected] and we will seek to address any concerns you have .

Last updated September 2021. This content is for England only.
The Get Fishing campaign to get more people fishing more often is funded by the Environment Agency from fishing licence income as part of the National Angling Strategic Services contract with the Angling Trust, and Sport England. Fishing licences for juniors under the age of 17 are free, but you still need to register and receive a licence in order to go fishing.