Life Premier Membership
Life Premier Membership
Be part of 130+ years of angling heritage and support our work to protect and promote angling for the rest of your life

Here at the Angling Trust , we've always tried to make membership affordable for everyone.  Current adult membership starts from £30 per year, meaning that any adult can join the Trust for the equivalent of just £2.50 a month.  However, we have also always offered a Life Membership option for those who can afford to front load their membership fee and help boost the funds for our essential work.  Now, thanks to a partnership with one of the most historic tackle manufacturers in the world, we have an exciting new option – Life Premier Membership.
Life Premier Membership at £850 not only gives you all the existing benefits of being a member of the Angling Trust for the rest of your life, it also comes with something rather special… The first 100 people to join as Life Premier members will receive a special edition Angling Trust version of JW Young Classic Heritage Centrepin reel.
The Angling Trust Special Edition Heritage Centrepin
Limited Edition Bronze Anodized Spool
Engraved with the Angling Trust Logo and limited edition number, each reel is supplied in a presentation box with a limited edition Angling Trust reel pouch and certificate of authenticity.
Edition limited to just 100 reels
Diameter: 4.5″ (​​110 mm)
Width: 0.75″ (19 mm)
Drum Width: 16 × 11.5 mm
Weight: 290 g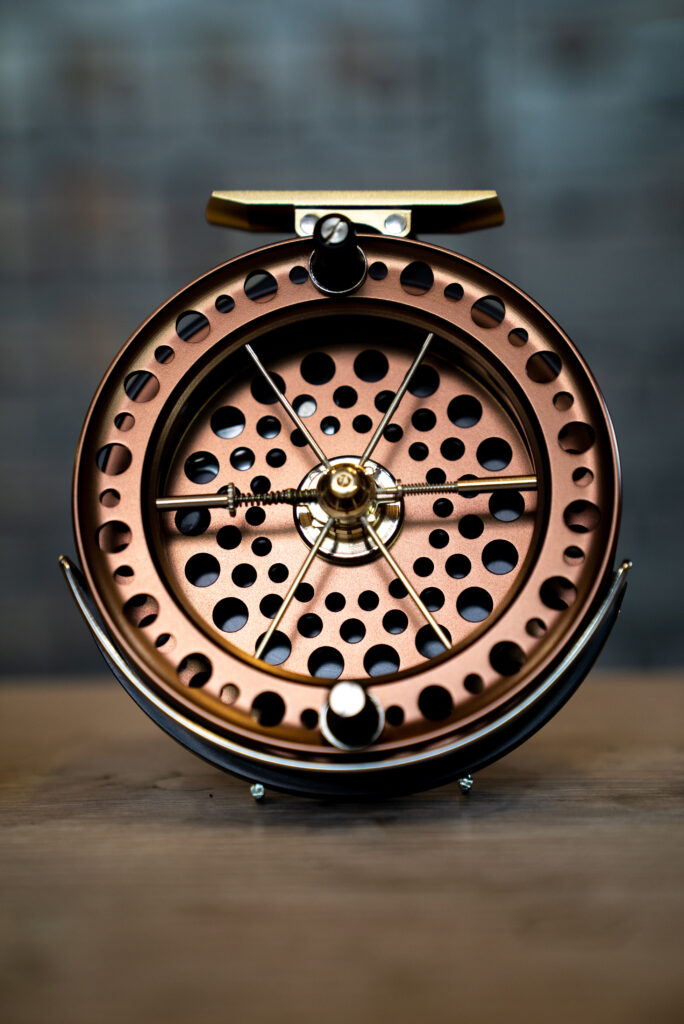 A Rich History
J.W. Young reels have been made in the idyllic English counties of Worcestershire and Gloucestershire since 1884, considered by those who know, to be the benchmark of reel making excellence. The tradition and heritage of hand-built British engineering is as real today as it's ever been, with a stable of modern classics being created at the new Gloucestershire based works in Tewkesbury. Owning a reel from the J.W. Young range means that you can be part of that 130+ year angling heritage.
The JW Young Heritage Reel was designed for anglers who enjoy trotting for roach, chub and silverfish on flowing water or those float fishing for carp on lakes and still-water. It is a beautiful piece of engineering that include two ball bearings, a click check, a micro adjustable disc drag and a unique multi-position line cage. The reel has been finished in an eye-catching limited edition bronze that oozes class and quality and will match well with any colour rod blank.
The limited edition reels will be allocated on a purely first come, first served basis so the sooner you join, the lower your reel number will be.  We expect the 100 reels to go very quickly so don't delay!  These reels will be hand made to order, so please allow up to 30 days for delivery.
Are you ready to support our work and help us to ensure that people will still be enjoying fishing in clean waters over the next 130 years?  Click the 'Join Now' link below to begin your registration – at Step 2 select 'Life Premier' from the drop down menu.
Or if you prefer, join by calling 0343 507 7006
Existing Life Member but want to upgrade?
Simply contact the Membership team now on 0343 507 7006 to upgrade from Life to Life Premier membership over the phone (not available online) and arrange for shipment of your Special Edition Heritage Centrepin reel.
Coarse fishing not for you? 
Don't worry – once the first 100 Life Premier Memberships are allocated we will temporarily close new memberships, but we have plans to re-introduce it in the future with something very special for Game Anglers and for Sea Anglers.