Anglers with Disabilities National Championship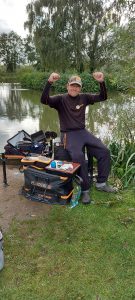 (Wayne Smith 2020 Winner)
Further details for 2021 will be announced soon.
The National Championship for Anglers with Disabilities is open to all individual members of the Angling Trust 16 and over on the day of the Championship.
The competition is fished individually and the event will be scored by overall weight and the winner of the event will become the Anglers of Disabilities National Champion 2020.
You must print a copy of your e-ticket and take it with you to the event and presnet it to the organiser upon registration.
Closing date for entries: TBC
Entry Fees: TBC
HQ: TBC
Lake reserved is; TBC
Draw: TBC
Fishing: TBC
Closure of waters for practice: TBC
EA Rod Licence: Competitors must be in possession of a valid Environment Agency Rod Licence. Failure to possess a rod licence will result in disqualification from the event.
Keepnet: TBC
Bait bans: TBC
Refreshments: TBC
Eligible fish: TBC