Anglers with Disabilities National Championship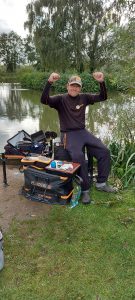 (Wayne Smith 2020 Winner)
Please note: This competition is subject to and ran in compliance with government restrictions and Covid-19 guidelines. Please click the AT Covid-19 hub here https://anglingtrust.net/covid-19/ for updated information.
Please visit us again here for further updates for this Championship.
Packington Somers Fishery, Coventry
Saturday 17th July 2021
Entries to open for ticket sales from Monday 12th April 2021 at 10:30am. Please click here to book on
The National Championship for Anglers with Disabilities is open to all individual members of the Angling Trust 16 and over on the day of the Championship.
The competition is fished individually and the event will be scored by overall weight and the winner of the event will become the Anglers of Disabilities National Champion 2020.
You must print a copy of your e-ticket and take it with you to the event and present it to the organiser upon registration.
Entry fee: £20.00 (plus optional pools available)
Headquarters: Packington Somers Fishery, Somers Rd, Meriden, Coventry, CV7 7PL
Lakes reserved are; TBC
Draw: 08:30am
Fishing: 11:00am – 4:00pm (Duration 5 hours)
Closure of waters for practice: Friday 16th July (from 5pm). Please check with the Fishery directly as this could be subject to change depending on their open matches.
EA Rod Licence: Competitors must be in possession of a valid Environment Agency Rod Licence. Failure to possess a rod licence will result in disqualification from the event.
Keepnet: Minimum length of 2 metres (also see fishery rules regarding the number of nets and weight in each net).
Rules / Bait bans: Check Fishery & Angling Trust rules.
Refreshments: Available to purchase on site from the Fishery.
Procedures: Before going to the Draw all team Captains/Managers must report to the Team Registration Desk where they will record their teams attendance and any changes to the previously nominated team.