Anglers with Disabilities National Championship
Rookery Waters, Cambridge
Saturday 23rd July 2022
TICKET SALES WILL BE OPEN AROUND MARCH 2022. PLEASE CHECK BACK FOR UPDATED INFORMATION.
The National Championship for Anglers with Disabilities is open to all individual members of the Angling Trust 16 and over on the day of the Championship.
The competition is fished individually and the event will be scored by overall weight and the winner of the event will become the Anglers of Disabilities National Champion 2022.
You must print a copy of your e-ticket and take it with you to the event and present it to the organiser upon registration.
Entry fee: £20.00. (plus optional pools available)
Headquarters: Rookery Waters, Rookery Farm, Fen Road, Pidley, Cambridgeshire, PE28 3DF.
Lakes reserved: tbc
Draw: tbc
Fishing: 11:00am – 4:00pm (Duration 5 hours)
Closure of waters for practice: tbc. Please check with the Fishery directly as this could be subject to change depending on their open matches.
EA Rod Licence: Competitors must be in possession of a valid Environment Agency Rod Licence. Failure to possess a rod licence will result in disqualification from the event.
Keepnet: Minimum length of 2 metres (also see fishery rules regarding the number of nets and weight in each net).
Rules / Bait bans: Check Fishery & Angling Trust rules.
Refreshments: tbc
2021 ANGLERS WITH DISABILITIES NATIONAL RESULTS
2021 ANGLERS WITH DISABILTIES NATIONAL REPORT
Angling Trust Anglers with Disabilities National Championship 2021
Saturday 17th July 2021
Packington Somers, Meriden
24 fished
30C and bright sunshine was lovely for the competitors but did nothing for the fish which in the main were pretty unresponsive making it a difficult match for most.  Spread across Siblings A & B and Little Gearys gave the competitors plenty of room to do battle.  Adjacent pegs on Siblings B proved the place to be with Ethan Etherington putting in a fine performance to obliterate the field, fishing a multitude of baits at 13m, 6m and down the edge on peg 9.  Ethan finished the day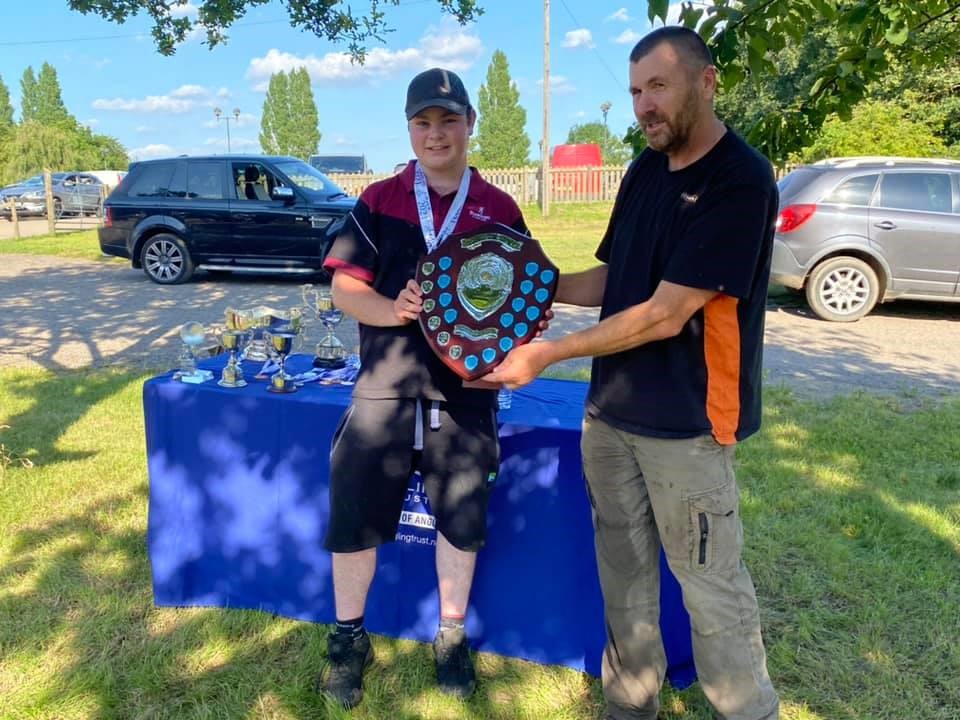 with  57.105Kg of F1's and was crowned the Anglers with Disabilities National Champion for 2021.  At the next peg 7, Paul Logan got off to a flyer of a start and was well in front of Ethan for the 1st half of the match but in the end his swim faded in the latter stages of the match and he had to settle for the runner up spot with 39.600Kg.  Shaun Scriven, pegged on Little Gearys peg 5 took 3rd place with 25.325Kg of carp caught on method feeder.
The Angling Trust would like to thank John Burchall and his team at Packington Somers for their help and assistance on the day.
Result:
1st          Ethan Etherington          57.105Kg
2nd         Paul Logan                        39.600Kg
3rd          Shaun Scriven                  25.325Kg
4th          Wayne Smith                   23.800Kg
5th          Keith Watson                   21.575Kg
6th          Elliot Fay                           17.350Kg