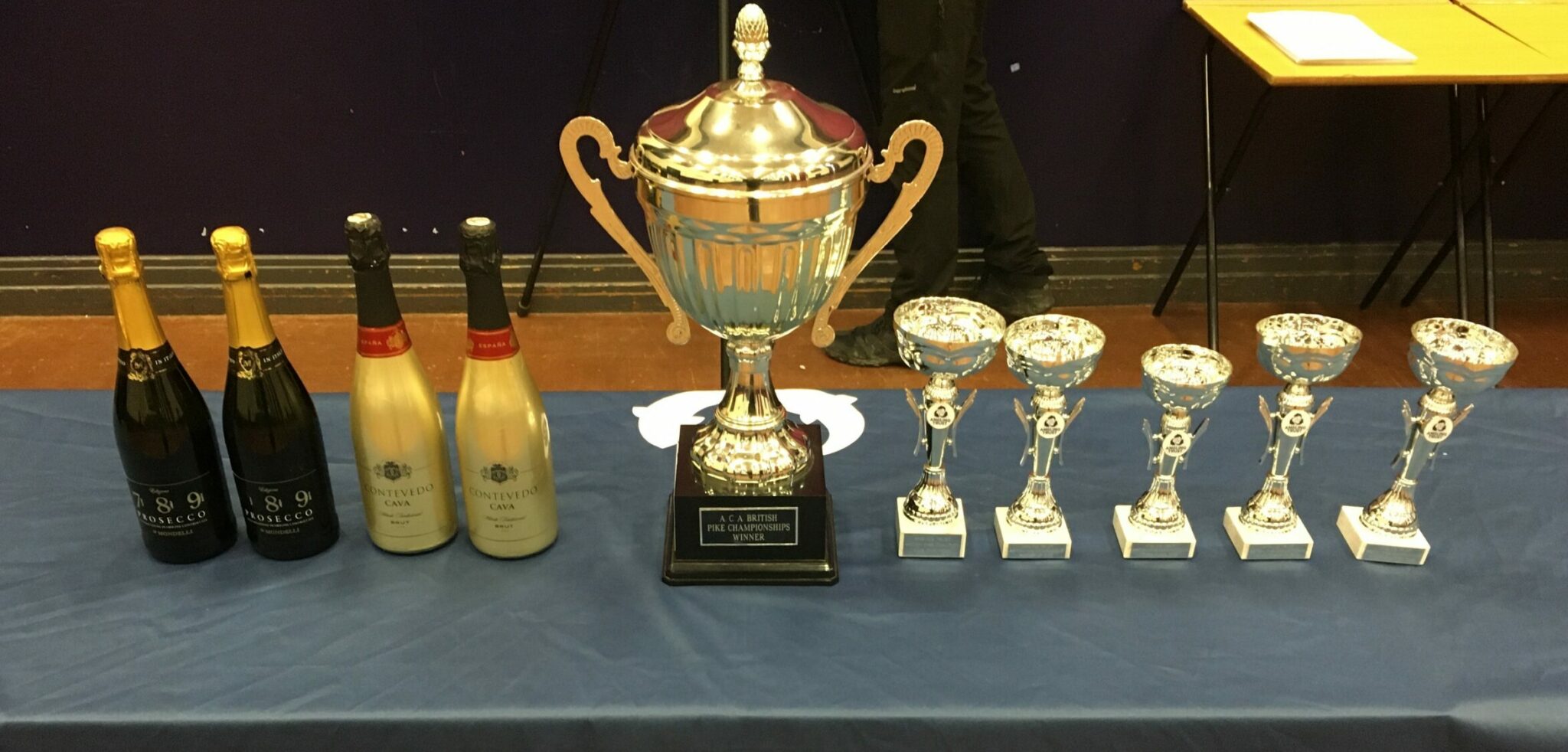 Angling Trust British Pike Final
Angling Trust British Pike Final 2024
THE ANGLING TRUST BRITISH PIKE CHAMPIONSHIP WILL BE TAKING PLACE ON THE 20 FOOT DRAIN, COCK BANK, GLASSMORE BANK, WHITTLESEY, CAMBS ON DATE SATURDAY 9th NOVEMBER 2024.
This Pike Championship is open to any Pike angler who has qualified from an Angling Trust Pike qualifier held between Sept 2023 to April 2024 only.
Draw location: Sir Harry Smith Community College, Eastrea Rd, Whittlesey, Peterborough PE7 1XB
Draw time: 08:00am
Fishing: 10.00am until 3.00pm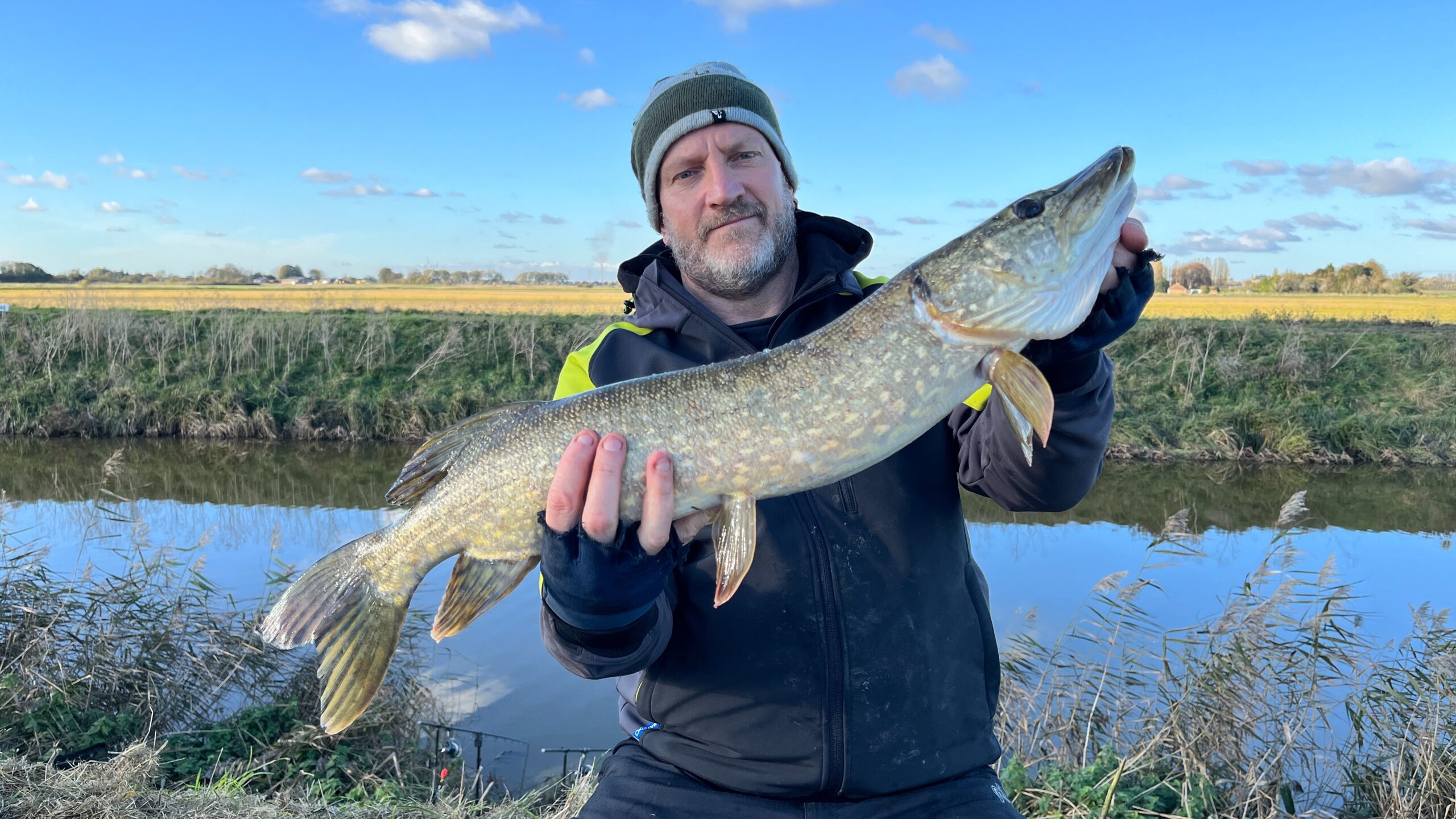 13 November 2023
PIKE CHAMPS VICTORY ENDS 35-YEAR WAIT…
LEICESTER predator angler Carl Shingler has realised a 35-year ambition to be crowned British…
Read more
See highlights from the British Pike Final 2023 here:
Angling Trust British Pike Final Results - Saturday 12th November 2022

Angling Trust British Pike Final Results – Saturday 12th November 2022
NORTHANTS ACE SCOOPS 2022 BRITISH PIKE CHAMPS TITLE
Northampton predator ace Paul Croft is the new British Pike Champion following a tight final event on Cambridgeshire's Fenland Drains.
With bright sunshine, 15-degree temperatures, and gin-clear water conditions on both the Glassmoor Bank and Twenty Foot Drains, this famous event was always going to be a low weight affair and many anglers opted for a strategy of targeting the hungry jacks and building a weight of smaller fish for victory.
And this proved to be the way to get plenty of action as the 120 qualifying anglers battled the conditions to land over 40 fish in total from the Whittlesey AA stretches.
Winner Paul, who earned an automatic place in the final as the organiser of Northants-based qualifiers, needed two fish and a 15lb 13oz total from his draw on Glassmoor Bank to secure the title.
It was a rapid start for him too, as both his fish fell in the first hour of the contest.
"The 9lb 4oz came within just 20 minutes and the second came about half an hour later," the new champion revealed. "I've been fishing finals here since 2010 and this makes a big change for me as I normally sit here for five hours and catch nothing!
Both predators fell to roach deadbaits fished shallow under a float positioned around 12ft from the near bank and earned him a £750 payday.
Runner up Gordon Shipley, from Norwich, also needed two fish to get him in the money and he collected £500 for his 11lb 15oz total, which came from the Twenty Foot Drain.
The biggest pike of the final fell to local lad Rob Marshall, from Whittlesey, who banked a 10lb 6oz fish from his swim on the Twenty Foot. Again, it was a shallow approach which worked for him as he drifted a small roach deadbait just 2ft under the surface to tempt a fish which would earn him third place overall.
Completing the top four was Chelmsford angler Paul Southgate with two fish for 9lb 9oz from his swim on Glassmoor.
Five junior anglers took part this year and all will be receiving a tackle voucher for their efforts, but it was 12-year-old Tristan High, from Norfolk, who took the Junior trophy thanks to his 4lb 11oz pike.
He had to be patient though as the fish took his floatfished smelt just 30mins form the end of the match.
Tristan also had the honour of picking the Ladies winner, drawing Peterborough's Rita Clarke out of the hat following dry nets for the five female competitors.
* The Angling Trust would like to extend our huge thanks to all the anglers who took part this year, final organiser Andy Jackson and his team of stewards for running the event and, of course, to Whittlesey AA for hosting the match on their waters once again.
* Qualifiers for the 2023 final are already up and running, you can find your local event on the Angling Trust website here.
Result: 1 Paul Croft, Northampton, 15-13 (£750); 2 Gordon Shipley, Norwich, 11-15 (£500); 3 Rob Marshall, Peterborough, 10-6 (£280); 4 Paul Southgate, Chelmsford, 9-9 (£150).
Junior winner: Tristan High, Norfolk, 4-11; Ladies winner: Rita Clarke, Peterborough.
A section – Glassmoor Bank pegs 39 to 99: 1 Wayne Shipp, Swanage, 7-6 (£60); 2 Tom Paton, Bicester, 6-10 (£50); 3 Christopher Puddefoot, Leighton Buzzard, 5-3 (£40).
B section – Glassmoor Bank pegs 101 to 161 – by default: 1 Philip Cash, Brandon, 5-4 (£60); 2 Peter Evans, Newbury, 3-14 (£50); 3 Chris Charlton, Basingstoke, 3-13 (£40).
C section – Twenty Foot Drain pegs 96 to 156 – by default: 1 Nigel Howe, Thetford, 5-15 (£60); 2 Kevin Roads, Northampton, 5-0 (£50); 3 Paul Howe, Thetford, 4-4 (£40).
D section – Twenty Foot Drain pegs 158 to 218: 1 Lee Dibble, Norwich, 6-0 (£60); 2 Jason Groom, Corby, 5-13 (£50); 3 Andrew Barber, Boston, 2-9 (£40).
ANGLING TRUST BRITISH PIKE FINAL 2021
The British Pike Championship 2021 took place on Twenty Foot drain and Glassmore bank at Whittlesey, Cambs, on Saturday.
This year's event saw a massive 66 pike being landed by 47 anglers, most fish averaging between four to nine pounds, and this year's winner landing a specimen of eleven pounds to bolster his winning weight.
The man in question John Watson was crowned British Pike Champion 2021 and he put together a splendid four fish bag for 23lb 5oz from the Twenty Foot. John caught by masterfully alternating between roach and smelt deadbaits, both floatfished and ledgered.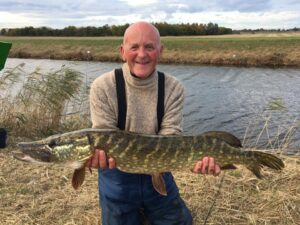 John added 'There are some real leviathans still in here and a great head of fish to be caught. I began fishing the pike matches with my brothers having been introduced by my dad, and it was our annual family match.' John's not alone in this as the social side of the event is tangible with plenty of families fishing, in the form of dads and sons, husbands and wives.
The Ladies Champion was unfortunately drawn this year as the ladies suffered some poor pegs. The lucky winner was Joan Coale who's won the trophy before.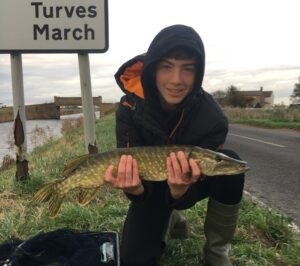 This year's Junior winner is Joel Chapman who managed to catch a brace of pike for 8lb, one early in the day and the other in the last hour, which goes to show, you can't sit back in any competition and that includes one targeting pike.
Full results of the Championships are
HERE
.
Our continued and sincerest thanks to both Whittlesey Angling Association and Andy Jackson for hosting and running the event this year.