Individual National Championship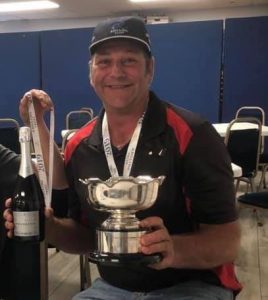 (Pictured: Gary Thompson 2019 Winner)
Grand Union Canal, Northampton
Saturday 31st July 2021
The Individual National Championship is for all individual members of the Angling Trust over the age of 16 on the day of event.
This is an individual event scored by overall weight, the winner will become the Individual National Champion.
Pegs are limited and are served on a first come first served basis.
Entry fee: £30.00 (All in)
Headquarters: TBC
Draw: 08:00am
Fishing: 11:00am – 4:00pm (Duration of 5 hours)
Closure of waters for practice: From midnight Sunday 25th July
Licences: All competitors must be in possession of a current Environment Agency Rod Licence. Any competitor reported by the Environment Agency to the resulting team on the day of the match will be disqualified.
Keepnet: Minimum length of 2 metres
Rules / Bait bans: No bloodworm & joker. No pellets of any type to be used (this is in accordance with local club rules).
Refreshments: TBC
Eligible fish: All fish caught are eligible for weighing with the exception of Game fish, Pike, Zander & Crustaceans.
Procedures: All weighing in and recording will be carried out by Senior Stewards who will be supplied by the organising club. Therefore no teams will need to provide stewards.