Individual National Championship
Shropshire Union Canal – Saturday 9th September 2023
Tickets sales are now closed!
The Individual National Championship is for all individual members of the Angling Trust over the age of 16 on the day of event.
This is an individual event scored by overall weight, the winner will become the Individual National Champion.
Headquarters and Results:
HQ Address for draw: Willaston Social Club, 7 Wistaston Road, Willaston CW5 6PU
Open from 7:00am and food will be available on the morning.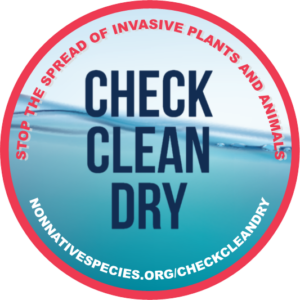 Presentation venue: Cronkinson Farm Pub, Stapeley, Nantwich Cheshire CW5 7GZ
Draw: 8:00am on the morning
Fishing: 11:00am – 4:00pm (duration of 5 hours)
Sections: Baddington, Hack Green and Coole Pilot
Closure of waters for practice: TBC
Keepnets: A minimum of 2 keepnets must be taken by every angler. In the interest of fish welfare any specimen barbel (over 8lbs) should be placed into an empty, pegged out keepnet and the angler must contact the steward (on the phone number provided at the draw). On arrival of the steward the fish will be weighed and released.
Licences: All competitors must be in possession of a current Environment Agency Rod Licence. Any competitor reported by the Environment Agency to the resulting team on the day of the match will be disqualified.
Rules / Bait bans: No bloodworm & joker. Further local rules no fishmeal groundbait & pellets. No sticklebacks to be weighed in.
Eligible fish: All fish caught are eligible for weighing with the exception of Game fish, Pike, Zander & Crustaceans or sticklebacks.
2023 results:
Angling Trust Individal National Angling Championships 2023
Shropshire and Union Canal – Nantwich
Our competitors were welcomed by a cooler and overcast start to today's competition, making a comfortable start to the match.
This didn't last long as the Sun burnt its way through the weak cloud cover, that heralded 30+ degrees for the rest of Competition.
The choice of venue was from three off this year's Div 2 sections, to be fished later this month.
The venue looks in fine fettle for a fortnight's time with many anglers putting more than two Kilos in their nets. While the top six anglers weighed in over 51kg.
This year's Bronze medal was picked up by Mick Topping, the Silver by Steve Dudley. Who landed 7kg 300g and 8.470 respectively.
And this years Gold Medal and Individual National Champion for 2023.
Congratulations, Angling Trusts very own Alex Clegg, who put in a breathtaking performance of keeping Skimmer Bream, Hybrids, Roach, Perch and Silver Bream for a terrific weight of 18kg 280g.
Well done all, fishing in such glaring heat. Well done Alex in keeping the swim alive and fish coming, despite a boat crashing into your far bank feature during the match
2021 INDIVIDUAL NATIONAL REPORT
Despite the venue being in dour form of late we still had the biggest turnout for an Individual National we have seen for many a year.  Heavy downpours in the days preceding the match did nothing to improve the sport and most competitors struggled for just a few bites with 49 competitors not bothering the scalesmen.  Despite that, there were some respectable weights recorded by those that were lucky enough to find themselves on feeding fish with 2Kg plus required to finish in the top 40.  Paul Abbott was over the moon to be drawn peg 145 on the mouth of Yardley Marina and he made no mistake in winning this prestigious contest and take the accolade of Individual National Champion 2021 and the gold medal with 12.770Kg of bream taken on ground bait feeder tactics.
Individual National Champion 2021 Paul Abbott
Another fancied peg, peg 1 at Stoke Bruerne was drawn by Terry Molloy and after a bumpy start losing 5 good skimmers on the trot he managed to keep the rest on the hook and ended up as runner up and a silver medal with 9.610Kg of skimmers.  Graham Smith was drawn at peg 188 at Drift Farm which had a bit of form and despite falling behind in the early stages to the pegs below him he clawed it back to finish in the bronze medal position with 7.680Kg of skimmers.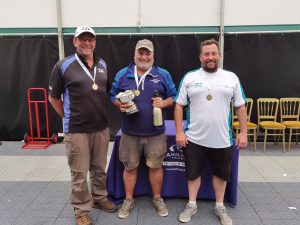 Top 3 winners from left to right: Graham Smith (bronze medal), Paul Abbott (gold medal), Terry Molloy (silver medal)
Full results can be found posted on the Angling Trusts Competitions Facebook page.
The canal is now closed to practice so 2 weeks' rest should now give us a better Division 1 National to look forward to.
The Angling Trust would like to thank Chris Howard and his team for organising the day and Northampton Nene AC for use of their waters.
Result:
1st          Paul Abbott                    12.770Kg
2nd         Terry Molloy                  9.610Kg
3rd         Graham Smith               7.680Kg
4th         John Bates                      6.160Kg
5th         Daniel Abbott                5.950Kg
6th         Tony Cassidy                  5.700Kg
Zone Medal Winners:
Pegs 1 – 30                     Terry Molloy                 Peg 1                  9.610Kg
Pegs 31 – 60                  John Bates                      Peg 35               6.160Kg
Pegs 61 – 90                  Steve Pawson                Peg 77               5.090Kg
Pegs 91 – 120                 Dan Ashington              Peg 98                3.580Kg
Pegs 121 – 150               Paul Abbott                    Peg 145             12,770Kg
Pegs 151 – 175              Simon Willsmore          Peg 167             2.120Kg
Pegs 176 – 200              Graham Smith               Peg 188             7.680Kg