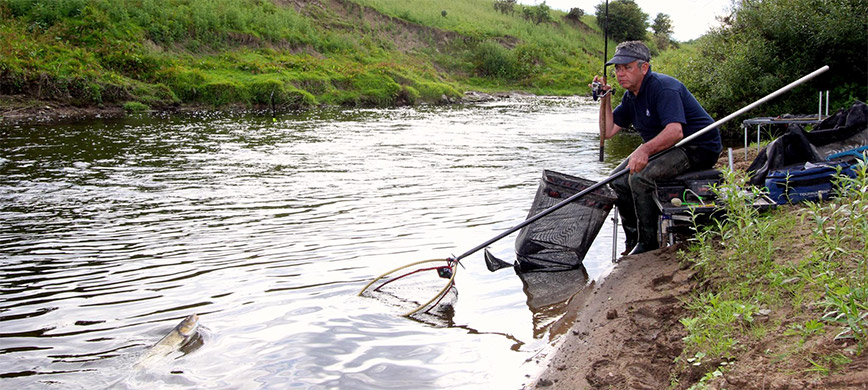 RiverFest
JOHN LOCK SETS A NEW HIGH IN RIVERFEST 2021 FINAL!
With the River Trent running low and very clear, most of the competitors thought that this year's RiverFest final on the River Trent at Burton Joyce could be a difficult two days. How wrong they were!
After two days of hard-fought match fishing action, it needed more than 34lb to win the fifteenth prize in a final, which also saw a new record one day and overall weight!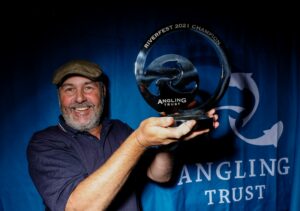 The Day One winner was John Lock who drew peg 31, a short distance down from the outfall and a peg that no one really fancied before the draw.
Upon arrival at the peg, John resisted setting up immediately and instead, took time to look carefully at the swim in front of him. Scanning across the river, he could see odd bream breaking the surface, well across the river. Conditions were flat and calm, and John could also see a lot of bubbles coming up. There were clearly a lot of fish over there, but would they feed in such still, bright conditions?
John set up a variety of gear but then only needed a feeder rod as he went on to plunder 94-7-0 of bream, a new record final weight which put him 27lb ahead of second placed Colin Beech and a massive 67lb clear of third!
Colin was at peg 57 in the Nelson Field, where he also employed big fish feeder and straight lead tactics to weigh 67-3-0 of barbel and chub.
Best weight of the silver fish anglers went to Rob Casterton who landed 27-1-0 of roach and dace from peg 74, towards the bottom end of the Rack section.
Before the draw on Day Two, the big question was would the bream and barbel feed again on the pegs which had won 24 hours earlier? Or would it be a silver fish dominated match?
Hadrian Whittle drew peg 31 this time and Paul Passmore pulled out peg 57 and it wasn't long before both of them were in action, landing bream and barbel.
Paul came out on top this time with 46-1-0 of barbel while Hadrian's eight bream catch went 37-1-0. This elevated both of them into the main list places. Third place on the second day went to Paul Moutrey with 31-8-0 from peg 18.
John Lock had added 11-7-0 of small fish to win the trophy and a cheque for £14,000. Colin Beech added 15-3-0 to take his score to 82-6-0 and Paul Passmore's first day catch of 13-5-0 added to his Day Two catch put him into third with 59-6-0.
Special thanks go to the Ashfield Angling Club and members for the use of their water and for help on the day.
Dates and venues for RiverFest 2022 will be published in January and tickets will go on sale in March.
RESULTS
DAY ONE
1st John Lock 94-7-0 peg 31
2nd Colin Beech 67-3-0 peg 57
3rd Rob Casterton 27-1-0 peg 74
4th Cameron Hughes 26-14-0 peg 23
5th Mark Godfrey 26-6-0 peg 15
DAY TWO
1st Paul Passmore 46-1-0 peg 57
2nd Hadrian Whittle 37-1-0 peg 31
3rd Paul Moutrey 31-8-0 peg 18
4th Howard Kaye 25-13-0 peg 15
5th Cameron Hughes 24-9-0 peg 80
OVERALL
1st John Lock 105-14-0
2nd Colin Beech 82-6-0
3rd Paul Passmore 59-6-0
4th Cameron Hughes 51-7-0
5th Hadrian Whittle 47-6-0
6th Matt Derry 43-13-0
7th Paul Moutrey 43-8-0
8th Rob Casterton 38-1-0
9th Rich Alexander 37-11-0
10th Steve Hemingray 36-4-0
11th Alan Scotthorne 36-2-0
12th Howard Kaye 35-8-0
13th Mark Godfrey 35-5-0
14th Will McCranor 35-3-0
15th Steve Harwood 34-9-0
All photos courtesy of Lloyd Rogers.
2020 RiverFest Final Report
Bream weights fire cannon to RiverFest glory!
The eighth RiverFest final took place over the weekend of October 3rd and 4th when 72 of the countries top river anglers went into battle on the River Trent at Burton Joyce.
Heavy rain on the first day didn't stop the fish from feeding and top spot went to Paul Cannon who landed 44-6-0 of bream using open-end feeder tactics on peg 37 at the top of the Nelson Field. Close weights followed with Trent legend Wayne Swinscoe taking second place on the day with 28-9-0 of roach and dace from peg 18, just below the outfall on the Road Stretch.
Third place went to Cameron Hughes who took 26-6-0 of roach from peg 16 at the bottom end of the Ferry Field. In total, the first day saw 29 double figure weights recorded, despite the weather!
Day Two saw the river rising slowly but the colour was surprisingly good and, just like the first day, good weights followed.
On the downstream end peg 72 on The Rack section, Clive Fletcher used pole, whip and stick float tactics and ran out winner with 26-7-0 of roach and dace. A few swims up from Clive, at peg 68, Tom Noton landed 20-9-0 of roach and dace on pole and stick float rigs for second place.
Third place on the second day went to England International Sean Ashby with 18-11-0 of roach and dace from peg 8 in the Ferry Field.
Paul Cannon managed to hang on to his top spot with a hard earned 11-1-0 of bream and skimmers from peg 33 and this gave him a 55-7-0 total, the coveted trophy and a cheque for £14,000! Runner up spot and £7,000 went to the second day winner Clive Fletcher who had landed 15-11-0 on the previous day and ended on 42-2-0.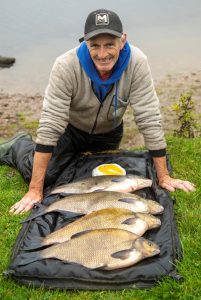 Pictured: Part of Paul's first day bream catch
Third place and a cheque for £5,000 went to Darren Frost who also had two very consistent days recording 24-9-0 and 15-11-0.
Competition creator Dave Harrell said: "I was absolutely delighted with how the weekend went. We saw all sorts of methods used and a big variety of species caught from all along the match length.
"My personal thanks go to the Ashfield Angling Club for the use of their waters and I sincerely hope that we can develop the competition together on the same stretch over the next few years."
"I have already started work on RiverFest 2021 and we'll be announcing the dates and venues, together with ticket sales information early in the new year."
RESULTS
DAY ONE
1st Paul Cannon 44-6-0 (Peg 37)
2nd Wayne Swinscoe 28-9-0 (Peg 18)
3rd Cameron Hughes 26-6-0 (Peg 16)
4th Hadrian Whittle 24-10-0 (Peg 72)
5th Darren Frost 24-9-0 (Peg 19)
6th Charlie Gooch 23-13-0 (Peg 68)
7th Steve Harwood 19-13-0 (Peg 59)
8th Tom Noton 19-3-0 (Peg 7)
9th Glen Lawrence 17-0-0 (Peg 69)
10th Sean Ashby 16-9-0 (Peg 53)
DAY TWO
1st Clive Fletcher 26-7-0 (Peg 72)
2nd Tom Noton 20-9-0 (Peg 68)
3rd Sean Ashby 18-11-0 (peg 8)
4th Simon Willsmore 18-7-0 (peg 27)
4th Tony Marshall 18-7-0 (peg 71)
6th Alex Clements 18-6-0 (peg 3)
7th Toby Bunting 17-0-0 (peg 42)
8th Steve Harwood 16-3-0 (peg 36)
9th Lee Edwards 16-1-0 (peg 24)
10th Steve Rowen 15-15-0 (peg 69)
OVERALL
1st Paul Cannon 55-7-0 (£14,000)
2nd Clive Fletcher 42-2-0 (£7,000)
3rd Darren Frost 40-4-0 (£5,000)
4th Tom Noton 39-12-0 (£3,000)
5th Wayne Swinscoe 38-15-0 (£2,000)
6th Steve Harwood 36-0-0 (£1,900)
7th Sean Ashby 35-4-0 (£1,800)
8th Simon Willsmore 34-10-0 (£1,700)
9th Cameron Hughes 34-0-0 (£1,600)
10th Charlie Gooch 31-14-0 (£1,500)
A LOOK BACK AT 2019
Ian Ward is 2019 RiverFest Champion
The Angling Trust RiverFest Final 2019 was held on the weekend of Saturday 7th and 8th of December on the River Severn in Shrewsbury. In the run up to the event, the river had been out of sorts with several unfortunate cancellations, but the tricky river made for an incredibly close final, which was watched by thousands around the country!
It was Ian Ward affectionately known as Speedy who took the esteemed title and rushed into the arms of his partner in an emotional embrace, showing just how much the feat meant to him. After drawing poorly on day one, amassing just 4oz, Ian put in a sensational display on day two from peg 44, netting 14lb 10oz of dace, chub, perch, and even a rogue skimmer!
Ian was delighted to take the title after 'All these years' of chasing, although his reaction showed it was meant much more than the nearly £50,000 prize pool on offer over the weekend.
Running him close in the final hour was Matt Maginnis who added huge drama to the weekend. Matt hooked a huge bonus barbel of 8lb or more and this skyrocketed his two day total to 11lb 7oz and was well deserved after waiting patiently on pellets on the tip.
Rounding out the top three was Ian Courtney who slipped his net under three big perch on day two, which he'd craftily kept under the radar, catching on maggots short for a combined 10lb 1oz.
Wayne Swinscoe 8lb 2oz 8drams
Cameron Hughes 7lb 3oz
Adrian Piggott 6lb 10oz 8drams
Stuart Northrop 5lb 14oz
Mike Bedding 5lb 7oz
Dave Hollands 5lb 5oz 12drams
Benjamin Rendall 5lb 5oz 12drams
Our list of thanks over the weekend is vast; firstly to all the organisers and to the anglers who have fished the qualifiers. To all our sponsors Severn Trent Water, Thames Water, and Bait-Tech. For all the finalists who put up with cancellations. To Andy Jones and his team at Shrewsbury for some first-class organisation and hospitality and finally to Mr.RiverFest himself Dave Harrell who was pleased to see Ian win as anybody.
Coverage from both days is available on the Angling Trust RiverFest Facebook page and both of the days' results can be found at Match Angling Results System. Tom Scholey will also be releasing highlights from the Final shortly through his Catch More Media's Youtube Channel and will be shared across his and our Facebook pages.