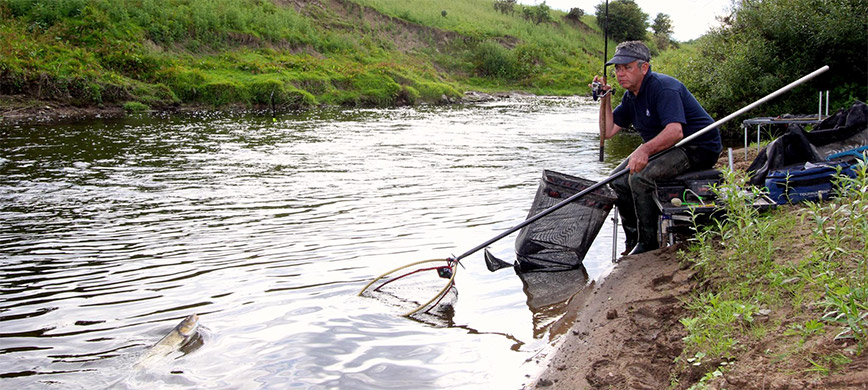 RiverFest
FURTHER DETAILS FOR 2021 WILL BE ANNOUNCED SOON.
Anglers must be aged 16+ on the day of the qualifier and valid members of Angling Trust, join or renew at www.anglingtrust.net/membership
In 2020 the final took place on the River Trent at Burton Joyce over the weekend of 3rd & 4th October. The 24 qualifying matches saw anglers competing for a shot at the £14,000 top prize from a prize pot of almost £50,000. Subject to all tickets being sold, RiverFest 2020 saw 10 main prizes in the final, ranging from £1,500 for 10th place, up to £14,000 for the winner. Six peg sections prizes of £250 were also be paid out for both of the final days.
A LOOK BACK AT 2019
Ian Ward is 2019 RiverFest Champion
The Angling Trust RiverFest Final 2019 was held on the weekend of Saturday 7th and 8th of December on the River Severn in Shrewsbury. In the run up to the event, the river had been out of sorts with several unfortunate cancellations, but the tricky river made for an incredibly close final, which was watched by thousands around the country!
It was Ian Ward affectionately known as Speedy who took the esteemed title and rushed into the arms of his partner in an emotional embrace, showing just how much the feat meant to him. After drawing poorly on day one, amassing just 4oz, Ian put in a sensational display on day two from peg 44, netting 14lb 10oz of dace, chub, perch, and even a rogue skimmer!
Ian was delighted to take the title after 'All these years' of chasing, although his reaction showed it was meant much more than the nearly £50,000 prize pool on offer over the weekend.
Running him close in the final hour was Matt Maginnis who added huge drama to the weekend. Matt hooked a huge bonus barbel of 8lb or more and this skyrocketed his two day total to 11lb 7oz and was well deserved after waiting patiently on pellets on the tip.
Rounding out the top three was Ian Courtney who slipped his net under three big perch on day two, which he'd craftily kept under the radar, catching on maggots short for a combined 10lb 1oz.
Wayne Swinscoe 8lb 2oz 8drams
Cameron Hughes 7lb 3oz
Adrian Piggott 6lb 10oz 8drams
Stuart Northrop 5lb 14oz
Mike Bedding 5lb 7oz
Dave Hollands 5lb 5oz 12drams
Benjamin Rendall 5lb 5oz 12drams
Our list of thanks over the weekend is vast; firstly to all the organisers and to the anglers who have fished the qualifiers. To all our sponsors Severn Trent Water, Thames Water, and Bait-Tech. For all the finalists who put up with cancellations. To Andy Jones and his team at Shrewsbury for some first-class organisation and hospitality and finally to Mr.RiverFest himself Dave Harrell who was pleased to see Ian win as anybody.
Coverage from both days is available on the Angling Trust RiverFest Facebook page and both of the days' results can be found at Match Angling Results System. Tom Scholey will also be releasing highlights from the Final shortly through his Catch More Media's Youtube Channel and will be shared across his and our Facebook pages.