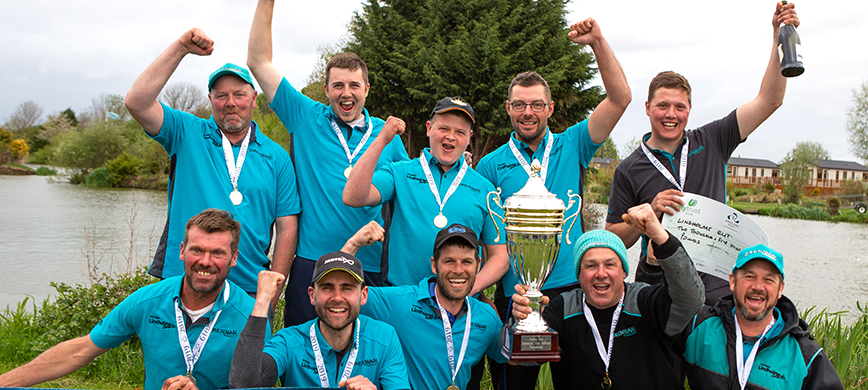 Team Commercial Stillwater National
Drennan Lindholme Lakes 
Saturday 23rd April 2022
ENTRIES WILL BE OPEN IN EARLY 2022. PLEASE CHECK BACK FOR UPDATED INFORMATION.
Sponsored by Drennan Lindholme Lakes in £2,500 prize money to winning team.
The Team Commercial Stillwater National Championship is a team event, consisting of teams of 10 anglers with up to 10 reserves.
To compete in the Team Commercial Stillwater National Championship clubs/organisations must have affiliated membership of the Angling Trust and all individuals listed on the entry form must be individual members of the Angling Trust.
Entry fee: £200 per team (plus optional pools available)
HQ: Drennan Lindholme Lakes Fishery, Don Farm, West Carr, Epworth, Doncaster, DN9 1LF.
Draw: tbc
Fishing: 11:00am – 4:00pm (Duration 5 hours).
Closure of waters for practice: tbc (Important notice: Anglers must check with Fishery directly as depends on the matches they are hosting).
Licences: All competitors must be in possession of a current Environment Agency Rod Licence. Any competitor reported by the Environment Agency to the resulting team on the day of the match will be disqualified.
Keepnet: Minimum length of 2 metres
Bait bans: No bloodworm and joker (this is in accordance with local rules)
Refreshments: Available on site
Eligible fish: All fish caught are eligible for weighing with the exception of Game Fish, Pike, Zander and Crustaceans.
Procedures: All weighing in and recording will be carried out by Senior Stewards who will be provided by the organising club, therefore teams will not be required to provide stewards.
2021 TEAM COMMERCIAL STILLWATER RESULTS
2021 TEAM COMMERCIAL STILLWATER REPORT
23 teams of 10 competed for the Stillwater Commercial Team National title at the prolific Drennan Lindholme Lakes near Doncaster.  On the day, a cold easterly wind put paid to any bumper catches for this match but at least it didn't rain and catches still remained reasonable for most and this led to the closest nail biting finish seen at a National for many a year.  A matter of grams separated not only the Individual result but also the Team result.
Josh Turbill (Preston Innovations & Sonubaits North West) scraped the Individual win by the narrowest of margins of 140gms when he weighed in 57.800Kg from Laurels peg 15.  Very close behind him was Tom Edwards (Daiwa Tackle & Bates) who weighed 57.660Kg from Bennys peg 56.  Third place went to Connor Barlow (Drennan North West) with 55.700Kg from Laurels peg 19 and 4th was James Howarth (Drennan North West) with 47.825Kg from Bennys peg 60.
On the team front a tie on points at the top was decided on weight count back and a mere 790gms separated the top two.  Drennan Barnsley Blacks and Daiwa Tackle and Bates both posted 94pts scores, but Barnsley were crowned champions and presented with a cheque for £2500 by fishery owner, Aaron Grantham, after their total weight of 278.225Kg just pipped that of Tackle & Bates's 277.435Kg.  Preston Innovations & Sonubaits North West came in 3rd with 87pts and last years winners, Drennan North West finished 4th with 85pts.
The Angling Trust would like to thank all the staff at Drennan Lindholme Lakes and the AT team for running an excellent match on the day.