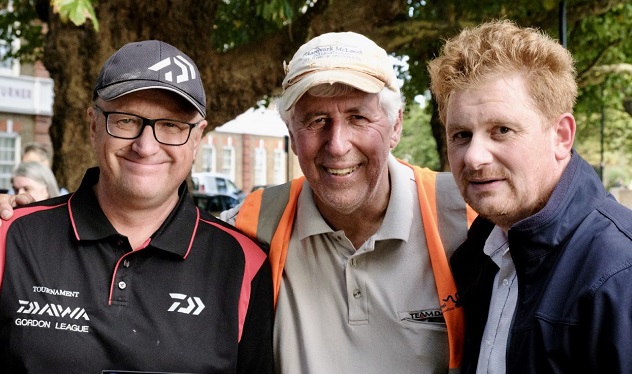 Tidefest
Thames Tidefest Angling Championship to return for 10th Birthday!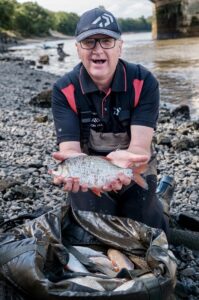 The Angling Trust is pleased to announce the return of the Thames Tidefest Angling Championship for its tenth consecutive year.
Fished on the tidal river in four zones between Kew Bridge and Barnes, this annual 40 peg match will take place this year on Sunday 17th September.
In 2022 the event produced catches of quality roach along with bream, with winner Mark Brush taking a 12lb 4oz net of redfins to earn himself a bumper payout thanks to generous sponsorship from Thames Water.
This year the anglers will benefit from a continental payout system with four zone winners each receiving £250, a £150 prize to the overall winner, and money for every five-peg section.
The winner also receives a superb trophy named after three times Tidefest winner Mike Martin-Davies who sadly we lost to Covid two years ago.
The draw will be at 6.30am at the Kew Bridge Boating Arch and fishing will be from 9am to 1pm, giving anglers plenty of time to get set up on the gravel foreshore.
Tickets cost £20 and will be available in March from the Angling Trust Competitions website and Tackle Up in Fleet. Each ticket sale will see £5 donated to the charity Get Hooked on Fishing.
An optional super pool is being considered. More details to follow.
Quality roach show in this year's Tidefest Championship on a dour Thames
The usual big shoals of bream failed to show at this year's Tidefest Angling Championship held on the tidal Thames in London at Strand on the Green (Kew), Chiswick and Barnes. However, some quality roach were landed including fish to over 1.08lbs.
The annual fishing match, now in its 9th year is part of Tidefest – a celebration of the recreational importance of London's River sponsored by Thames Water and supported by Hounslow Council. Other activities included paddleboarding, kayaking, river dipping, boat trips and historic foreshore walks but participants were asked to give the anglers a wide berth where possible. There were 40 pegs across four zones at Strand on the Green (x2), Chiswick and Barnes. The winners benefitted from a 'continental payout' system with equal Top Four prizes by zone of £250, plus £150 to the overall winner and section prizes to give more anglers a better chance of making the main frame. £5 from each ticket sale will be handed over to the charity Get Hooked on Fishing.
In addition to the generous cash prizes the winner received a trophy named after three times Tidefest winner Mike Martin-Davies who sadly died of Covid last year.
This year's winner of the Mike Martin-Davies trophy was Mark Brush with 12lbs 4ozs of quality roach from Chiswick on the maggot feeder followed by Colin Shepherd with 9lbs of bream from Kew and a mixed bag of 8.04 for Ali Attwater at Barnes. The final zone winner was Anthony Strudwick with just 3.02 from tough section at the bottom of Kew. The Thames was in dour form with the lack of freshwater making fishing difficult for many.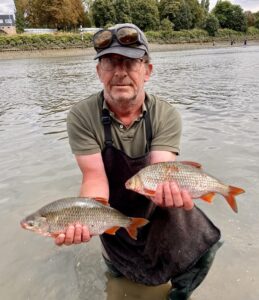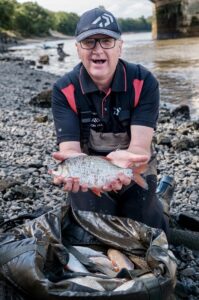 Tidefest organiser Martin Salter from the Angling Trust said:
"This popular event was always going to be a struggle given the drought and the lack of flow which tends to see the coarse fish pushing further upstream and out of the match length. However, the lack of bream gave the big roach a chance to put in an appearance and it's great to see such quality fish thriving in the heart of London. We are grateful to Will Barnard and the Angling Team at Thames Water for helping to organise the match and for keeping match angling alive in our capital city."
More info – Martin Salter 07976946033
Pictures – Mark Brush with some impressive roach in his winning catch
– Winner Mark Brush with Martin Salter and Will Barnard
– Ali Attwater with a brace of big tidal Thames roach caught in practice