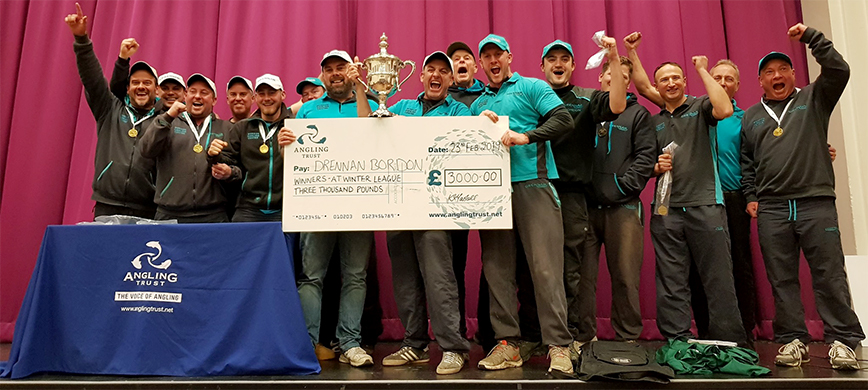 Winter League
Important Information
Dear all,
Unfortunately the new government regulations mean that all forms of organised angling events will be unlawful during this second lockdown period. This will effect coaching and participation events as well as competitive fishing.
Within the new regulations, The Government have provided some very specific wording to define what they constitute a gathering;
A gathering takes place when two or more persons are present together in the same place in order
a) To engage in any form of social interaction with each other, or
b) To undertake any other activity with each other
Whilst the Government have previously agreed to our approach by which competition angling could safely continue this revised and specific definition means that this is no longer the case and unfortunately organised competitive angling is required by law to cease for the period of this lockdown.
As a result all Angling Trust competitions will be suspended across the period 5/11/20 – 2/12/20 inclusive. Ticket holders will be offered the option of transferring their booking to a re-scheduled date or a full refund.
My team and I will continue to work to ensure that as we return to the tiered regional approach following this lockdown competition infrastructure can resume safely and compliantly with Government legislation. Thank you very much for your understanding.
Jamie
Jamie Cook
CEO
Click here for further details from the Angling Trust
Angling Trust Winter League 2020-2021 season.
The 2020-2021 Winter League series is a team event with some of the best anglers in the country who take part.  The Winter League commences at the beginning of October and concludes by the end of December with a grand final in February the following year.
2020-2021 season will see 15 leagues take part;
Ancholme
Avon Valley
Castle Ashby
East Midlands
Eastern
Heronbrook
Kent
Lancashire
North East
Oxford
Soar Valley
Tunnel Barn
Upper Thames
Warwickshire
Wigan
Entry Fee is £80 per team
No Angling Trust membership requirement has been implemented to take part this season.
Local leagues fish teams of 6, 8 or 10. To be determined locally
No semi finals
GRAND FINAL
Saturday 20th February 2021
Venue 1: Decoy Lakes
Venue 2: Fenland Drains (specific venues tbc in due course)
The Grand Final will be 1 day event split over 2 venues, 1 natural venue and 1 commercial fishery
Team sizes for the final will be 10 anglers, 5 anglers from each team will fish on each venue
Number of teams qualifying for the WL Final (The number of teams qualifying for a place in the Winter League Final will be allocated as follows).
4 teams = 1 place in Final
5-8 teams = 2 places in Final
9+ teams = 3 places in Final
The Angling Trust  thanks you for your continued support with the Winter League and we hope you share our aspiration to grow participation and would ask you encourage new teams to join, leagues to form and for anglers and teams to join the Angling Trust as individual and team members.