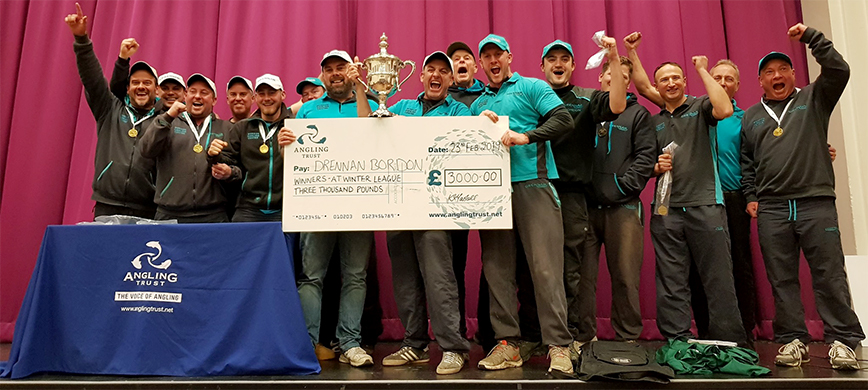 Winter League
Angling Trust Winter League 2022-2023 season
The Winter League is a team-based event with some of the best anglers in the country taking part.  The Winter League commences at the beginning of October and concludes by the end of December with a grand final in February the following year. The Grand Final will be a one-day event split over two venues – one natural water and one commercial fishery.
Entry Fee: £100.00 per team.
Membership: No Angling Trust membership requirement has been implemented to take part this season.
Team Size: Local leagues fish in teams of 6, 8 or 10. To be determined locally.
All teams must have submitted their team sheet & entry fee prior to their first league match.
The Grand Final for the 2022-23 will place on Saturday 25th February 2023 on Decoy Lakes and the Fenland Drains.
There are no semi-finals.
Team sizes for the final will be 10 anglers, where five anglers from each team will fish on each venue.
Number of teams qualifying for the Winter League Final:
• 4 teams fishing the league = 1 team to qualify
• 5-6 teams fishing the league = 2 teams qualify
• 7+ teams plus fishing the league = 3 teams qualify
HQ: Sir Harry Smith Community College, Whittlesey
Draw: To be done live at 6 pm on Wednesday 22nd February via Facebook
Fishing times: 11 am to 4 pm
A LOOK BACK AT 2019-20
Barnsley Storm to Winter League Title
The Largest multi-venue match in the country took place last weekend which saw three hundred anglers competing in the prestigious Angling Trust Winter League Final. Conditions for the Saturday saw a continuation of the awful winter conditions which kept weights down across both venues
The Format for the final is five anglers at Decoy Lakes and five anglers on the infamous Drains system, meaning the well rounded teams always seem to rise to the top.
It was Drennan Barnsley Blacks that returned to winning ways, storming the contest with an exceptional performance on Decoy where they carded just 13 points to add to their 18 points from the Fens. Stand out anglers were; Will Freeman who won the whole of the drains individually, weighing over 25lb or roach, Nick Crooks who put an excellent net of roach and skimmers together in March to win his section and Andy Geldart and James Dent who both won their respective lakes on decoy with over 100lb carp, F1s, and barbel.

Second on the day on section win countback were Daiwa Dorking, who scored 50 points and one section win and rounding out the top three were Drennan Oxford who also scored 50 points but didn't win any sections.
All results can be found at Match Angling Results Service – Maggets and a break down the section performances of all the teams.
The Angling Trust would like to thank all the league organisers from around the country in making this contest the pinnacle of winter angling and to all the anglers that take part throughout.
Results
1st Drennan Barnsley Blacks 31 points
2nd Daiwa Dorking 50 points (1 section win)
3rd Drennan Oxford 50 points (no section wins)