ENGLAND SIXTH IN WORLD CHAMPS
Reigning European Champions Angling Trust Team England finished in sixth place in the 68th Coarse Angling World Championship for Nations in Croatia.
Selecting the same lin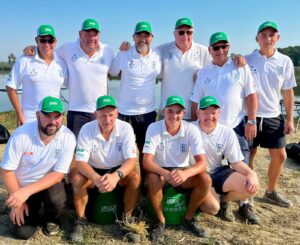 e-up who claimed a dramatic team gold in Portugal in July, Mark Downes' squad of William Raison, Sean Ashby, Matt Godfrey, Cameron Hughes, Steve Hemingray, and James Dent found the two huge stillwaters of the Stara Drava, near Osijek a tougher nut to crack.
It was James who finished the weekend the strongest, narrowly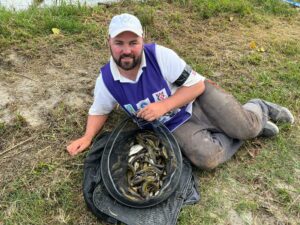 missing out on a much-deserved individual bronze medal after a weight countback pushed him into fourth place overall.
James matched the top three anglers on the same three-point score – a section second and a section win from the two matches – but needed just over a kilo more fish to secure bronze.
On the team front, a 33-point total section score left them in a disappointing ninth place after the first day with a mountain to climb on day two.
A switch in personnel saw Steve Hemingray make way for Cameron Hughes for the second match and the lads put in a spirited performance which included a section win for Cam.
This saw them finish as the third best team on the day and claw back three places in the overall standing.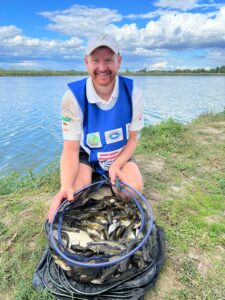 Mark Downes was full praise to all the team and helpers on what was a difficult event to master.
"It was a totally alien venue, and all conventional methods went out of the window," revealed Mark. "From casting 12g bolo floats 20m into 5ft of water to fishing 4g pole floats at 5m to hand for catfish took some getting used to.
"Day one cost us dearly. A poor peg on E section and trying to compete with the bolo with our conventional waggler style, saw us stumble to ninth.
"But, as usual, we bounced back, the two bolo sections saw our better prepared lads amass just five points on day two with James winning off E sector while Cam came home first on A sector to help us to third on the day.
"Sixth overall was a bitter disappointment but as more and more matches on continent are dominated by this species then the experience we have amassed will hold us in good stead for the future."
It was Serbia which cruised to victory with an opening day section score of just nine points – including an incredible three section wins – and, backing it up on match day two with 22 points, saw them end the weekend on 31.5 points.
That was just too good for runners up Italy on 42 and the Czech Republic who finished in the bronze medal berth on 47. The next three places were extremely tight as Slovenia took fourth with 53, France fifth with 54, and England ended the weekend with 57.