AT-TEFF Loch Style National 2024
AT-TEFF Loch Style National Qualifier dates for 2024 
The TEFF Exec has looked at the process for next year's qualifiers – details are below.
After careful consideration, TEFF has decided to allow anglers to make three entries in 2024. Entries will be 'controlled' by having venues in three blocks, each block with its own opening and closing dates. That way TEFF can control the numbers progressing – you will know after you fish if you have qualified. If you have not qualified then you can enter another heat in another block. The final will be held at Rutland Water. A maximum number of anglers at each venue will be fixed. Once a heat is 'full' no more entries will be taken at that heat.
How it works
You can enter up to 3 heats – one in each block below.
Note entry opening and closing dates.
Entries to Block B – note the short entry period!
You may decide to only enter one heat or two heats – it is up to you, but note that the percentages progressing will be slightly less in the later heats.
Those entering at Anglian Water will need to book boats and fishing through their website.
Block A Heats – Entries open on the 1st March and close 31st March 2024
Sunday 14th April 2024 – Carsington
Sunday 21st April 2024 – Bewl
Sunday 21st April 2024 – Draycote
Sunday 21st April 2024 – Grafham
Sunday 28th April 2024 – Blagdon
Block B Heats – Entries open on the 29th April and close 6th May 2024
Provisional date of Friday 10th May 2024 – Blithfield
Sunday 12th May 2024 – Pitsford
Sunday 19th May 2024 – Sweethope
Sunday 26th May 2024 – Chew
Block C Heat – Entries open on the 27th May and close 17th June 
Wednesday 23rd June 2024 – Eyebrook
National Final 2024
The Loch Style National Final will be held at Rutland Water on Saturday 21st and Sunday 22nd of September 2024
If you have any questions relating to these qualifiers please contact Ian Colclough (AT-TEFF Loch Style National Coordinator) [email protected]
AT-TEFF Fundraiser Draycote Water Sunday 27th September Match Report
Covid-19 hit the 2020 Loch-Style National qualifiers hard and as a result all the qualifiers were cancelled for 2020 with the National Teams from the 2019 national rolling over to form the teams for the rearranged Internationals in 2021.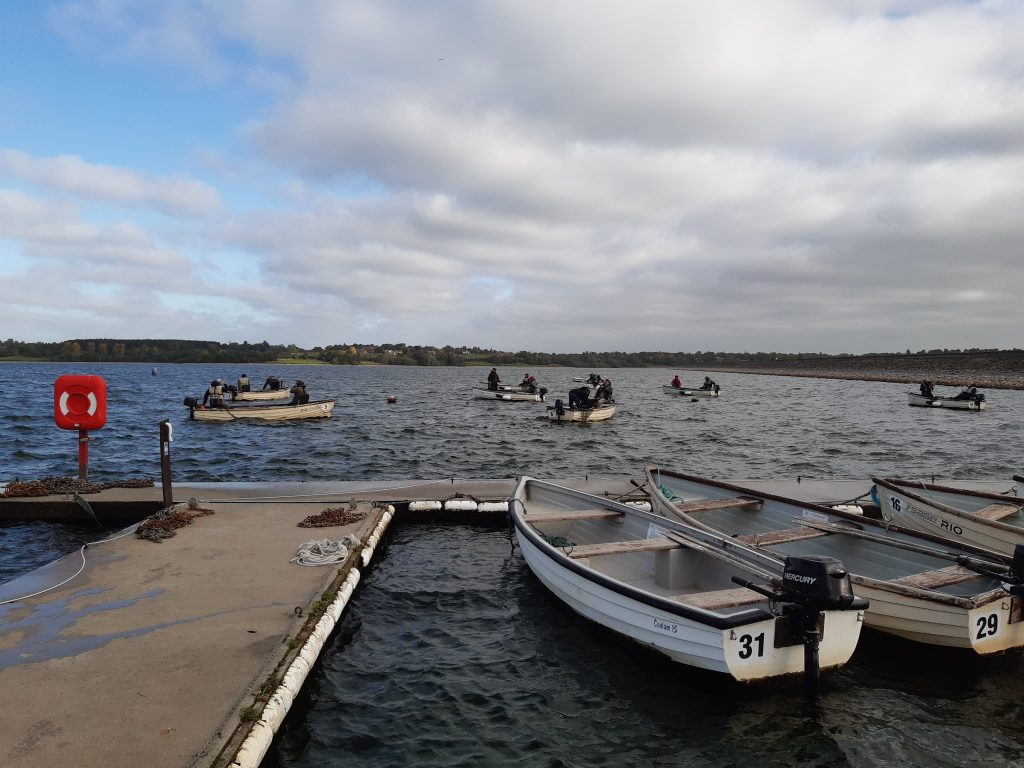 Once lockdown measures were lifted AT-TEFF held a one day fundraiser match at Draycote Water on the weekend of the proposed national final, with Sunday 27th September being the chosen match date. The match was fished based on the Angling Trust Covid-19 guidelines for competition fishing and those set in place by Fishery Management Ltd.
The match was fished to a timed catch and release format with the times of the first three fish caught recorded on a scorecard along with those caught and released after. The winner would be the angler that caught the most fish with a tie decided by the time of the first/second/third fish caught.
A cold north-westerly wind greeted the 24 anglers at Draycote Water with several England internationals from the seniors and ladies team attending along with some new anglers to the competition scene.
Many of the anglers had practised in the lead up to the competition and when the claxon sounded to start the match most of the boats headed to Dunns Bay and Biggin Bay. Anthony Smith was first to catch at 10:05 closely followed by John Hardy at 10:07, with John taking his second and third fish by 10:37.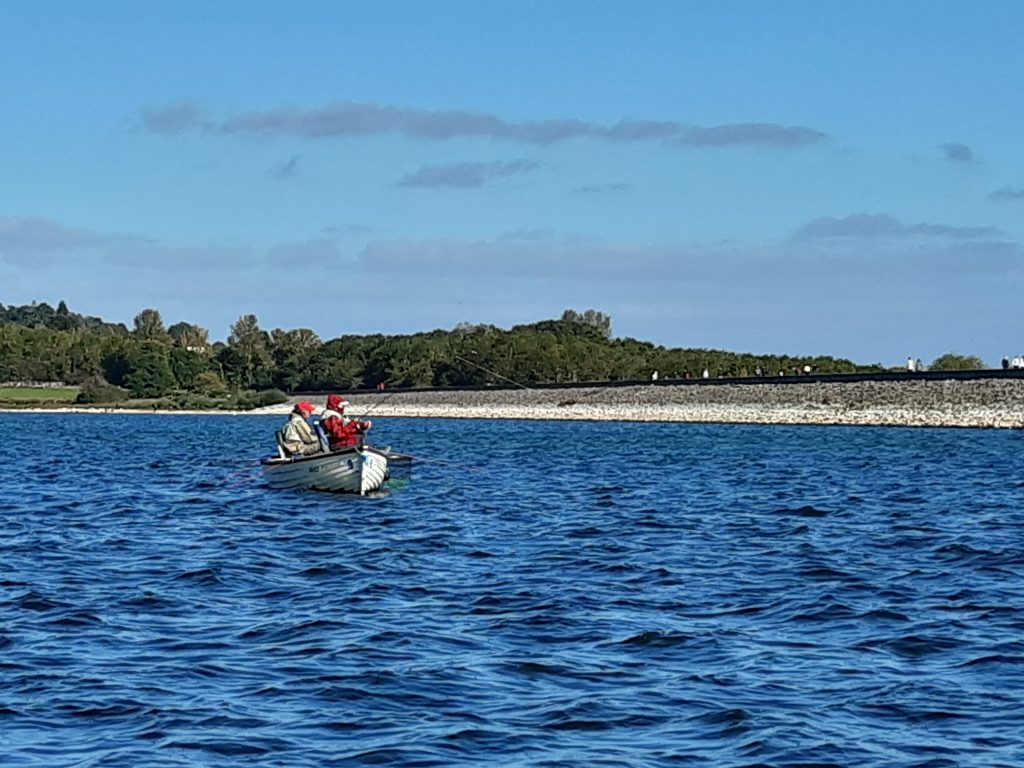 The field continued to do long drifts from Dunns, Biggin and Lin Croft Point with the occasional boat doing short drifts along Farborough Bank. At 1pm most of the boats had caught fish but it was boat 5 with Stephen Peart and John Hardy which had seen the most action with John having caught 12 and Stephen four. There were other anglers who had also caught well. Tony Baldwin, Frank Sumnall, Pablo Mullings, and Tony Fox were all on seven and still in with a chance at just after the half-way point. Despite the bright conditions the fish were holding high in the water and floating or tip lines along with slow and fast glass intermediates were the main line of attack.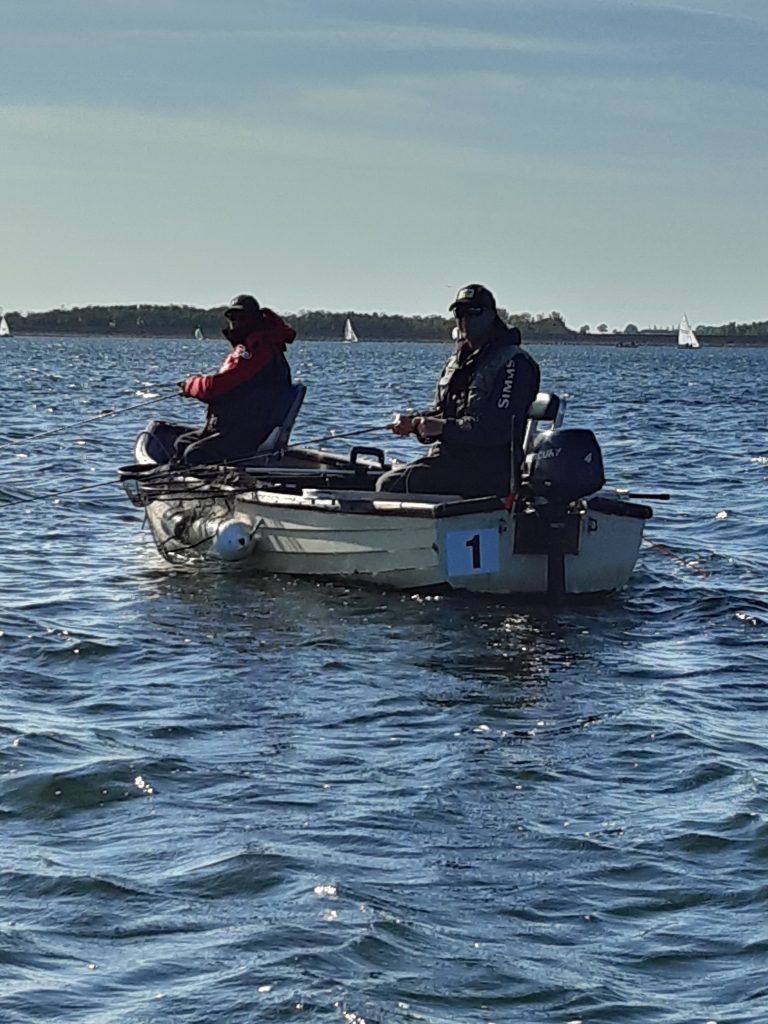 The competition ended at 5pm. 168 fish were caught by the 24 anglers giving a rod average of seven.  In first place was John Hardy with 18 fish. John fished a slow glass line with two size 14 FAB's with two Hare's Ear Nymphs. This was the same tactic that saw him take first place the week before at Grafham in the AT Loch Style Autumn Series Match. First place saw John win £120. Second place went to Frank Sumnall. Frank fished in the mouth of Dunns Bay to take most of his 12 fish. Frank's second place finish saw him win £90. Three anglers caught 11 fish and therefore third place was decided by the time of the first fish caught. Tony Baldwin took this spot having caught his first fish at 10:30am. Tony won £60 for his third place finish.
In total £654 was raised for TEFF Teams for next year.
Many thanks to those anglers who competed, to Ifor Jones, Tom, Lloyd, and Alan at Draycote water for hosting the event and to Chris Bobby for assisting with the results.
Results
1st John Hardy 18 fish
2nd Frank Sumnall 12 fish
3rd Tony Baldwin 11 fish (1st fish 10:30)
First fish was caught by Anthony Smith at 10:05am winning a day for two at either Draycote Water or Eyebrook Trout Fishery. Thank you to Ifor Jones at Fishery Management Ltd for donating this prize.