AT-TEFF Rivers National
AT-TEFF Rivers National
The AT-TEFF Rivers National 2023-24 Rounds are now opening for entries.
Each qualifier provides the opportunity for the eight highest-placed Anglers to proceed to the final. In 2024 the final will be fished over two days on the River Eden. There will be thirty two places available at the final.
Ticket links will be available from the links below and updated as the season continues. For any queries regarding the TEFF Rivers National please contact the coordinator Peter Scholes – 07935 245893.
Matches will be fished to full international rules and ATTEFF River Qualifier scoring system. Measure, Catch and release basis. Only in-season fish 20cm and above will be eligible for measuring / scoring / awarding fish points.
Entrants will be split into 2 groups:
Morning Group fishing am & controlling pm.
Afternoon group fishing pm & controlling am.
Entries open: See individual qualifiers
Entries close: See individual qualifiers
2023-24 QUALIFIERS
17th December 2023 (rescheduled from the 19th November 2023) – River Dee – https://anglingtrust.net/competitions/at-teff-rivers-qualifier-sunday-19th-november-2023-river-dee-llangollen/
There is no limit on the number of qualifiers that you can enter. 
Final 
River Eden
AT-TEFF Rivers Qualifier Report
Lower Itchen - 10th October 2021
Sunday 10th October – South East FF Federation – Lower Itchen fishery (Official Practice: Saturday 9th October) – Organiser: Tony Fox – Overall Results: 1. Gillaum Vermeulen 2. Cameron Craigs 3. Gavin Walsh 4. Mike Heritage 5. Daniel Price 6. Trevor Hayman
Andrew Smith reports: "The decision to run this match just after the closure of the trout season paid off, as we saw the Lower Itchen fishery in fine form with excellent water clarity and pleasant weather.
Grayling were well spread throughout the river, with plenty still in shallow riffles. Only a single day's coarse fishing had taken place, so it seems the fish had not become preoccupied with a maggot diet. All age groups of grayling were evident, with a good number of 40cm plus specimens.
Fish were caught on a variety of methods. The rod averages for the morning and afternoon sessions were over 19 and 15 fish, which shows the quality of the fishing."
Full results available HERE.
AT-TEFF RIVERS FUNDRAISER REPORT 2021
Please CLICK HERE for the full AT-TEFF Rivers Fundraising report.
AT-TEFF RIVERS FUNDRAISER RESULTS 2021
Due to the 2021 AT-TEFF River Qualifiers and National Final being cancelled and the 2019 team rolling over to 2022, there were instead a series of River Fundraisers held in 2021.
The proposal was to hold a series of individual River matches to raise funds for TEFF Teams and hence support financially all our team members going forward.
Each qualifying event and the Final had cash prizes available to the winning anglers in the sessions. Matches were fished to full international rules and AT-TEFF River Qualifier scoring system – measure, catch and release-basis. Only in season fish 20cm and above were eligible for measuring / scoring / awarding fish points.
The first match was held on the River Dee at Llangollen on Sunday 16th May. The full match report is available below:
Sunday 16th May saw the start of the 2021 AT-TEFF Rivers Fundraisers, held in lieu of the usual National qualifiers & Final and set up to raise money towards Team England Fly Fishing. The first match was held on the River Dee at Llangollen with 10 entrants. All were fishing for a £75.00 prize for first place in either of the morning or afternoon sessions. With variable weather conditions the preceding week, the anglers' talk was of tricky fishing conditions with not many trout gracing the nets. This played out in the competition with only 9 trout between 10 anglers.
In the morning session David Bradley took top honours with 2 fish of 30cm and 26cm, giving him the top spot with 106 points. The afternoon session's top honours went to competition newcomer Richard Baxendale who caught 2 trout for 83 points.
Morning Session
David Bradley
2 fish
106 pts
Kevin Moran
2 fish
99 pts
James Rice
1 fish
50 pts
Simon Clarke
0
0
Bernie Maher
0
0
Afternoon Session
Richard Baxendale
2 fish
83 pts
Daniel Williams
1 fish
47 pts
Gavin Walsh
1 fish
41 pts
Keith McAdam
0
0
Mark Tyndall
0
0
Thank you to everyone who supported the match & TEFF. Thank you to Peter Scholes for doing a wonderful job running his inaugural match and to Paul Page in helping set up the qualifiers. Thanks also to Llangollen Maelor Angling for hosting.
Unfortunately, the next qualifier which was due to take place on Sunday 13th June on the River Wear at Willington had to be cancelled. However, the following match on the River Ure on 27th June went ahead as planned.
Sunday 29th August saw the Final of the AT-TEFF Rivers Fundraisers series return to the River Dee at Llangollen. 12 anglers battled it out for two prizes of £125.00 and £75.00 in each half of the draw. With a small field it meant there was plenty of water to go at and the field spread out from the get-go. River conditions were almost perfect with low water levels, light winds, and perfect clarity. The way forward was either dries or nymphs on a French style leader. At the end of the sessions the results were as follows:
Morning Session
1st
Gavin Walsh
12 Fish
618 Pts
2nd
Paul Baker
12 Fish
574 Pts
3rd
Anthony McKenna
9 Fish
380 Pts
4th
Kev Moran
8 Fish
353 Pts
5th
Peter Scholes
6 Fish
305 Pts
6th
Danny Williams
2 Fish
109 Pts
Afternoon Session
1st
Bernie Maher
8 Fish
379 Pts
2nd
James Rice
7 Fish
357 Pts
3rd
Chris Richardson
4 Fish
207 Pts
4th
Keith McAdam
4 Fish
195 Pts
5th
Brian Lillie
4 Fish
188 Pts
6th
David Bradley
1 Fish
57 Pts
The AM session was won by Gavin Walsh from the woods at the bottom of the golf course on nymphs and in 2nd was Paul Baker with the same number of fish just smaller from the bottom of the country park.
The PM session was won by Bernie Maher from the area around the channels above horseshoe falls. Bernie caught mainly trout on nymphs. In second place was Welsh angler James Rice who caught his fish around the fridge pool.
Thank you to all who entered and helped out and also Llangollen Maelor Angling for allowing us to use their stretch of the river. Thank you to Peter Scholes & Paul Page who did an excellent job of coordinating all the qualifiers and final.
AT-TEFF Announce Peter Scholes as Rivers National Coordinator
The AT-TEFF are pleased to announce the appointment of Peter Scholes as AT TEFF Rivers National Coordinator. Pete has fly fished for over thirty-five years and has spent time working in the industry at Stocks Reservoir.  An experienced river angler, Pete has fished competitively for the last ten years and has competed in two river's national finals along with fishing domestic competitions such as the Hanak Grayling Festival and the Broadlands Grayling Classic. Pete is a regular fly angler on the Lancashire and Yorkshire rivers and also enjoys fishing on the Welsh Dee and River Annan.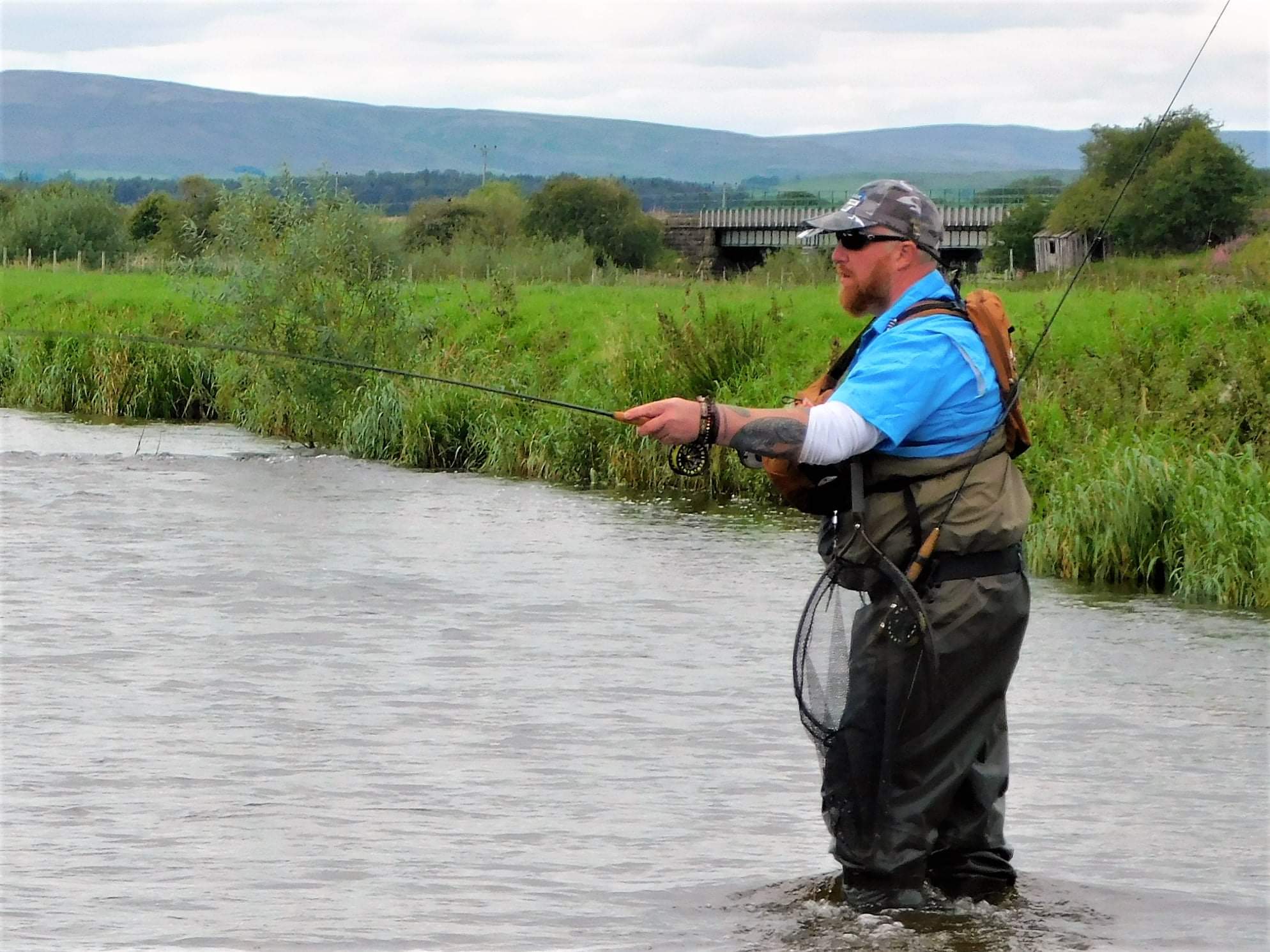 Pete brings considerable experience to the role as both a competitor and angler on the river scene. He will work closely with AT-TEFF and the volunteers who run the English river qualifiers to develop a programme for 2021 and beyond.
Peter Scholes, AT-TEFF Rivers National Coordinator said: "I am really proud to take up this role. I am looking forward to taking the rivers qualifiers forward and developing the way they are organised and run going into the future. It's a real privilege to be able to do this and hope we can get competitions back up and running next year."
Andy Taylor, Competitions Support Officer said: "It is great to have someone of Pete's experience stepping up to take on the role of AT-TEFF Rivers National Coordinator. Pete has been a regular competitor on the river's scene over the last few years and it is clear he has the passion and enthusiasm to develop this side of competition fishing. Having competed himself in the AT-TEFF qualifiers and domestic rivers competitions Pete will have a good understanding of the venues, formats and angler requirements to develop the river qualifiers programme."