Get Fishing Resources
Get Fishing – the 'how to' guide to Coarse, Sea and Fly Fishing by Allan Sefton
01 October 2019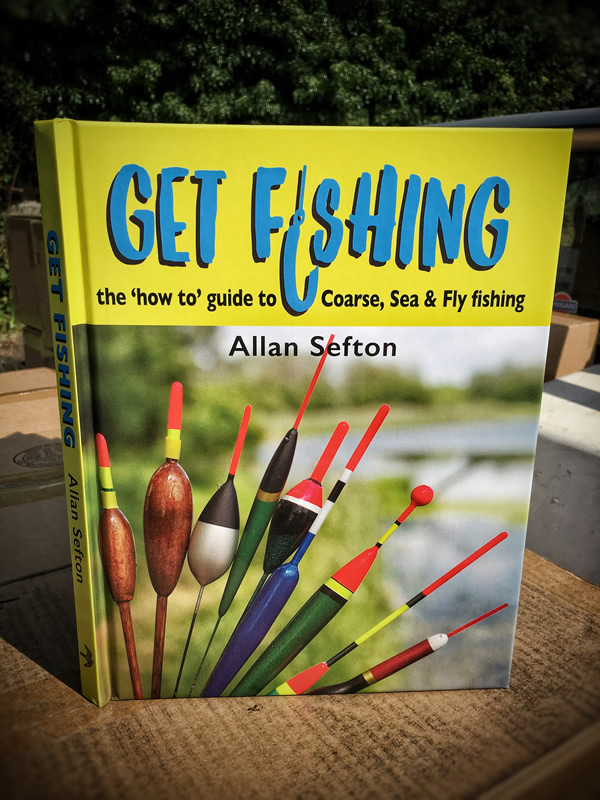 This colourful, lively book is aimed at complete beginners of all ages, those who have been out fishing a couple of times and want to take it further and families of all abilities. However, it's packed with top-tips and info that make it useful for more experienced anglers too. It's the perfect accompaniment to our Get Fishing events, could help a family member or a friend show someone how to fish, and is great for parents who don't know how to get children started on their "angling journey".
Get Fishing – the 'how to' guide to Coarse, Sea and Fly Fishing by Allan Sefton outlines what you need to know to experience the joy of getting out there, alone or with family and friends, and enjoying a day or an afternoon fishing – and catching fish, whether it's mackerel, pike, trout or any of the other fish explained in the book.
It has been published by dynamic company Merlin Unwin Publishing who are dedicated to publishing high quality countryside, wildlife, herbalist, fieldsport, foraging and fishing books, written by leaders in their fields. The book is endorsed by the Angling Trust and our Get Fishing campaign. Get Fishing – the 'how to' guide… has everything a beginner would need to know about the basics: species, tackle, bait, tactics, watercraft and more.
Coaches, fishing clubs, libraries and schools will find this a practical guide to help people get outdoors and active, and discover the wonders of angling, its proven contribution for fitness, mental health and wellbeing.
At just £9.99 the book can be ordered directly from Merlin Unwin Books. When combined with a free Get Fishing event, a follow-up visit to a helpful fishing club or perhaps a coaching session or two, this is a great way to learn how to fish.
Groups such as clubs and coaches looking for multiple copies can get in touch with the Get Fishing team via the contact page on this website.
What readers think…
"…it is difficult to imagine a better presentation of angling to children than this"
Jeffrey Prest – Features Editor, Trout Fisherman magazine
"Every new and experienced angler should have this book. It tells you everything you need to know about every type of fishing. A real must-have."
Tom – from YouTubers 'Snagged Bro'
"In over 60 years of fishing and having read dozens of angling books this is the clearest most readable instructional book I have read and the only one I would recommend for a beginner angler."
Mark Thorneycroft – Angling Volunteer
"5.0 out of 5 stars – Great for beginners said "Super 'First book' for anyone thinking of taking up angling. Covers Coarse, Sea and Game. Great for a gift!"
DJO – Amazon Buyer Verified Purchase
"Invaluable for those keen to learn – As an experienced angler I find it difficult to fault this book. It is comprehensive in its coverage of the basics of the sport – well written and easy to read, with technical terms and fishing jargon clearly explained. The illustrations and photos are of the highest standard, Newcomers who are keen to learn will find it invaluable. The more knowledgeable too will find it an absorbing read."
John Robertson – Amazon Buyer Verified Purchase
"The new Get Fishing book really supports anyone that is looking to take up this very exciting and varied sport. It answers pretty much any angling question a beginner might have in a very detailed and concise way. I would recommend this book to anyone of any age that is thinking of taking up fishing or just giving it a go. Get Fishing!"
Dean Asplin – Partnership Development Manager, Angling Trust
"'Get Fishing' is a great introduction to the sport, its easy reading containing loads of information, photographs and diagrams to help you begin fishing. Excellent to see coarse, sea and fly fishing all in one book."
Ian Wilks – Licensed Level 2 Angling Coach
"The book is superb, it's written in simple language which makes it very unique and ideal for beginners. However, it's not just for newcomers to angling. I've been fishing for over 20 years and also found many great tips. An important aspect is that it's not a "heavy" read. There are many pictures, which will help a beginner to understand fishing techniques. All of the most important methods are described very well. I will be using this book to help promote angling to youngsters."
Janusz Kansik – Building Bridges Project Manager, Angling Trust
"Angling books for the beginner or improver are always welcome – especially when they are this clear and welcoming. Let's face it, as experienced anglers we forget how confusing and jargon infested our sport can be, especially for the newcomer. Get Fishing, on the other hand, is beautifully clear and friendly. You can tell it was written by a coach who knows where the novice is coming from"
Dom Garnett – Digital Content Creator, Angling Trust
Book Info and Orders:
Get Fishing the 'how to' guide to Coarse, Sea and Fly fishing
Author: Allan Sefton
ISBN: 978 1 910723 91 3
Published: July 2019
Format: 246 x 189 mm
Binding: Hardback
No. of pages: 128
180 colour photographs
50 colour illustrations
Price: £9.99
BUY IT NOW
---
This article compiled by Will Smith, Angling Promotion Manager, Angling Trust – contact me for more information about the Get Fishing book – [email protected]