Blogpost
From Critic to Sea Angling Champion: Why I'm Supporting the Angling Trust
06 May 2020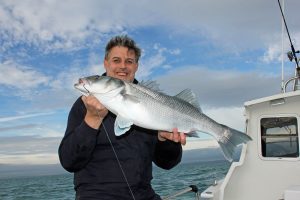 Anyone who knows me, or has followed my career over the past 26 years of editing and writing for various UK sea fishing magazines, will know that I have been highly critical and often negatively vocal regarding the Angling Trust at times. However, all that began to change when I met David Mitchell face to face a couple of years ago at Bauer Media (Sea Angler HQ), when we had the Angling Trade Workshop. It was then that I realised just how tough a job he and everyone else at the AT has, and how much pressure they are under in the tiny world of sea angling from so called 'scientists' and various government bodies pulling the punches. It was then that my train of thought became more and more positive towards the organisation. There are many things which have happened in the world of sea angling over the years that have always dissuaded me from joining, but even through those times I have always been professional and given the AT a platform in whichever magazine I was editing at the time.
In recent days, the level of professionalism and thoroughness shown during the Angling Trust's campaign to get us all back fishing has spurred me on to join the organisation, and also to offer my services to help out in a sea angling advisory capacity whenever I can.
I made this decision mainly because the Angling Trust has just proven itself to be all inclusive – it's not just about the carp, coarse and fly guys, they really have thought about and included us sea anglers in their detailed proposals to get us back fishing again.
Martin Salter called me a few days ago for my input on the situation, specifically regarding boat fishing, and I know that my friend, Dave Lewis, has put in a hell of a lot of work on the subject in recent weeks, too. The addition of fresh, new blood at the top in the form of Jamie Cook has also persuaded me that times are changing, and there is a real opportunity to unite all walks of angling life, right here, right now, albeit under such dire circumstances.
Do you know, the main reason why I took an instant dislike to the AT all those years ago when it was first launched? It was because at the time I was editor of Boat Fishing Monthly, and not one single editor or journalist from the world of sea angling was invited to the launch party in London to find out what the AT was all about. Pretty much everyone else from the world of angling media was, and that spelled out what the AT was all about to us sea anglers at the time. Now, many years later, I feel confident that the AT can and will 'look after' sea anglers, providing there are funds to do so and, of course, consultants from the world of sea fishing willing to lend their two penn'orth of advice and expertise.
The Angling Trust's live feed on Monday evening made me feel proud to be an angler. I don't just sea fish, although that's my main passion; I also love my carp and cat fishing, I like my river chub and roach fishing, and I also enjoy a day or two each year on the bank or in a boat, trout fishing. I'm hoping that, like me, this current campaign will spur a few more people to join up and bolster the organisation for future events – let's hope nothing like what we're going through at the moment! I've already received numerous messages from sea anglers telling me that they have joined or re-joined as a direct result of this current campaign, plus the fact that I have now changed my own view so dramatically.
What we're all going through right now has really shown just how important it is to have a 'governing body' to fight our corner at government level.
If, like me, you feel that now is the right time, may I suggest that you join the Angling Trust like I have done. We're going to try and make the Angling Trust a more representative voice for sea anglers.
Stay safe folks, and let's hope we can get back out fishing, as and when it is safe to do so, within the government guidelines.
By Dave Barham.
Biography
Deputy Editor – Improve Your Sea Angling Magazine (EMAP) March 1994 – Jan 1999
Editor – Total Sea Fishing Magazine (David Hall Publishing) March 1999 – Feb 2006
Editor – Boat Fishing Monthly Magazine (Warners Group Publications) June 2006 – Feb 2012
Owner/Publisher/Editor – Boat Fishing Monthly (Barham Media Ltd) Feb 2012 to Sept 2015
Monthly Contributor – Sea Angler Magazine (Bauer Media) Sept 2015 to Present
Editor – Air Gunner Magazine (Archant Specialist) Nov 2018 to present
Editor At Large – Airgun World Magazine (Archant Specialist) Nov 2018 to present